When thinking about guitar amps, the first image that may come to mind is the giant backline of amps and speaker cabinets you see behind rock stars at big concerts.
However, if you're in the market for something to amplify your acoustic guitar, you're after a different animal altogether. Acoustic guitar amplifiers are designed to accurately reproduce the natural sound of your acoustic instrument. Unlike the distortion and compression that electric guitarists often seek, a good acoustic amp is all about clean and accurate tone. Most acoustic guitar amps allow you to plug in acoustic-electric guitars as well as mic acoustic guitars that don't have electronic pickups. Many have dual inputs so you can plug in your acoustic-electric guitar together with a vocal mic. As such, you can think of such models as mini standalone PA systems.
In this guide, we'll take a look at some of the different amps made specifically for acoustic guitars, discuss important features, and hone in on the specifications that can help you decide which model is the right one for you.
Table of Contents
Different acoustic guitar amps for different needs
Amps for practice and home use
In the studio
Playing in a coffeehouse or small club
Jamming with a band
Taking it to the streets
Features to consider in an acoustic guitar amplifier
Channels
Inputs
Onboard effects
Feedback control
Need help deciding?
Different acoustic guitar amps for different needs
Musician's Friend has a wide selection of acoustic guitar amps, but you might be wondering what distinguishes one from another. The best way to approach that question is to first think about which kind of situation you'll be using your amplifier in.
Amps for practice and home use
You might want a small acoustic guitar amp around the house for your practice sessions, especially if you tend to play quietly with other acoustic instruments. Sure, in your own home you can hear your guitar without amplifying it, however projecting your performance through a speaker can help you listen more critically while you play. Some practice amps, like the Acoustic A20, have a stage monitor-style design that angles the speaker upward so you can direct it toward you while you play. Its modest 20W power rating may also be adequate for very small-venue gigs. With two combo jacks that accept both mics and instrument inputs plus digital chorus and reverb effects, it offers a lot of functionality for a small price.
The Acoustic A20 uses an angled design for better monitoring during your practice sessions.
Some amps offer built-in effects such as chorus and reverb, that can add some shimmer and drama to your sound. The 15-watt, ultra-portable Fender Acoustasonic 15, for example, features a quality on-board chorus effect that you can dial in to your specific preference. It also has 3-band EQ on both channels to help you fine-tune your sound.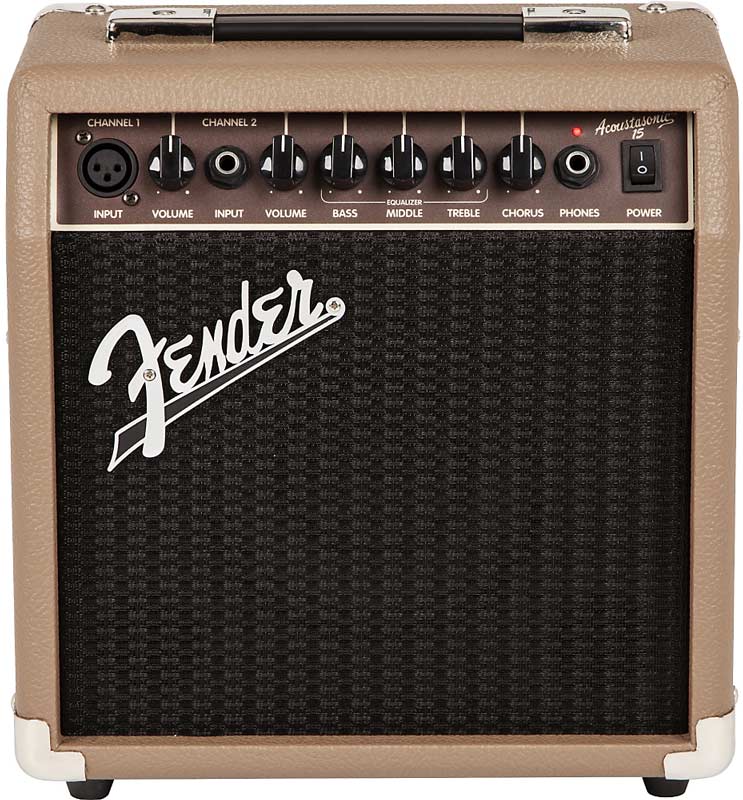 The Fender Acoustasonic is an ultra-portable practice amplifier with two channels, a mic input and onboard chorus effect.
Amps made for practice are usually priced lower than models intended for performance. They typically produce 10 to 40 watts of power, which gives them the right amount of volume for the living room, though probably not quite enough for a coffeehouse or a small club. Most often they will be configured with a single 6- to 8-inch speaker and also may include a coaxial tweeter for high frequencies. Some models also have combinations of smaller 5-inch speakers with crossover circuits that split your output based on frequencies for greater fidelity.
In the studio
You can record an acoustic guitar in a number of ways. You can use a microphone placed near the soundhole, or if you're using an acoustic-electric guitar, you can plug directly into an audio interface that is equipped with an instrument input. You can even just put a mic in front of your amp's speaker and capture your sound that way.
However, if you are thinking of buying an acoustic guitar amp specifically for your home studio, you might want to consider a model that comes with extra features that help add depth to your recordings and makes it easy to capture your guitar's signal.
Some manufacturers have begun making low-wattage modeling amplifiers that simulate different kinds of miked and amplified guitars, which opens up lots of sonic possibilities. Yamaha's THR5A is one such model, featuring USB connectivity and a number of onboard effects, like delay, chorus, phaser, and reverb. It's a great choice for the home studio guitarist who plays both acoustic-electric and electric guitars, giving you a range of amplifier and microphone simulations to create lots of different sonic textures.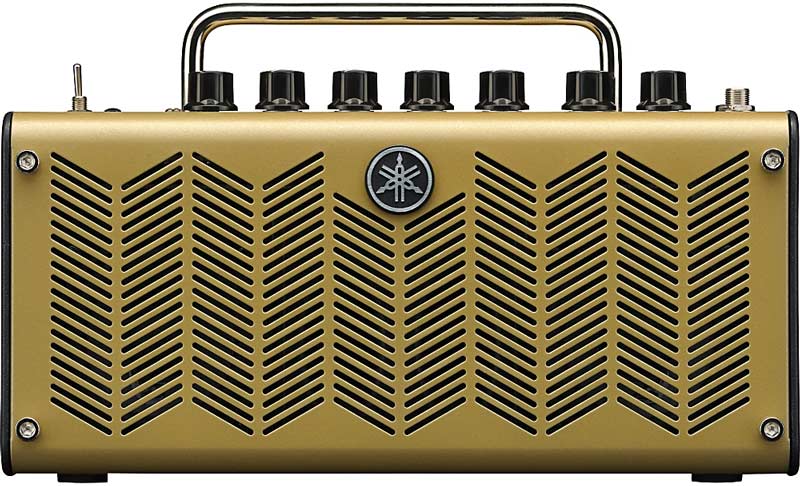 The Yamaha THR5A is an acoustic modeling amp with multiple built-in effects and USB connectivity.
Take a video tour of the Yamaha THR5A's amazingly diverse palette of sound possibilities.
Playing in a coffeehouse or small club
For some of the smallest venues, your practice amp might be able to give you a good, clean tone with enough volume to be heard. But if you want to be ready for larger spaces, you should look for an amp with a little more juice.
Within the range of 40 to 100 total watts, you'll find plenty models to choose from with features to enhance your performances. For instance, if you are planning to plug in a microphone to sing along with your guitar playing, amps within this range typically will have everything you need. You'll find separate channels for guitar and vocals and an XLR input for your microphone. (Some inputs identified as "combo" will accept either an XLR or ¼" jack for maximum flexibility.) On many models, each channel will have its own separate tone controls and effects so you can dial in the right sounds for each.
Some acoustic guitar amps also offer a 3.5 mm or stereo input so you can plug in a portable audio device such as an iPod or smartphone and play along with recordings or backing tracks.
Whereas practice amps usually include either a single small speaker or a woofer-tweeter combination, these more powerful amps typically include dedicated woofer and tweeters to handle low and high frequencies separately. Others add midrange speakers for even more precise frequency handling.
It is important to note that the speaker size or configuration does not necessarily affect an acoustic amp's ability to deliver good sound with decent volume. The Fishman Loudbox Mini PRO-LBX-500, for instance, uses just one 6.5-inch speaker driven by 60W of power to produce a surprising amount of volume with good fidelity.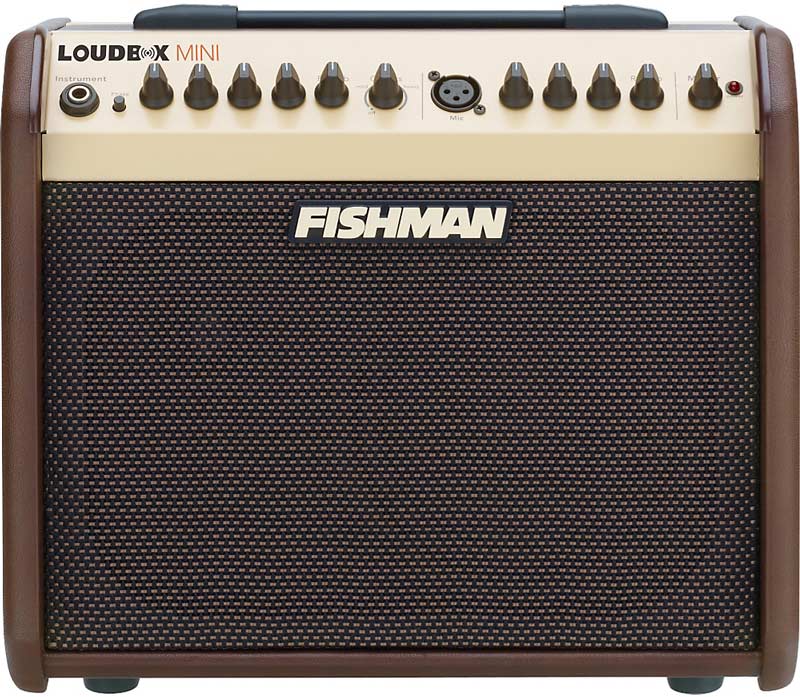 Check out the Fishman Loudbox Mini PRO-LBX-500 in performance.
Another important feature you will find in these higher-wattage amps is feedback control. This may include a single push-button anti-feedback control or, in higher-end models, more elaborate controls that isolate frequencies that cause feedback. >Marshall's AS100D, for example, is notable for its precise per-channel feedback control, consisting of multiple knobs. It also has dedicated inputs for guitars equipped with piezo or magnetic pickups helping to optimize their sound. If you are playing in a venue that requires you to crank the volume, feedback-eliminating controls can really save the day.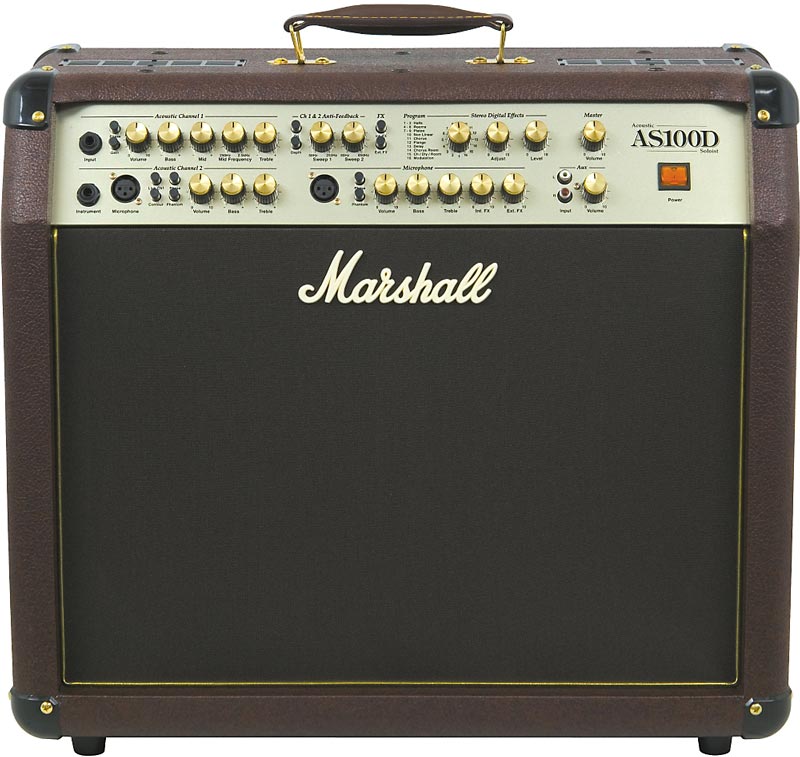 With 50 watts per channel, multiple XLR inputs, and high-quality built-in effects, the Marshall AS100D is a versatile choice for small- to medium-sized venues.
The elaborate control panel on the Marshall AS100D Acoustic Combo Amp offers an array of tone-shaping and feedback-fighting tools together with great-sounding chorus, delay and reverb effects.
Jamming with a band
There are plenty of acoustic guitar and instrument amps with 100 or more total watts, and some even climb into 200- and 300-watt territory. For instance, the Fishman Loudbox Performer, powered by 180 bi-amplified watts, is one of the more popular amps with acoustic guitarists who play in ensembles. Its 8" woofer, 5" midrange speaker and 1" soft dome tweeter replicate the guitar's entire frequency spectrum accurately. Excellent onboard effects, a tilt-back cabinet, a footswitch input and feedback-fighting notch filter and phase switch all earn high marks from owners.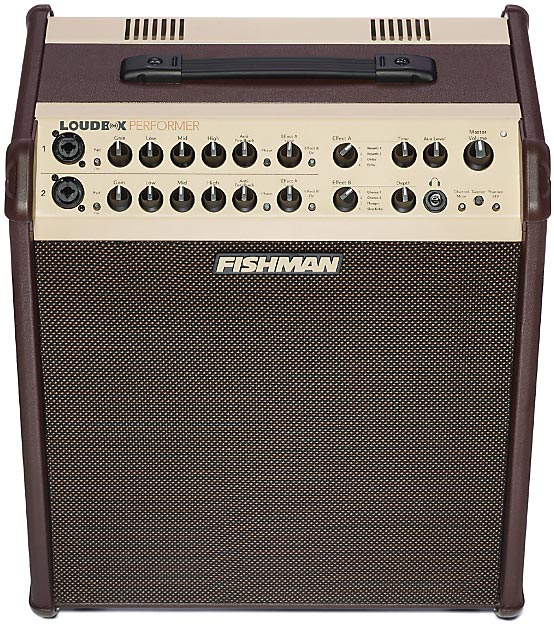 While wattage this high might seem unnecessary for the typical solo performer, acoustic guitarists who play with a full band, especially one with a drummer, need the extra output to project a clean, undistorted sound.
Sheer wattage doesn't tell the whole story either. Factors such as a low signal-to-noise ratios and enough dynamic headroom to prevent clipping (distortion) during loud passages contribute to pleasing, noise-free sound. High-quality, efficient speakers also help by converting the amplifier's output into more volume.
The two-channel Acoustic A100 Combo generates plenty of volume thanks to 2 x 50W of clean digital power. But it's this amp's versatility and warm acoustic sound that really sells it. Twin effects processors coupled with two combo XLR/instrument inputs let you dial in voices and instrument sounds to perfection. Bluetooth connectivity makes for a simple playback setup.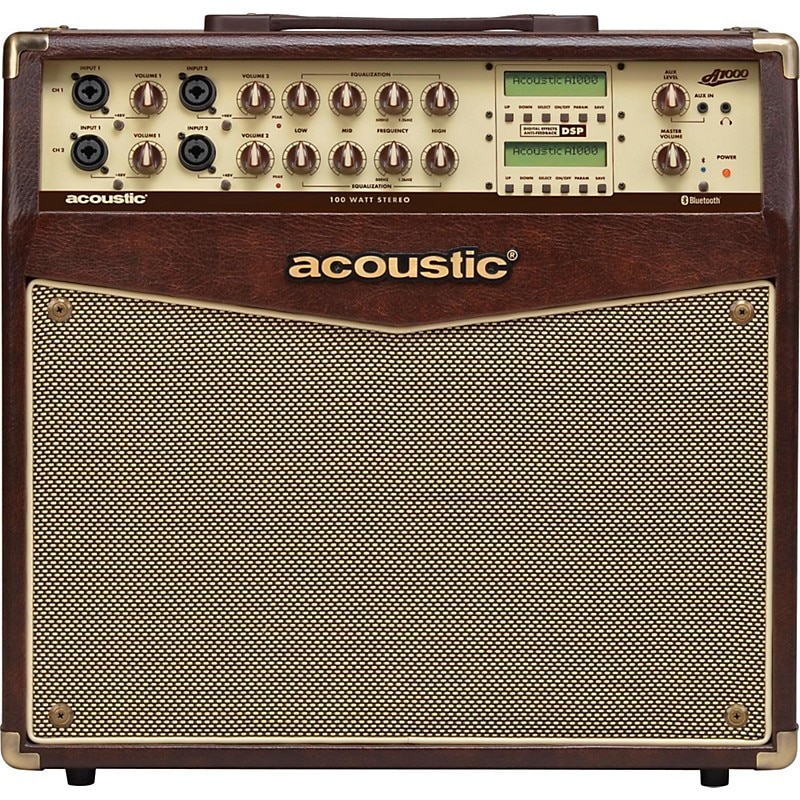 Our customers give the Acoustic A100 top marks for both its sound and easy operation.
Playing large and outdoor venues
Most larger clubs and music venues have built-in PA systems that make projecting your sound to the audience a matter of simply plugging into the venue's mixer. However, many singer-songwriters and acoustic groups find themselves performing in large spaces that aren't set up for musical performances and simply don't have this kind of sound reinforcement equipment on hand.
For some, the solution is to purchase a complete PA system.
PA systems, however, consist of sizeable speakers, mixers and other gear that can be challenging to transport, set up and manage, especially if you have to control your sound while performing. Fortunately, there are much more compact and efficient solutions for singer-songwriters and small ensembles.
A number of manufacturers offer compact "stick" PA systems that offer great sound in a portable package.  Bose, for example, offers its L1 Systems that include a column that houses a line-array speaker system. Separate bass modules deliver additional oomph in the lower frequencies. These systems are modular and can be purchased in a variety of configurations to match your needs. The Bose T1 ToneMatch Engine is a digital mixer that makes for simple optimization of each instrument and voice. The speaker array provides excellent monitoring for the performers too—both the audience and performers hear the same mix.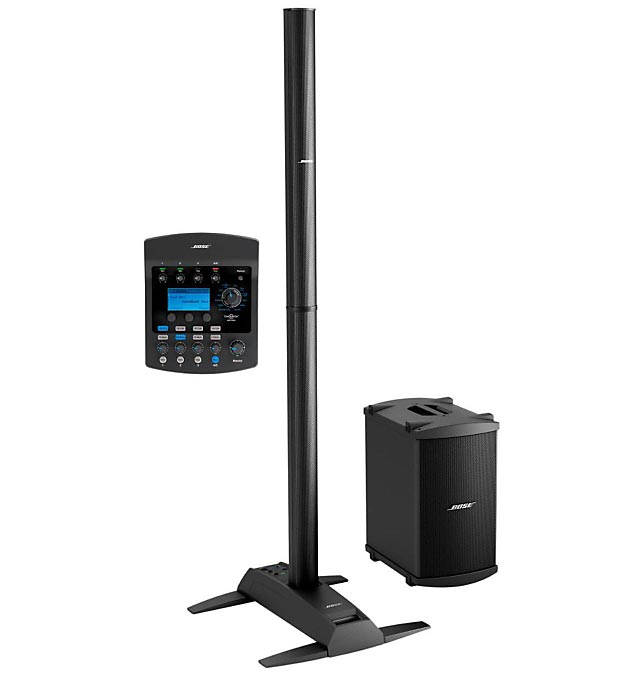 The Bose L1 Single B2 Bass with T1 Audio Engine configuration is a versatile rig that can handle small ensembles and guitarist/vocalists.
Watch the band Northstar take their Bose L1 PA system on the road.
You can check out all the Bose L1 system configuration options here.
Taking it to the streets
For guitarists or singer/songwriters who want to perform in a public space, there are some entirely different considerations to keep in mind. Chief among these, of course, is portability. Not only do street-corner musicians need amplifiers that are easy to lug around from place to place, they also need a way to power their amps when no electrical outlets are readily available.
As such, lightweight, battery-powered amplifiers are popular with on-the-go acoustic guitar players. Typically, these amps are lower-powered to prevent draining the batteries too quickly. Still, they usually are designed to deliver enough juice so you can be heard clearly within the immediate area. The AER Compact Mobile CPM-AKKU, for example, offers a total of 60 watts, which should be plenty for most settings. It also offers a host of tone shaping tools to bring out the best in your voice and guitar.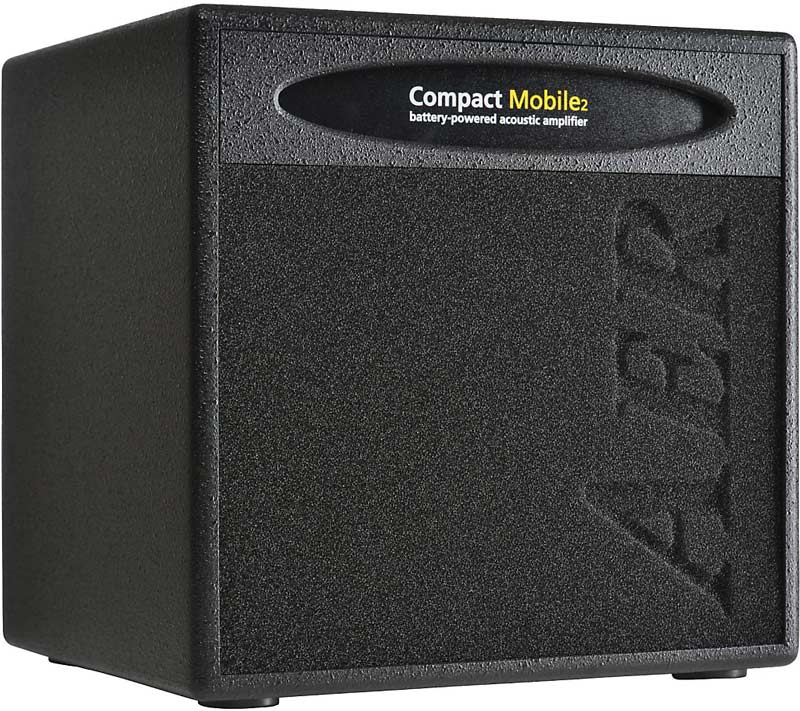 Delivering 60 watts, the AER Compact Mobile CPM-AKKU is a battery-powered amp of uncompromising quality. Yet it weighs in at under 19 lb.
Even though the portability of a battery-powered amp might mean sacrificing some wattage, it doesn't mean you'll be skimping on features. You can find portable amps with separate channels for guitar and microphones, plenty of effects, and feedback control features. Roland's AC-33, for instance, packs in all the expected features into a mobile unit, and it even adds some advanced functions like a phrase looper.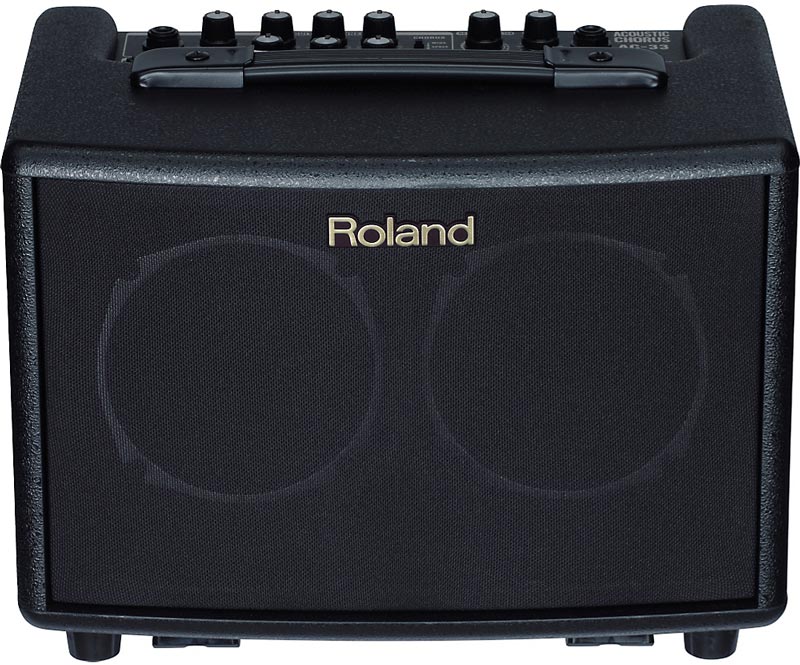 The Roland AC-33 delivers 30 watts of portable power at a friendly price.
Features to consider in an acoustic guitar amplifier
Now that we've covered the basics of various acoustic amplifier types, it's time to take a quick look at some of the features to factor into your purchase decision.
Channels
Most acoustic guitar amplifiers have more than one channel, which means it's possible to plug in multiple guitars or other instruments, or both a guitar and a vocal microphone, depending on what you need. To get the most versatility and to dial in the right tone for each of the instruments or mics you're plugging in, independent controls, EQs, and effects are a big advantage.
Also keep in mind that most acoustic amplifiers are rated in watts per channel. Often, however, they are listed by their total watts. For example, a two-channel amplifier rated at 100 watts per channel may be listed as a 200-watt amplifier. Read specs carefully or call us at 877-880-5907 if you have questions.
Inputs
Unlike electric guitar amps, which generally have one or more ¼-inch inputs, acoustic guitar amps have various input types, usually including XLR connectors for mics and ¼-inch connectors for instruments. Sometimes they will also include 3.5 mm or stereo inputs for connecting a stereo audio device like an iPod or laptop. In some cases, you will see combination inputs that can accept either a ¼-inch or XLR connection.
Make sure your amp has the connection types you need. For instance, if you need to use microphone inputs for both your guitar and your voice, you'll need two XLR connections on your amp.
Onboard effects
It's common for acoustic amps to offer some built-in effects. Usually, these include one kind of reverb and/or chorus. Effects will vary both in the quality, variety and tweakability. Keep in mind, however, that you can always expand your effects possibilities with external guitar effects pedals or multi-effect processors that can deliver exactly the sound you are looking for.
So while effects could be a deciding factor between two similar amps, you might want to put these features lower on your list of shopping criteria.
Feedback control
Most acoustic guitar amplifiers over 20 watts include some form of feedback control. If you are playing in a situation where you need to turn your amp up more than halfway, this feature could be very important. When looking at this feature, consider both ease of use and the impact on tone quality. Some amps offer a very simple push-button feedback control that can cause a slight loss of richness in tone. Other amps include more elaborate controls such as notch filters that allow you to isolate the problem frequencies. However, these controls can take some experimentation to dial in just right.
Need help deciding?
If you have questions about acoustic amplifiers or any of their features, just pick up the phone. A Musician's Friend Gear Head is available at 877-880-5907 to help you find exactly what you're looking for.
Learn more with these expert resources:
Acoustic Guitar Buying Guide
How to Choose the Right PA System