Picking a starter guitar often involves juggling your budget with your kid's expectations. With a little knowledge and compromise, you should be able to find a model with the necessary playablity, sound and looks to please everyone. Learning to play the guitar should be the tricky part for your child, not finding one to play. Read on for crucial tips that make guitar shopping easier. 
Check out our Beginner Guitar Buying Guide for more great recommendations.
Picking a Type
Though mandolins and ukuleles have been enjoying renewed popularity, for a child just getting started, the guitar is the most popular and versatile instrument. It comes in two basic types: the electric or acoustic guitar and choosing between them is the first step. While each has its merits as a starter instrument, neither is necessarily right or wrong—it's a judgment call that should in part be based on what your kid wants. Buying an acoustic for your would-be electric shredder will be a turnoff.
Most kids who stick with the learning process are encouraged to keep at it as they begin to create the sounds of the music they love and aspire to play better. In order to do this, they need a guitar with decent sound and playability. If it sounds bad and won't tune, it's no bargain—just more junk for your next yard sale.
Picking a size
The best way to find the right size is to take the guitar for a spin, but if this isn't an option, there are some useful rules of thumb about overall guitar length.
30" for ages 4-6
34" for ages 6-9
36" for ages 9-12
Standard for 12 and up
Electric guitars for kids
Electric guitars are somewhat easier to play than acoustics. The height between the strings and fingerboard (known as the action) is lower on an electric, requiring a lighter touch to fret notes. Lower action is easier for young fingers that can't otherwise produce the pressure to play notes clearly without strain.
For the wannabe shredders who got their burning desire to play working a Guitar Hero controller, an electric guitar is an essential. Electrics are associated with rock, alternative, metal and most pop music, while acoustic guitars lean in the direction of country-western, bluegrass, and folk. Of course, there are plenty of exceptions.
The Squier Mini Stratocaster Maple Fingerboard Electric Guitar delivers the look, feel and sound of a quintessential rock guitar—the Stratocaster—in a starter-friendly size. The short 22-¾" scale, 20-fret neck is ideal for small hands. With three single-coil pickups, master volume and tone controls, a maple fretboard and hardtail bridge, it produces bright Fender tone and stays in tune.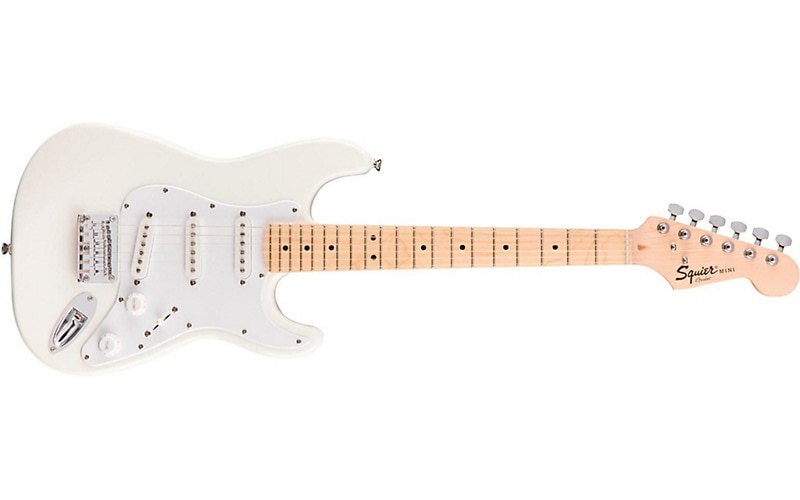 On the downside, electric guitars can be more expensive than acoustics when you factor in the price of a guitar amplifier. They also get loud. Kids may enjoy cranking their rendition of Ozzy's "Crazy Train" up to 10, but parents? Not so much. This can be sidestepped with headphones that plug into the amp, but that is yet another expense and probably will result in a less satisfying experience for the kid itching to rock out.
Electric guitar value packages are budget-friendly and come with all the extras, usually including the amp. Aside from taking the guesswork out matching the amp and guitar, all those included guitar accessories limit your total investment.
The Epiphone Les Paul Player Pack is a good example. It includes a 10W amp with overdrive for rock-ready tone, gig bag, headstock tuner, strap, cable, picks and access to to online lessons. The included Les Paul Special II guitar, based on Gibson's iconic instrument, is full-sized, but the shorter, 24.75" scale is easier for small hands to manage.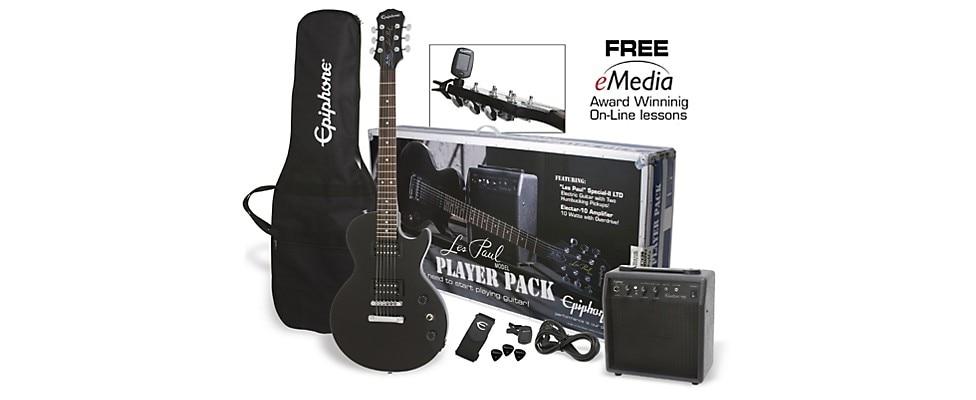 Want to dig deeper? Our Electric Guitar Buying Guide delves into all the details.
Acoustic guitars for kids
Starter acoustic guitars tend to be more affordable since no amp investment is needed. This makes them a good option for kids just testing the water. A smaller initial investment will be easier to stomach if your child decides not to continue playing. But again, keep in mind that an instrument that sounds decent and plays relatively easily will more likely keep them engaged. A bargain basement guitar that's painful to play and won't tune up or hold its tuning will be abandoned quickly.
Because of their higher action, kids have to press the strings down harder on an acoustic, which can result in hand cramping. That along with blisters on fretting fingers can discourage practice. But perseverance will eventually pay off with stronger hands, calloused fingertips and increased dexterity. You'll often hear guitar players say that the transition from an acoustic to an electric is a piece of cake rather than vice versa.
Choosing a nylon-string folk guitar can make for an easier introduction to playing an acoustic. But eventually, most guitarists will want to play a steel-string instrument, so there's an argument that says just get those physical obstacles out of the way.
As with electrics, finish and style may mean less to a parent, but for kids, it may dictate how often they play and practice. Body shape and size is important for more practical reasons. Depending on your child's size, he or she may be unable to handle a full-sized guitar. A reduced-scale guitar may be more appropriate. The Rogue Starter Acoustic Guitar, is an example with its ⅞-scale body and neck. It's extremely affordable yet has a maple neck, rosewood fretboard and comes fitted with Martin strings.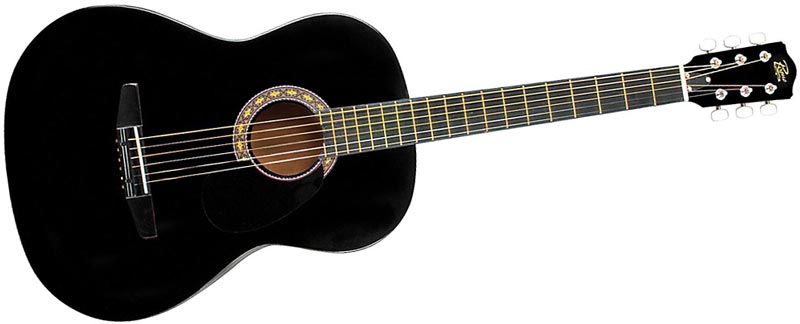 For the new guitarist who is showing more commitment, you may want to consider a step-up instrument that offers better sound, versatility and playability. The LX1E Little Martin Acoustic-Electric has a solid Sitka spruce top for crisp tone while the modified 0-14 body makes it a good choice for both smaller students and travelers. It can be played unplugged, but when your student's ready to play with others in an amplified setting, the Little Martin's good to go with Fishman electronics onboard.
Standard-size acoustic guitars can be difficult for the smallest players to hold. One option is a model with a shallower body. Though the tone and projection may not be quite as robust as a full-size dreadnought acoustic, a contoured or slim-profile body can be more kid-friendly. 
Our full Acoustic Guitar Buying Guide will help you shop smarter.
Browse our unrivaled selection
In this guide we've just touched on a few of the hundreds of starter guitars available at Musician's Friend. To help you zero in on the right model for your child, explore our huge selection of junior guitars. Shop with confidence—you're covered by the Musician's Friend 45-day Lowest Price and Satisfaction guarantees—the best in the business.
Need more help?
Browsed the selection of kid-friendly guitars and you're still not sure? Our Gear Heads are ready to help you at 877-880-5907 with expert advice and the perspectives of seasoned musicians.