If you're reading this guide, you probably need help purchasing a first acoustic guitar or electric guitar for yourself, a friend or a child. We're here to help you understand the key specifications and features to look out for. We'll explain the differences between acoustic, acoustic-electric and electric guitars. We'll also recommended six of our best beginner guitars and two beginner guitar value packs. 
Table of Contents
Start strumming: A guitar overview
Acoustic guitar vs. electric guitar: Key differences
   Understanding The Basics of Acoustic Guitars
   Have it both ways with an acoustic-electric guitar
   Plugged in: Electric guitar basics
   Which type to choose?
Best beginner acoustic guitars
Best beginner electric guitars
Guitar value packs: A guitar and all the extras in one budget-friendly box
Need more advice?
Start strumming: A guitar overview
Most all guitars, both acoustic and electric, share some basic characteristics. What follows are the most important ones for beginners to know and understand.
Guitars generally have six strings. All guitars have a body (the bulky part), a neck (the long skinny part), and a headstock (located at the far of the neck from the body where the strings attach to tuners).
All guitars need to be tuned to play properly and sound on pitch. This is done with the tuning pegs (also referred to as tuning machines) on the headstock. On the top side of of the neck is the fingerboard, also called a fretboard, over which the strings are routed. Pressed into the fingerboard are small metal ridges called frets. They help delineate individual notes along the fretboard and also make it easier play on pitch.
Having trouble tuning your guitar? Browse our wide selection of tuners.
At the top of the fingerboard, just below the headstock, is a slotted piece of material called the nut. The strings are routed through the slots in the nut and terminate at the bridge, located on the far end of the body. When the strings are plucked or strummed, they vibrate between the nut and the bridge. This vibration is where the sound of a guitar begins. How that vibration translates into sound depends on whether the guitar is acoustic or electric, as we'll see in a moment.
Acoustic guitars vs. electric guitars: Key differences
If you're just starting out, you may not know there is a difference between acoustic and electric guitars. Don't worry, you're not alone.
Understanding The Basics of Acoustic Guitars
How are acoustic guitars and electric guitars different? Several ways. Most notably, acoustics don't need to be plugged in to be heard. Acoustic guitars are generally larger and have a hollow sound chamber. This sound chamber "magnifies" the resonance of the guitar's wooden top and body as you pluck or strum the strings. The bridge helps transmit the strings' vibrations to the body.
The acoustic properties of the woods used on acoustic guitars has a major impact on their sound. The wood used for the top is especially important. Better quality acoustics are crafted with solid spruce, cedar or other tonewoods that produce crisp, articulate sound.
Many inexpensive starter guitars are built with laminate tops, made from several layers of wood pressed together. While laminate is durable and can be quite attractive, it will not produce as pleasing tones as solid wood. To a lesser extent, this is also true of the guitar's back and sides—solid woods will produce better tone. When reading guitar specs, if you see terms such as "select spruce top," that indicates the top is made of laminated woods with a spruce-like grain pattern imprinted on it.
The size of the acoustic guitar body also influences its voice. Larger instruments, with dreadnought or jumbo bodies, generally produce more volume. They also tend to have warmer, rounder tones that accentuate bass notes. Smaller guitars, such as parlor, concert and "000" models, usually have a brighter sound that accentuates their middle and treble ranges.
Although most acoustic guitars have steel strings, classical and flamenco guitars use nylon strings. Nylon strings produce a mellower, softer sound. It is a common misconception that a new guitar player should start with nylon strings because they are easier on fingers or easier to play. Nylon strings and steel strings are not interchangeable on the same guitar, so it's not a matter of progressing from one kind of string to another with experience. What should really drive your decision is what kind of music you want to play.
Acoustic guitars are self-contained and require very little preparation to play. If you are looking for simplicity, consider learning on an acoustic guitar first. You simply need to sit down, tune it and you're ready to play.
Acoustic guitars are generally larger than electric guitars. They also tend to use heavier-gauge strings. Heavier-gauge strings will require a bit more finger strength than the lighter-gauge strings found on electric guitars. Getting comfortable holding the guitar and fretting notes is important on both acoustics and electrics, but may be slightly more physically challenging with acoustics versus electrics.
Have it both ways with an acoustic-electric guitar
An acoustic-electric guitar has an electronic pickup that's usually built into its bridge. This pickup is used to capture the sounds produced by the top's vibrations. This is then transmitted via an onboard preamplifier to an external acoustic guitar amplifier or PA system. But plugging-in is strictly optional. Unplugged, an acoustic-electric guitar typically sounds just like a fully-acoustic guitar.
Acoustic-electrics make a good choice for the guitarist who wants to play both in acoustic and amplified settings. Because they eliminate the need for a microphone in louder situations, such as playing with other amplified instruments, they offer a simple plug-and-play way to get heard.
At Musician's Friend you'll find a huge selection acoustic and acoustic-electric guitars to choose from. We make it easy to hone in on the price range and brand(s) with sorting tools that will help you quickly get to a short list of models to consider.
Learn much more with our expert Acoustic Guitar Buying Guide.
Plugged in: Electric Guitar Basics
Unlike acoustic guitars, electric guitars require a cable and amplifier to produce sound. While they have an even greater variety of shapes and styles, electrics are usually smaller and thinner. They also use lighter-gauge strings than acoustics.
Electric guitars largely depend on electronic pickups to generate their sound. They usually have one, two or three pickups that are mounted in the body. Depending on their mounting location and type of electronics, pickups will produce a variety of sounds. Multi-pickup electric guitars have controls with which you can select output from each pickup or blend their output. This allows you to create a variety of sounds, all from the same guitar.
In addition to tuning and setting their guitar's pickup configuration and tone control(s), electric guitarists must adjust the sound on their amplifier to achieve their preferred sounds. With the right settings, electric guitar players can play in a variety of styles from country chicken pickin' to jazz, rock, blues, heavy metal and everywhere in between. This versatility can't be matched by the acoustic guitar.
If you're shopping for an electric guitar as a gift, find out what kind of music and artists the budding guitarist wants to emulate. It's better to let them know you're shopping by soliciting their input rather than "surprising" them with a guitar that's out of sync with the music they love. For example, giving a traditionally-styled guitar designed to produce super-clean, undistorted tone to a heavy metal fan is unlikely be a hit.
Browse the huge selection of electric guitars at Musician's Friend. As with acoustics, you can easily sort that selection to match your budget or brand preferences to get to a short list of candidates.
Which type to choose?
There is no right or wrong answer when choosing a guitar. Choose whichever guitar suits your style. If you are inspired by electric guitar players, you may want to follow suit. If unplugged acoustic sounds tend to be what you enjoy most, then the acoustic guitar is the right choice for you. If you're still not sure, make a list of ten bands or artists whose styles you'd like to emulate. If the list is predominantly electric, go electric. If it's acoustic, then go acoustic.
The good news is that you can learn on either instrument and you'll be learning the same chords and tunings, and to some extent, techniques. If, after you've been playing a while, you want to expand your horizons, you can always add an acoustic or electric guitar to your collection.
Whether you choose an acoustic or electric guitar, your playing experience won't be complete without some essential guitar accessories. These include:
Additionally, electric players will want the following:
amplifier (to actually hear the sound of your guitar)
cable (to connect the guitar to the amplifier)
headphones (for quiet practice—moms and dads will thank you)
Best beginner acoustic guitars
Here are our suggestions for three of the best beginner acoustic guitars available. These offer excellent quality and value for any budding musician.
Yamaha FG800 Folk Acoustic Guitar
The beauty of the Yamaha FG800 Acoustic goes way beyond skin deep with its solid Sitka spruce top complemented by a Nato back and side. The mellow, well balanced tone offers excellent note definition, worthy of dreadnoughts costing far more. Quality materials such as a rosewood bridge and fingerboard, black and white body binding and more make FG Series acoustics sweet buys with a great reputation.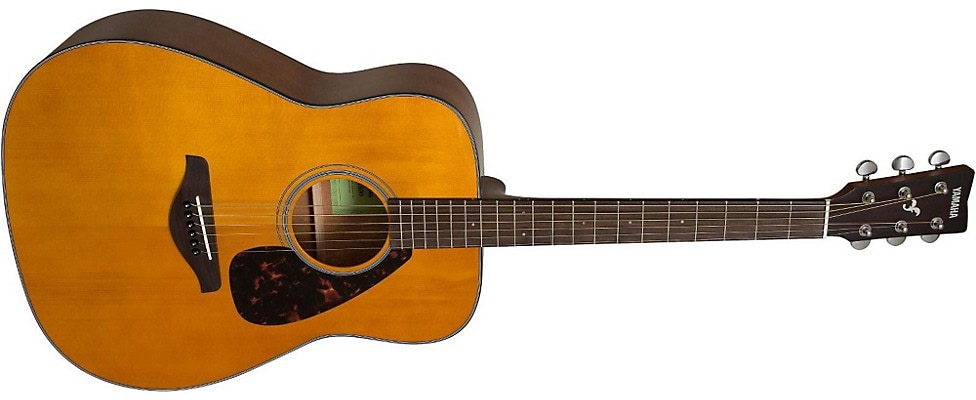 A solid Sitka spruce top gives the lightweight Yamaha FG800 Acoustic Guitar the kind of sound typical of far more costly instruments.
We get the deep dive on the Yamaha FG800 Acoustic Guitar at NAMM 2016.
Martin LX Little Martin ¾ Scale Acoustic Guitar
Martin guitars have been around for over 180 years, and are widely considered to be some of the best guitars currently in production. The Little Martin is a ¾ scale guitar perfect for kids and beginners with a smaller stature. Featuring professional-grade construction and hardware, the Little Martin has a big sound in a small package. Also great for travel, the compact body stows easily.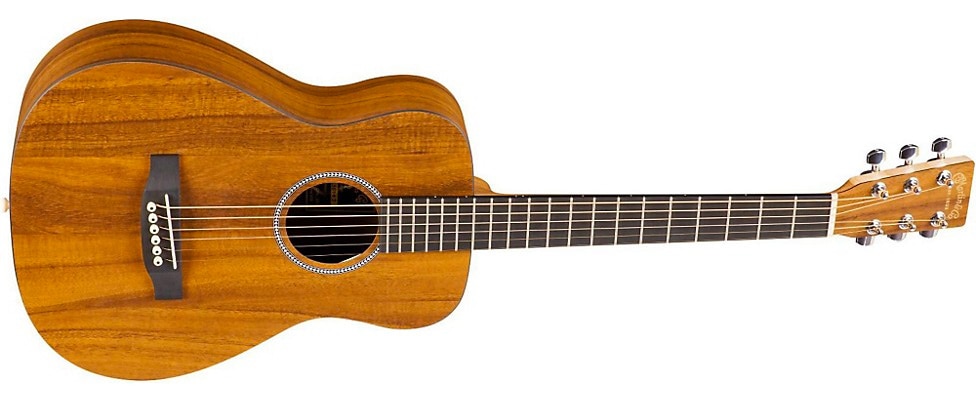 Epiphone Dove Pro Acoustic-Electric Guitar
Featuring a comfortable neck and solid spruce top, the Epiphone Dove Pro rings out with full, rich sound. Based on a design going back to 1962, the Dove Pro is equipped with a Fishman Sonicore pickup system that accurately reproduces its acoustic tone when you plug the guitar into an amplifier or PA system to play with amplified instruments. A terrific value.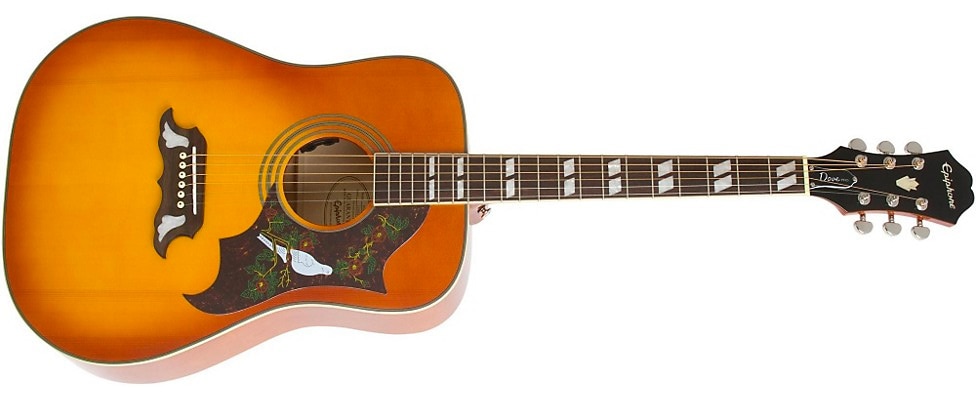 Epiphone gives all the details on their Epiphone Dove Pro acoustic guitar.
Best beginner electric guitars
Here are three suggestions for some of the best beginner electric guitars.
Squier Classic Vibe Telecaster '50s
Featuring classic Fender design, smooth playability, and simple controls, the Squier Classic Vibe Telecaster '50s is a great first electric guitar. The fixed bridge and quality tuning machines ensure simple and reliable tuning stability—a potential frustration for new players trying to learn on poor quality guitars. Single volume and tone controls along with two bright-sounding single-coil pickups give the beginning player a wide range of tones that are easy to control. The Telecaster has been a mainstay in music for decades and is especially associated with great country, pop, surf and rock sounds.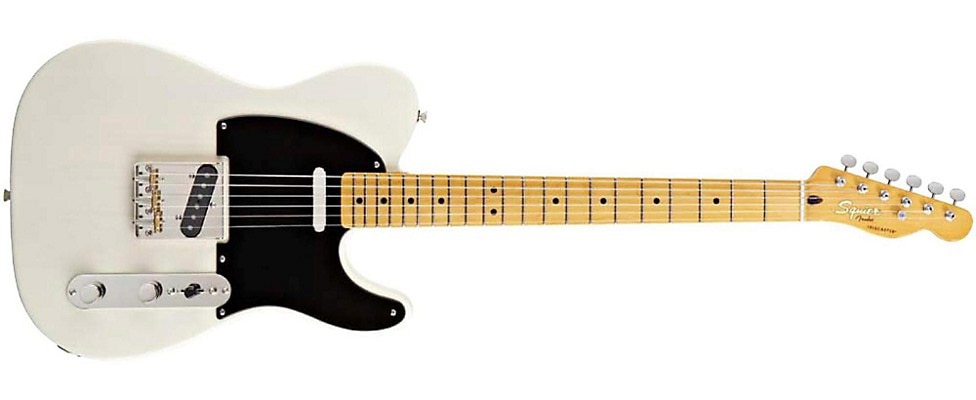 Epiphone Les Paul SL
The Les Paul SL from Epiphone is a great choice for a beginner guitarist looking for classic LP vibes. With two single-coil ceramic pickups and a lightweight body, this model should be able to cover a variety of musical styles and genres while coming in at a very attractive price point. The Les Paul SL is available in 6 distinct styles including Heritage Cherry Sunburst, Pacific Blue, Natural Yellow Sun, Turquoise, Vintage Sunburst and Ebony.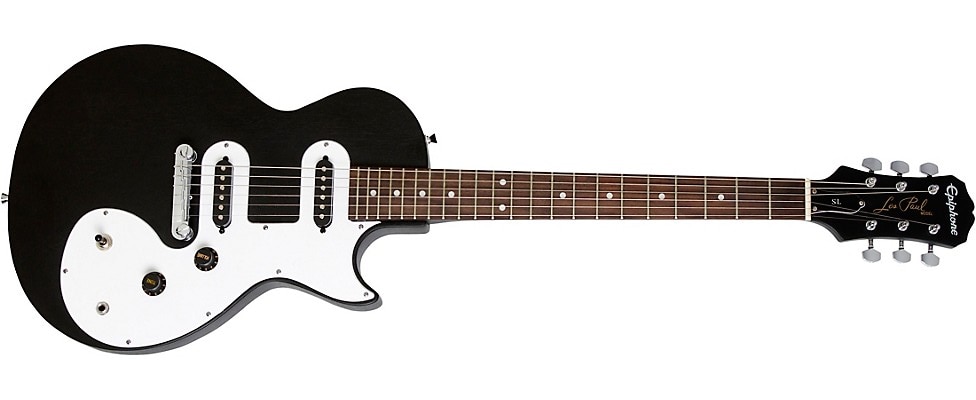 The Epiphone Les Paul SL offers two single-coil pickups, a slim and lightweight Poplar body and classic LP looks at a great price.
Gretsch Guitars G5425 Electromatic Jet Club
Constructed with an arched maple top, chambered basswood bodies and bolt-on maple neck the Electromatic Jet Club offers plenty of classic vibes at a great price. With an arched maple top and chambered basswood body, it's got tone for days. Appointments include an anchored Adjustomatic bridge, stop tailpiece, and dual-coil pickups.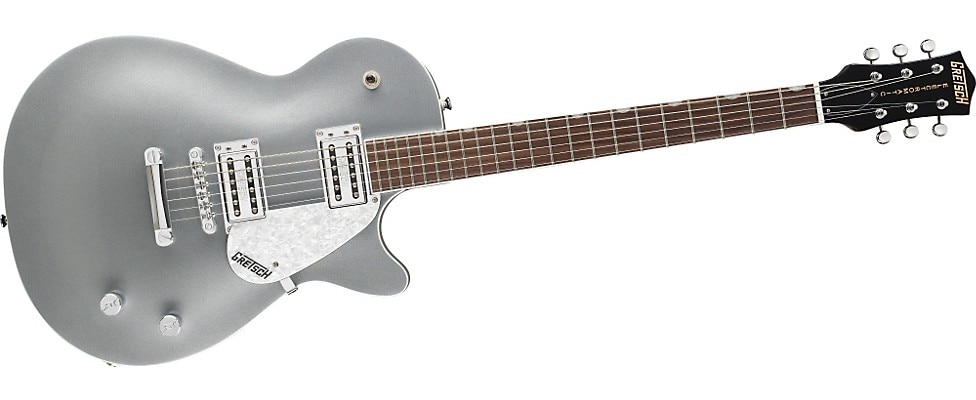 Guitar value packs: A guitar and all the extras in one budget-friendly box
At Musician's Friend we offer a broad selection of both acoustic and electric guitar value packages. They help eliminate guesswork while giving you everything you need to get started playing—all together in one convenient package at a price that's far lower than purchasing each item separately.
A guitar value package comes with a guitar (acoustic or electric) and all the essentials you'll need to play that guitar. These usually include:
a gig bag (a soft case to protect the guitar in storage and transport)
a strap (to position and hold the guitar in place)
a tuner (to make sure each string is tuned to the proper pitch)
picks (to pluck the strings)
Electric guitar packs will usually include the following as well:
an amplifier (so you can hear the guitar)
a cable (to connect the guitar to the amp)
Here are just two of our best-selling value packs:
Yamaha GigMaker Deluxe Acoustic Guitar Value Pack
The GigMaker Deluxe Acoustic Package is a real budget stretcher. Featuring Yamaha quality construction, the dreadnought guitar has a solid spruce top for excellent resonance and sustain. The package includes picks, strap, electronic tuner, gig bag, extra strings, and an instructional DVD to get you learning guitar fast.
With its solid spruce top dreadnought guitar accompanied with a full slate of quality accessories, the Yamaha GigMaker Deluxe Acoustic Guitar Pack makes a super-affordable first guitar with good sound and playability.
Epiphone Les Paul Electric Guitar Player Pack
The Epiphone Les Paul Player Pack package features an iconic electric guitar paired with a great little practice amplifier, the Electar-10, and quality accessories. The Epiphone Les Paul Special II is a versatile guitar that feels comfortable covering most any major style, including rock, blues, punk, classic rock and more. The guitar features a dual humbucker pickup configuration. The package also includes a tuner (very important), guitar picks and free online lessons to get you playing right away. A cable, strap and gig bag complete the package.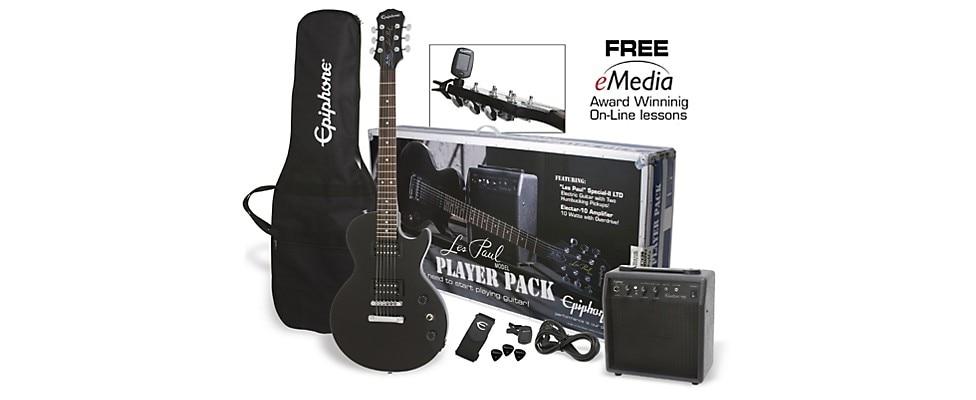 Browse our full selection acoustic guitar value packages and electric guitar value packages.
Need more advice?
If you'd like further guidance in picking the ideal beginner-level acoustic or electric guitar, call our knowledgeable and friendly Gear Heads. They will happily help you figure out the best beginner guitar for you and get you playing in no time.