You want to be well-informed before dropping your hard-earned cash on DJ gear. However, with so many different hardware/software options these days, picking the right DJ equipment and software can be confusing.
That's why we've designed this guide. We'll walk you through the buying decisions, helping you understand gear options, the software platforms and the technical terms you'll come across. Whether you're buying a first setup or upgrading your current rig, you'll find the knowledge you need to shop with confidence.
Table of Contents
The Essential Gear Every DJ Needs
Why DJs went digital
What DJ software and apps do
What DJ controllers do
Controller or software—what comes first?
Software-specific vs. software-versatile controllers
Other software and controllers
USB and wireless controllers
The iOS connection
The vinyl option
DJ Headphones
DJ CD/Multimedia Players
DJ Mixers
Speakers
Karaoke Machines
Glossary
The Essential Gear Every DJ Needs
While we include the components most DJs use below, note that today the controller usually includes the functions of a mixer, player and software control surface while providing connections for audio, USB or iOS gear. A DJ setup may include some or all of the following equipment listed below.
In this guide we'll be covering all the hardware you'll be plugging into the PA as well as three major DJ software platforms. (If you plan to buy a PA system, be sure you check out our PA System buying guide.)
Looking for a present for the DJ in your life? Check out our DJ gift ideas!
Why DJs went digital
At one time DJs performed solely with two turntables and a mixer, whether they were spinning dance records or scratching vinyl hip-hop style. With the arrival of MP3s and CDs, many DJs switched to these newer formats due to their greater reliability, easy transport and music library management, plus potential for extensive control and music manipulation. DJ gear manufacturers quickly got in on the act producing players and controllers that exploited the ability to slice and dice beats and create jaw-dropping shows beyond the limits of vinyl.
Since their introduction, DJ controllers, mixers and interfaces have grown much more powerful. Today, DJ software is often tightly integrated with specific hardware. This makes configuring your controller's settings much easier while allowing novices to create cool beats and seamless shows. In the next section we'll look at three of today's most popular DJ software platforms.
While a controller allows you to manipulate your software or app more fluidly, it's the software itself that does all the cool stuff that has revolutionized the world of DJing. The software performs all the critical chores that help you manipulate your music files.
What DJ software and apps do
Software and apps designed for DJ use monitor all your mixing moves, apply the filters and effects you select, trigger samples, modify music waveforms and perform dozens of other cool tricks that in the old days would have been impossible or required external gear. Apart from basics like loading your music library into storage, DJ software provides the virtual transport controls for playback as well as creating the virtual decks on which you'll be mixing.
In looking at software options you'll find that many include the same or similar functions. In the end, how well those functions will work for you depend two factors: your comfort with the software's user interface and how well your controller manages it.
What DJ controllers do
Today's controllers typically include three elements:
A control surface composed of knobs, buttons, jog wheels, pads or faders that give you hands-on control over software functions and settings. Displays and LEDs indicate system status, audio levels and many other parameters.
An audio interface that transmits your signal to external equipment including computers, mobile devices, effects processor and PA systems, depending on the type of connectors it has.
Control of tablet and smartphone apps is found in some newer DJ controllers.
It's possible with most DJ software to use a mouse and keyboard for control. However, this method can be non-intuitive and involve digging through endless menus. That's why most DJs use a hardware controller to operate and configure their software.
You must consider several factors in selecting a controller. Build quality, of course, is very important, especially if you're a mobile DJ—you want gear that holds up to the rigors of the road. It's also critical that you can make your way around the controls easily. Pay attention to the controller's layout to make sure it's arranged in a way that makes sense to you. But probably, the single most important factor in deciding on a controller is the software you'll be using.
Controller or software—what comes first?
Assuming you've decided that an all-in-one controller is the way to go, choosing a DJ software platform is the next logical step. All DJ controllers come with some software. Often it's a scaled-down version of the manufacturer's full-blown software. As a new DJ, these limited-edition versions may be fine for starting out, but you'll likely want to upgrade to the manufacturer's full version in time. Be sure to factor in that additional cost when making your decision on a controller.
While a DJ controller with its hands-on sliders, knobs and button lets you run your software or app more fluidly, it's the software itself that actually does all the cool stuff. Software applies the effects, filters, beat juggling and those seamless, perfectly beat-matched transitions that have revolutionized the world of EDM.
Software-specific vs. software-versatile controllers
When it comes to selecting controllers, one of the biggest considerations is software compatibility. Some DJ controllers are designed to work with specific software products. If you are set on the software platform you want to use, these can be an excellent option as they integrate tightly with the software and often provide functionality that you won't get with controllers designed for use with multiple software products. Since many functions are already "mapped," (the process of assigning functions to various parts of the controller) software-specific controllers are usually easier and faster to configure.
The downside to software-specific controllers, however, is that they may not be so compatible with other programs. If it's important to you that your controller be able to work with a wider range of software options, you will want to look at MIDI-compliant, software-agnostic controllers that you can use with many different software types.
Next we'll look at three of the leading DJ software platforms and some of the controllers that run them to help you narrow down your choices.
Native Instruments Traktor
Native Instruments was among the first companies to focus on hardware and software integration. By tightly wedding powerful software with ever more capable controllers, NI's Traktor Pro and Traktor Scratch Pro are among the most important DJ performance and production software. (Traktor Scratch Pro works with Traktor's proprietary DVS digital vinyl systems as well as DJ controllers.)
NI makes various TRAKTOR-based software, each aimed at different budgets and skill sets. A couple incorporate video capability. Advanced versions represent some of the deepest DJ software out there. But with that depth comes a steeper learning curve. TRAKTOR also boasts some of the strongest MIDI implementation in the business.
One of Traktor's strengths is its Remix Deck concept—an environment in which you manipulate the component parts of the music, dicing, slicing, stretching beats and melodies then freestyling in playback. In this respect it will feel quite familiar to Ableton Loops users. Traktor offers a very customizable interface that can be readily configured to match your work style.
Theoretically, any software controller should be able to be mapped to operate Traktor, but many DJs find NI-made hardware has an edge over software-agnostic controllers. They point to more precise jog wheel performance as an example. For DJs who plan to scratch or have a background with vinyl, this is a big deal.
Here's a quick overview of the NI product line for DJs:
TRAKTOR KONTROL D2 - The compact D2 Controller is ideal for mobile DJ. Its touch-sensitive, control surface integrates with TRAKTOR PRO 2 for hands-on performance needs. NI conceives of it as a performance instrument combined with a touch-and-seek controller for pro performances.
TRAKTOR KONTROL S2 MK2 - The latest version of the S2 MK2 controller is equipped with a Lightning cable transforming iPhones and iPads into full-fledged DJ controllers using the awesome TRAKTOR DJ app. Its 2 + 1 design delivers dual hands-on decks plus Remix Decks, all tightly integrated with NI software. More than 30 FX plus awesome Remix Deck control of up to 64 loops or one-shot samples opens up a world of possibilities.
TRAKTOR KONTROL S8 - Built in a standalone mixer format, this is NI's top-of-the-line controller. With a full range of touch-sensitive pads and other controls plus four-channel capability, the S8 Controller gives you hands-on access to every Kontrol function. The super-legible color display and touch strips with LED guidance help streamline workflow. The S8 comes with TRAKTOR Scratch PRO 2 software for jaw-dropping performances that include the use of NI's Remix Decks technology. This is a controller/software combo that will serve the experienced DJ seeking to gio beyond the bounds of ordinary performance.
TRAKTOR KONTROL Z1 - The Z1 Lightning Controller is intended for the DJ looking for an affordable and compact unit with which to run Traktor Kontrol while integrating an iPhone or iPad. Its simplified work surface provides control over volume, EQ, effects and filters. Adding the X1 Controller (see below) gives you advanced functions such as control over remix decks.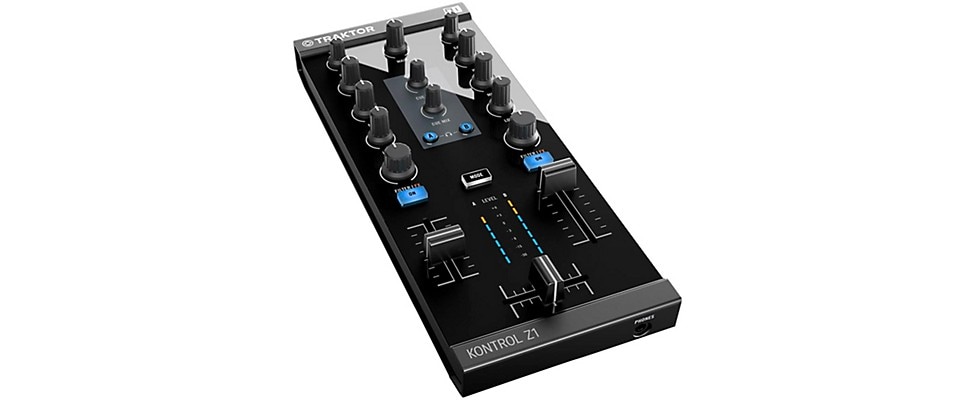 TRAKTOR KONTROL Z2 - Native Instruments has the club DJ firmly in mind with the Z2 Controller. Its 2-channel mixer format is designed to sit comfortably between CDJ players or turntables. It has an uncrowded control layout for error-free performance and excellent sound quality to match the best house PAs. In addition to Scratch Pro 2 software, NI bundles timecode vinyl and CDs so you can spin digital files like they were real vinyl. A Macro FX function allows you to assign several effects to a single knob for massive track buildups, breakdowns and track destruction.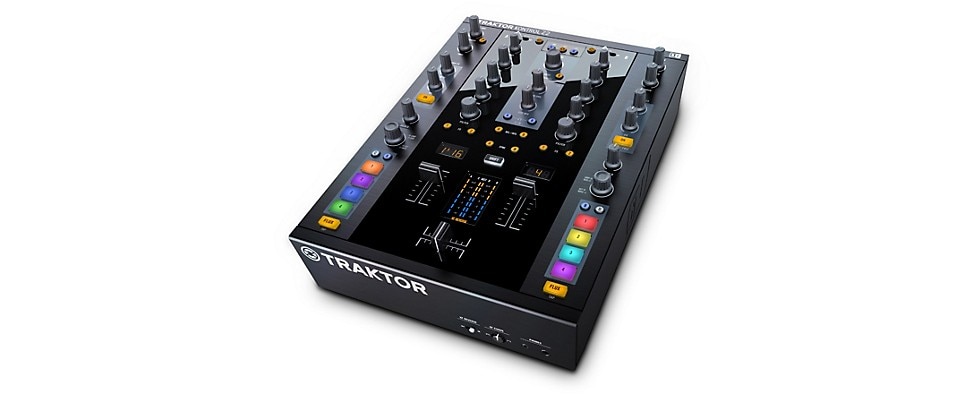 TRAKTOR KONTROL X1 MK2 - The X1 MK2 Controller is designed as an add-on to existing Traktor rigs. The X1 can be used to control two decks and Traktor FX units simultaneously. The MK2 update adds a touch strip giving you smoother more precise control over effects, filters and more. It's a solid choice for DJs who have older gear but want to take full advantage of TRAKTOR PRO's capabilities.
TRAKTOR KONTROL F1 - NI's dedicated FI Remix Decks controller puts this powerful technology at your fingertips. The 16 multi-colored pads trigger loops one-shot samples working seamlessly within the latest versions of TRAKTOR PRO software.
TRAKTOR Scratch A6 - The Scratch A6 system is intended for the no-holds-barred DJ who wants to access digital vinyl and CD scratching with four onboard track decks plus traditional DJ gear like turntables and phono preamps. It harnesses all the power of TRAKTOR PRO 2.5 software including Remix Deck capabilities, improved BPM detection technology and 2 GB of fantastic loops and samples. The included 12-channel interface (6 In, 6 out) has premium AD/DA converters, offering up to 96kHZ performance for superb sound and the included timecode CD and vinyl control discs have excellent tracking capability to support your scratching skills.
Serato
The consensus on Serato is that while it lacks the deep MIDI mapping capabilities of NI's Traktor and Scratch, it's a somewhat easier platform to master. Many also rate Serato highly for its natural performance feel, "fun" factor and highly intuitive interface. Some DJs find the ability to create beatgrids—beat markers to help the software lock into the tempo accurately—easier with Serato.
Another significant factor is the number of controller/interface manufacturers who support Serato software. You'll find controllers in a range of prices from some of the biggest names in DJ hardware with capabilities that go from entry level to professional.
Serato DJ - The intention with Serato DJ is to give you a complete, single-box solution that covers every aspect of your DJ performance. Colored waveforms that reflect EQ settings give you a very visual way to reshape your sounds on the fly. Workflows are streamlined and extremely visual too. Applying effects, triggering samples and building beats is enhanced by Flip and DVS expansion packs. Flip gives you powerful beat editing and building functions while the DVS pack offers the feel of real vinyl-based mixing. A MIDI panel takes a lot of the heavy lifting out of your mapping workflows.
Serato DJ reveals its Serato Scratch Live heritage with its many features taken from that vinyl emulation program.. When Serato decided to roll Scratch features up into the newly expanded DJ/DVS platform, they made everything backwards-compatible so old Scratch libraries and songs are automatically read. Its also compatible with your collection of Serato control vinyl. Serato DJ is bundled with professional controllers.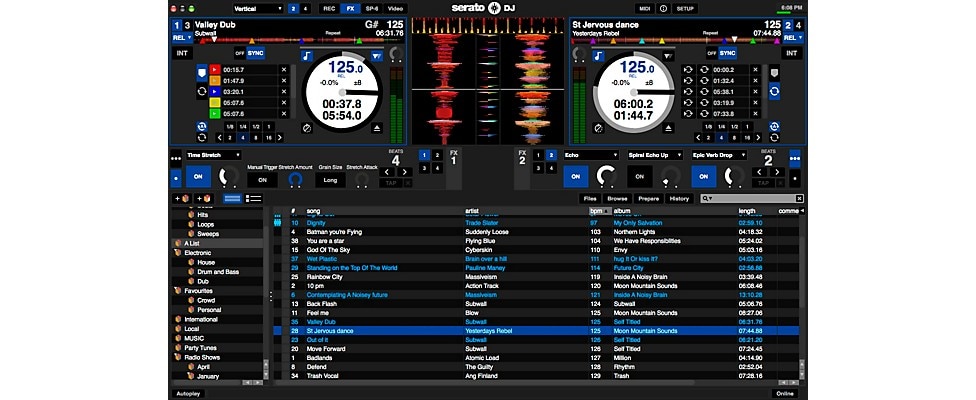 Serato DJ Intro - This free download app features 4-deck mixing, syncing, looping and cueing. It has a four-slot sample player in which you can store sounds like foghorns for big mid-show drops. It's a good app for the newbie DJ to get started on, though you'll probably want to graduate to more powerful Serato software and a full fledged controller as your DJ skills grow.
DJ Intro is bundled with beginner-level controllers.
Another option is a digital vinyl system (DVS) that uses DJ software such as Serato Scratch Live. This system let you play digital files from your computer using special records on your turntables or DJ CD player, so you can combine the feel of vinyl with the power of digital music management. 
Ableton Live
Introduced in 2001, Ableton Live is more than just DJ software, it's a full-fledged DAW platform with great tools for building everything from basic beats to fully orchestrated, complex arrangements. It's a great choice for DJs who are into groove production but also looking for a suite of tools that handle all their music composition needs.
Users point to Ableton Live's single-window composition interface as one of its most user-friendly features. Using its Session View, a scratchpad-like environment in which you drop audio or MIDI files and other elements, you can flesh out ideas drawing on Ableton's acclaimed instruments, effects and sounds as well as your own libraries. The super-flexible workflow invites experimentation and creativity.
Live's Arrangement View is where you actually build your compositions, and it uses a more traditional, time-based approach to creating tracks and MIDI sequencing. It works in conjunction with Session View, recording all your improvised moves for later editing. The interaction between the Session and Arrangement views blurs the line between improvisation and arrangement, leading to a more natural and creative workflow.
Another strength of the Live platform is its browser that helps you find what you're looking for faster. And Live comes bundled with a huge collection of very usable sounds right out of the box. Once you've found the sounds you want, editing them using powerful MIDI note manipulation technology allows you to shape them virtually any way you want. Assembly of tracks and beats is made easier with excellent automation support.
Ableton offers Live in a range of of packages including various upgrade and educational versions as well as Ableton 9 Live Intro, which can be purchased in a traditional box or as a download. Either way, Live Intro offers a slimmed-down feature set, but has all the basic functionality of the full version. It's a great way to get the feel of working with live and you'll be able to upgrade to to a full version at lower cost.
Thanks to excellent MIDI mapping support, Ableton can be run on a wide range of controllers and interfaces as well your computer. Non-traditional control surfaces such as the Ableton Push 2 Controller Instrument take the performance-friendly aspects of Live to a higher level with superb hands-on control. You can readily play melodies, chord and single notes while accessing mixer controls and cool drum racks in mid-performance.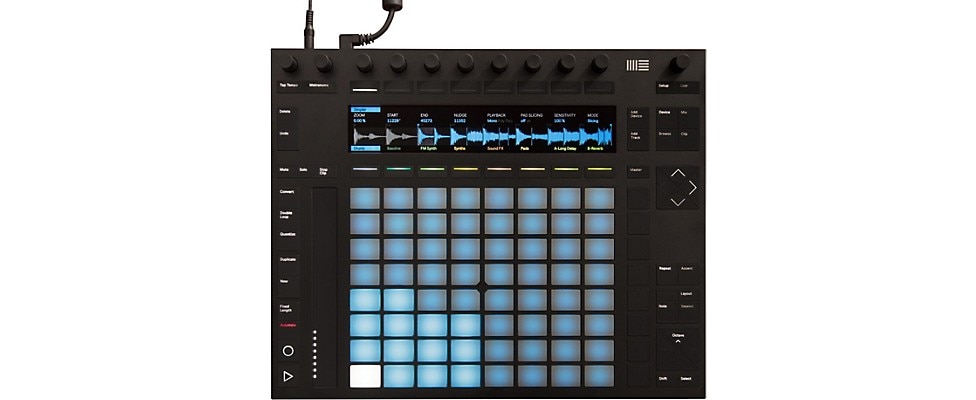 Taking a similar grid-performance approach is Novation's line of Launchpad controllers. They work in sync with Live's Session Mode while Note, Device and User modes invite experimentation using your existing sounds and gear. Pressure- and velocity-sensitive pads with helpful RGB color cues let you engage with your music in a natural, performance-based way.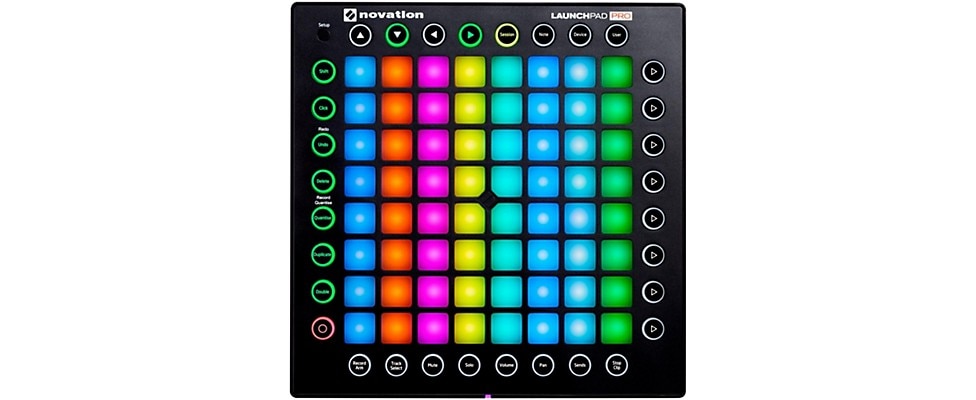 Explore the complete collection pad-based controllers at Musician's Friend.
Other software and controllers
So far we've looked at the big three software platforms that most DJs use: Traktor, Serato and Ableton Live as well as controllers specifically designed to work with them. However, there are many controllers that are software-agnostic—that is they can be readily configured to work with just about any software useful to DJs. Most come with templates for all the major DJ programs, which makes mapping the controller to the software simpler.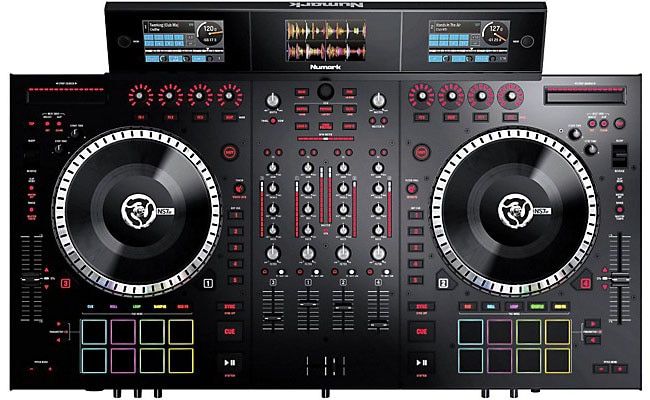 USB and wireless controllers
There are multiple ways to connect your DJ controller to your PC or mobile devices to interact with your software. A common connection type you will find on many of them is USB. You will find lots of options for USB-based controllers that interact with MIDI-based DJ software programs.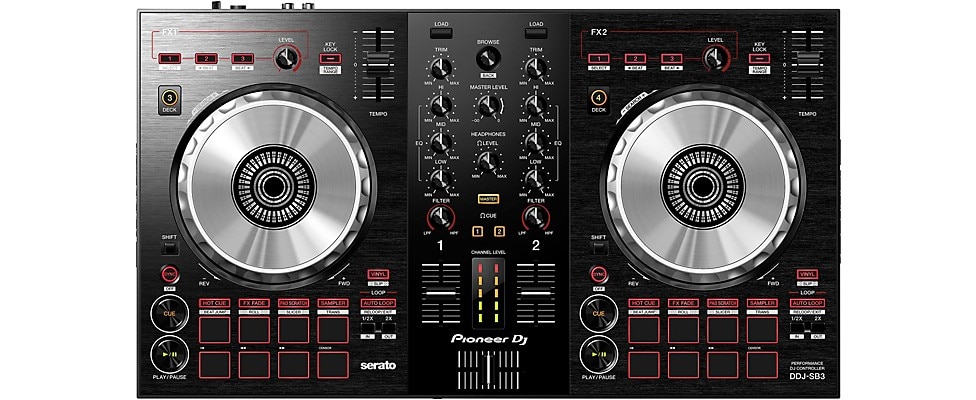 Another option is to ditch the wires completely. Although fewer models are available, you can find a selection of low-latency, wireless controllers that will allow you plenty of flexibility and freedom of movement. Some even include cutting-edge features like accelerometer-based MIDI controls that allow you to run your show using body movements and gestures.
Keep in mind that if you are planning on connecting external, MIDI-based hardware to your controller, you'll want to have these connections available.
Check out the huge range of DJ controllers and interfaces at Musician's Friend.
The iOS connection
With a growing number of killer DJ apps and compatible audio gear coming online, iOS has become an option for DJs. With the addition of a few crucial components, your iPod touch, iPhone, or iPad can be transformed into a very affordable DJ rig. If you're thinking about getting into DJing but aren't quite sure, iOS is a good platform to test the waters. Browse our full selection of iOS gear.
The vinyl option
While digital DJ tools offer greater ease of use and flexibility, many vinyl supporters argue this comes at the cost of inferior sound quality. Because digital audio essentially takes a snapshot when capturing analog sounds, it does not reproduce the complete sound waves, and some feel this reduces the music's definition and impact.
There are also more subjective reasons some experienced DJs prefer vinyl. Many say that it allows more creativity and others will tell you it's just plain sexier. Other DJs find vinyl's somewhat more demanding approach both rewarding and way to give their sets more personality. Confirming this, many of the hottest club DJs incorporate real vinyl and turntables into their shows.
While you can't point to these factors on a spec sheet, DJing is all about enjoying the experience … so if using vinyl makes you happy, that's a good enough reason to make it your choice. 
If you're looking to grow your vinyl collection, check out our growing selection of vinyl albums across a variety of genres, including a fresh assortment of rap and hip hop pressings.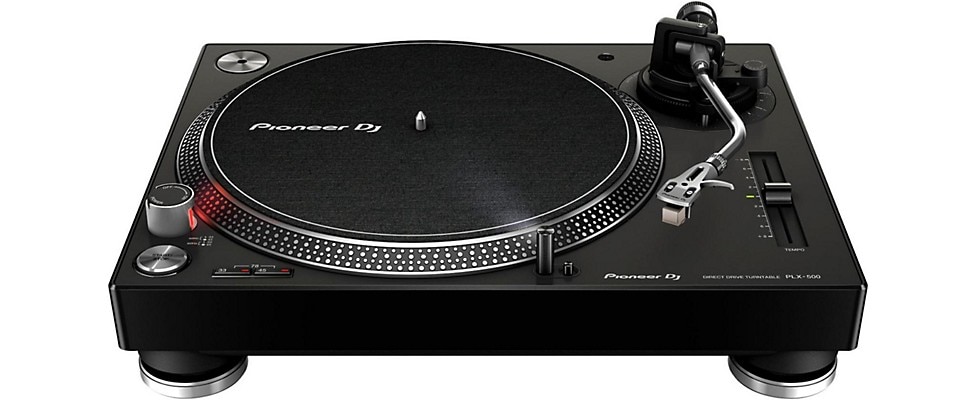 For the old-school turntablist as well as newbies interested in exploring the world of real vinyl scratching, you'll find a collection of turntables, plus phono cartridges and replacement styluses to match just about any budget and scratching style at Musician's Friend.
Browse the complete Musician's Friend selection of phono cartridges and needles.
DJ Headphones
One of the main factors you should think about when buying DJ headphones is comfort. You're going to be wearing them for hours on end, so you don't want to buy a pair that bothers your head and ears after a few minutes.
Another important factor is flexibility. Since you'll want to bend and twist them to many different positions, look for headphones with swivel earpieces. They should allow easy and comfortable listening using only one ear, as you'll be doing that often when cueing your next song.
You'll also want to look for headphones with a closed-ear design to isolate noise in the high-volume situations you'll typically be spinning in. The better they can isolate noise, the less you'll have to crank up the volume and damage your ears. Check out our Headphone Buying Guide for more information.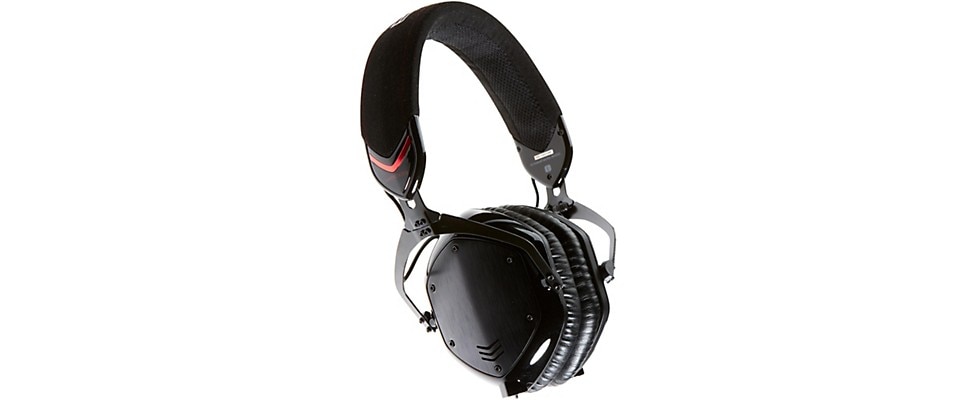 Explore the huge selection of DJ headphone at Musician's Friend.
DJ CD/Multimedia Players
Although many DJs use their laptops or tablets to store and play back their digital files via an interface and/or controller, specialized players with DJ-friendly features are still popular. When looking at CD and multimedia players, an important consideration is whether you would rather mix on a dual rackmount player or on two tabletop players.
Tabletop Players
Tabletop players are usually set up on both sides of the mixer, just like turntables. Some of these players feature pressure-sensitive platters that let you simulate scratching or cueing a record by spinning it forward or backward. Some players also offer platter effects like reverse, brake, and more.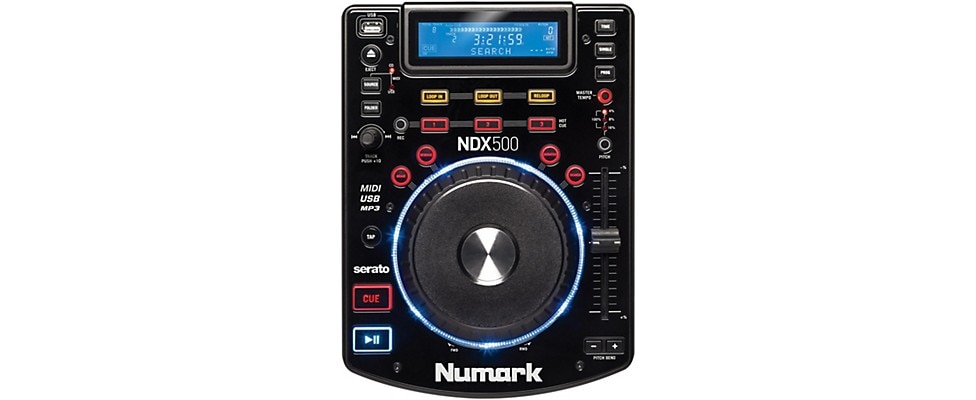 Audio formats
When buying a digital player, be sure to check out the audio formats it supports; most newer players support MP3s and other compressed digital formats, but if you use less common lossless formats such as FLAC files, you'll want to ensure the player can read them.Some advanced models that will even let you play audio from wireless sources r the ultimate versatility.
Common DJ media player features
An eject lock button prevents accidentally ejecting a disk during play. It can be turned off if you want to do quick disk switches.
If you plan on playing in dark clubs, make sure your digital player has a bright, backlit LCD display (most players do).
All players include pitch control that speed up and slow down the music's pitch. With pitch bender control, the speed changes while the pitch remains the same. Some models provide auto beat-syncing with the touch of a button
Most digital players let you set cue points so you can instantly access a certain spot in a song with the push of a button. Some players let you save cue points to a removable memory card.
Looping lets you select the start and the end points of a selection so it plays repeatedly at the touch of a reloop button. Called seamless looping, it can be used to extend songs, which is handy when creating your own mixes. Seamless loops are a great way to add a consistent bass and drum track that helps pull your music together.
Many digital players include effects like filter, echo, phase, flanger, transform and pan. While the effect is enabled, the platter and other controls can be used to change the parameters of the effect to create dynamic remixes.
Fader start is a common feature that works with compatible mixers so that when you cross-fade over to another channel, the cued song automatically plays without your having to press a button. Fader stop is similar in that it will stop the player as soon as you fade out its channel. Fader stop can be configured to reset the CD to a given cue point. This feature is especially handy for beat juggling.
Some DJ CD/MP3 players offer data storage with removable memory cards. For example, Pioneer's CDJ-2000 has a memory feature that lets you store wave data as well as cue and loop points to a removable storage device (USB SD Card). The removable memory card can also be used in any CDJ-2000, so once you've stored your favorite cue and loop points they're stored for life.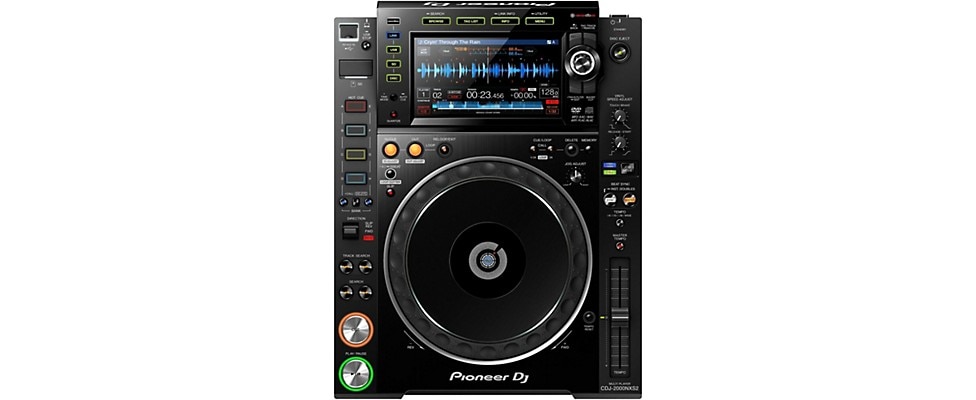 Browse the complete Musician's Friend selection of DJ CD, MP3 and Media Players.
DJ Mixers
Although many DJs now do their mixing on software-based controllers, some prefer the additional connectivity and more traditional worksurfaces found on DJ mixers. While DJ controller/interfaces have taken on mixer-like capabilities, mixers in turn have grown ever more compatible with DJ software. The latest generation of advanced mixers integrate with the major DJ programs.
One of the important differences among DJ mixers is the number of effects, inputs/outputs and channels they offer. For beginning DJs, a basic mixer with two or three channels and enough inputs for your turntables and/or media players will be adequate.
Let's look at some of the basic features of a DJ mixer:
Back panel
On the back panel of a DJ mixer, you'll usually find RCA inputs to plug in turntables and aux inputs to plug in CD players. (If your turntables have built-in phono preamps, you can plug them into the aux inputs.) You'll often find a 5-pin DIN connector to plug in the power cord, balanced outputs to send the sound to your amplifiers and a ground post to ground potentially harmful electricity and reduce hum.
There also may be insert points used to send and return the signal through external signal processors or effects. Some mixers have additional inputs and outputs; just be sure your mixer provides the number and type of connections (RCA, 1/4" and XLR) you'll need.
Other inputs include USB, MIDI, and FireWire for connecting digital devices such as laptop computers and MIDI-enabled controllers.
Channels
Basically, each signal input into the mixer is a channel. The right turntable and the left turntable, for example, will each get their own channel. Every channel on a mixer has the same controls, so once you learn how to control one channel, you'll know how to control them all, no matter how many there are.
Gain/trim control
The gain/trim control usually is at the top of each channel section and it's used to control the level of the individual input channel. Most DJs use the gain/trim control for setting the initial level of the signal source and use the fader for adjusting the volume in performance.
EQ
Below the gain control, you'll usually find the EQ knobs, which let you adjust the level of the bass, treble and midrange for each channel. These are also called "rotary kills" because they can be used to smoothly silence a frequency band.
Kill switches
Some mixers offer kill switches that let you turn off the lows, mids or highs. You can pull them down to kill a frequency band momentarily and they'll pop back on their own, or you can flip them up and the frequency band will remain off until you flip it down.
Channel faders and crossfader
Each channel fader allows you to control the volume of one channel at a time. The crossfader allows you to simultaneously fade in one source in while fading out another. For example, if the left turntable is connected to channel 1 and the right to channel 3, then you would assign channel 1 to crossfader side A and channel 3 to side B. Then you would move the crossfader to the left to fade into channel 1, the middle to play both, and the right to fade into channel 3. Look for a mixer with a replaceable crossfader—especially for turntablists—because it's usually the first thing that gets worn out.
Some mixers come with a curve control, which lets you adjust the amount of fading it takes to switch channels. For example, if you set it to a smooth curve, your mixes will be gradual as you slide the fader from side to side, but if you set it to a sharp curve, the transition will be much faster. A curve control is especially handy for scratch DJs.
Hamster switch
The hamster switch (usually found on scratch mixers) lets you reverse the crossfader positions so that you move the crossfader to the right to fade into channel 1 and the left to fade into channel 3. This feature allows DJs to scratch using the same motion regardless of which turntable is in use.
Master level
The level of the final mix can typically be adjusted by one or two master controls.
Peak meters
Peak meters show the level of each channel or the master output and indicate any signal clipping (distortion) that occurs. They often use multi-colored LEDs that help monitor how close you are to clipping.
Mic input & talkover button
Most DJ mixers offer a mic input, which can come in handy even if you don't have a microphone; it sounds funny, but in a pinch you can plug in your headphones and yell into the earpiece. It's not pretty, but it gets the job done. Some mixers have a talkover button that lowers the level of the music while you're talking and is often used by mobile DJs to announce tunes and direct the even .
Cue level & cue mix
The cue level controls the volume in your headphones and the cue mix is a crossfader for your headphones so you can preview mixes before the audience hears them.
BPM counter
Most mixers have BPM (beats per minute, or tempo) counters, which let you see at a glance if the BPM of your sound files match up in order to create smooth transitions.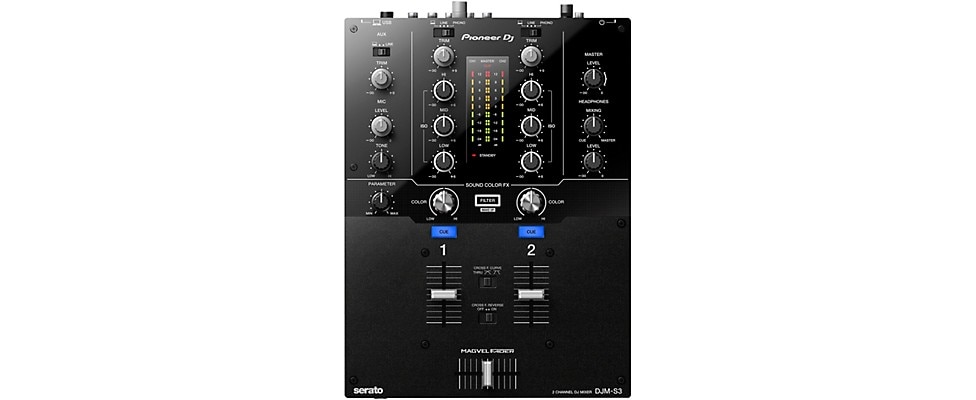 See every DJ mixer we carry at Musician's Friend.
Speakers
It's ultimately your speakers' job to broadcast your sound to your audience. So clearly, it's important to have a good set. Whether you need speakers as part of your DJ rig depends on the venues you play in. If you perform in clubs or other venues that have their own PA systems, you will likely simply plug directly into them. If, on the other hand, you perform at parties and places where there's no sound system, you'll need to have your own amplification system and speakers. In that case your best bet will be to go with powered PA speakers, which eliminate the need for a standalone amplifier.
Unlike specialized speakers for specific musical instruments, your DJ speakers need to cover a full range of frequencies to reproduce all the sounds your music contains. That means you will need a good set of full range speakers that incorporate both a low-range woofer, as well as tweeters to handle the high frequencies. For dance music a subwoofer that can reproduce the deepest bass and kick drum sounds is essential.
Musician's Friend carries a wide selection of speakers that will suit any setup. And if you need additional guidance finding a good set, you can check out the speaker section in our PA system buyer's guide.
Remember to include speaker stands when figuring your budget. Elevating speakers is usually essential for projecting your music throughout the venue.
Browse the huge Musician's Friend selection of powered PA speakers and subwoofers.
Browse the huge Musician's Friend selection of non-powered passive PA speakers and subwoofers.
Karaoke Machines
Parties love a good DJ, which may be one of your motivations for becoming one. Aside from being a lot of fun, keeping the party rocking with karaoke can be a well-paying gig.
If you are a professional DJ or aspiring to become one, a karaoke machine might be a fun and potentially profitable addition to your setup. Between a killer dance mix and a nice catalog of sing-along tunes, you could make yourself into one powerful party machine.
Check out the quality selection of karaoke machines from Musician's Friend today.
If after reading this guide you're still not sure what DJ equipment is right for your budget and music, we invite you to call one of our Gear Heads at (877) 880-5907 for friendly, expert advice.
Glossary
1/4" connector: also known as phone plug. Unbalanced connection using a phone-patching cord
anti-skate: counteracts the tone arm's tendency to pull toward the center of the record. Anti-skating controls adjust to match your cartridge's recommended setting
balanced signal: uses a three-wire cord that provides noise-free transfer of audio in areas susceptible to electronic interference, like recording studios and live sound venues
beatmatching: also known as beatmixing. Matching up the beats of two tracks so they play simultaneously in order to create a new track or seamlessly transition from one track to another
beatgrid or beat grid: a series of markers on a track that point to the position of beats found on the track. Beatgrids allow software to more accurately lock into the tempo of multiple tracks rather than using averaged BPM calculations.
belt-drive turntable: turntable design that usually has a motor below and to the side of the platter and drives the platter via a rubber belt
BPM: beats per minute. Measured by counting the number of beats in 60 seconds. Determines the pace or tempo of the music—for example, hip-hop will have a lower BPM (slower tempo) than jungle.
cartridge: converts the mechanical energy of the stylus to an electronic signal.
channel: a single path of audio through a mixer, processor array, recording device, or computer interface
clipping: distortion due to an overdriven preamplifier or amplifier
counterweight: located at the opposite end of the tone arm from the cartridge, it adjusts the amount of tracking force pressure exerted by the stylus on the record.
dB/Decibel: a logarithm that describes the ratio of two powers (1/10th of a Bel). Some approximate reference points: a normal conversation has a decibel level of 60dB, a ringing telephone is 80dB, shouting in the ear is 110dB, and a jet engine during takeoff is 150dB.
direct-drive turntable: turntable design in which the motor is located directly below the center of the platter, producing higher torque and allowing the platter to achieve full speed in less time.
EQ: short for equalization or equalizer. Usually refers to a circuit that provides control over the frequency response of an audio signal that passes through it. Can be used to balance frequencies for more pleasing sound and reduce undesirable frequencies.
fader: a sliding lever that typically adjusts levels. Has the same function as knob-based controls but provides a smoother response, more fine-tuned control, and visual feedback for quickly determining level.
frequency response: a measure of output amplitude (level or loudness) over a specific frequency range. Simply put, this is the frequency range (or bandwidth) that the unit will pass without severe decrease (attenuation) in amplitude. It is measured in dB and will usually be presented as follows: Frequency Response: +0/-1dB @ 35Hz - 20kHz. This means that there is no more than a deviation in level of -1dB from 35Hz to 20,000Hz, while frequencies above and below that range will be attenuated severely. Increases in amplitude are not discussed in the case of properly designed solid-state devices, since they are the sign of an unstable unit. Tube designs with output transformers will show an increase in amplitude. Even though frequency response is an objective measurement of a unit's performance, it cannot predict sound quality.
frequency band: portion of the frequency spectrum, e.g., bass, treble, midrange
gain: amplification
headphones: pair of miniature drivers (speakers) designed to be worn on the head for monitoring audio material. Headphones come in closed, open, and semi-open designs. Closed headphones seal the ear off from outside noise for better isolation and are ideal for monitoring during performances and playback. Open headphones sit on the outside of the ear but don't seal it from exterior noises or the acoustics of the room. Semi-open headphones seal the ear, but usually have a semi-open ear cup, which allows the audio to interact with the acoustics of the room more naturally while still providing some isolation.
ID3: stores information about a music file in the MP3 file itself, usually the song title, artist, album, year, comment, and genre
level: the amplitude/strength of a signal
monitor: speaker specially designed for high-fidelity playback of audio material. Varieties include near-field, surround, active, and passive. Near-field monitors are designed to be used in very close proximity to the listener to limit interference from the room acoustics. Surround monitoring arrays use all the normal speakers included in a typical 5.1 setup. Active monitors have built-in power amplifiers that eliminate the need for a traditional, separate amplifier component. Passive monitors are traditional speakers that require an external power amplifier.
noise floor: Usually measured in dBV or dBu, this spec is an absolute measure of the mixer's noise. A mixer with a lower noise floor will be quieter than a mixer with a higher noise floor, hence a lower dB rating is better.
phone plug: also known as 1/4" connector. Unbalanced connection using a phone-patching cord connector. The most basic connection in audio.
phono plug: the more correct name for an RCA plug. This connection was developed and popularized by the RCA corporation in use with their audio equipment, resulting in it being called RCA. Most often used in stereo pairs.
pitch control (also called pitch bend): allows you to adjust the speed of playback in order to beatmatch one record to another. It's called a pitch control instead of a speed control because as you change the speed of music, the pitch also changes.
power amplifier: Basically there are two types of amplification: the voltage amplifier, which boosts voltage, and the current amplifier, which increases current. The power amplifier is a derivation of the two. In electrical systems and mechanical systems, power is a measure of work, which can take the form of physical work, as in moving a speaker cone, or thermal work (heat), which is actually more common in audio. In an electrical system where voltage, current, and resistance are present, power can be calculated as the product of voltage times current, and is measured in watts, which represents work done over time. (P = V x I — where "P" is power in watts, "V" is voltage in Volts, and "I" is current in Amps.) In terms of physical work, voltage would equal an amount of weight being lifted and current would be the speed at which it's lifted. In the audio chain, we generally have a preamp followed by a power amp. The preamp boosts a low-level signal to line level, which is an increase in voltage (but not a significant increase in current). The power amp, which is the last stage in the chain, provides current via its power supply and boosts both it and the voltage from the preamp in order to provide enough power to drive a loudspeaker.
RCA: see phono plug
RPM: revolutions per minute
S-shaped tone arm: tends to pull the stylus toward the outside of the record groove and uses an anti-skate mechanism to counteract this pull. S-shaped tone arms position the stylus at the optimum angle for sound quality and the S shape can help dissipate external vibrations. (See straight tone arm)
send: An output on a mixer that sends that channel's audio to wherever the send is routed. Sends included level controls and can be used for routing audio to external signal processors and usually include a return input as well so that the audio can be returned to the mixer.
signal processor: generic term which loosely groups components such as compressors, limiters, equalizers, microphone preamps, noise gates, reverbs, chorus, delays, modulation, filters, and enhancers/exciters. All are used in audio to process sound in order to achieve a desirable effect.
signal-to-noise ratio (SNR): the ratio of the desired signal's volume to the unwanted noise, usually measured in dB. Manufacturers measure this ratio in many different ways, but basically the higher the number, the better and cleaner the signal.
sound pressure level (SPL): the strength or intensity of acoustic sound waves, measured in dB. A typical SPL reading for a rock concert is 95dB.
straight tone arm: exerts no inward or outward force relative to the platter. Straight tone arms minimize the risk of skipping at the cost of increased record wear and decreased sound quality because the angle of the needle doesn't line up straight with the grooves.
stylus (needle): the tip (and cantilever holding it) that picks up vibrations from the groove in a record so it can be translated into sound. These tips are usually made of industrial-grade diamonds to withstand the pressure and heat generated as the tip goes around a record groove. Spherical (conical) styli feature a small sphere at the tip and are better for scratching, while egg-shaped elliptical styli are better for general-purpose use.
THD+N: acronym for Total Harmonic Distortion plus Noise. Smaller is better when it comes to this spec, which measures how transparently the mixer will reproduce music without distorting it.
tone arm: the arm that holds the cartridge and points it in the right direction. The tone arm height is sometimes adjustable (most DJs leave it all the way up).
tracking force: the downward force that allows the stylus to stay between the walls of a record groove. Adjustable via the counterweight.
XLR: a balanced, circular 3-pin connector typically used for microphone and line-level signals. Developed by ITT Cannon, it is sometimes called a Cannon connector.