Table of Contents
A Brief History of the Telecaster
Tele Players: a Who's Who of Guitar Wizardry
Basic Telecaster Features
Squier Telecasters
Fender Telecasters
USA-Made Telecaster Guitars
Fender Custom Shop Telecasters
Which Telecaster is Right for You
A Brief History of the Telecaster
In 1951 the Telecaster was introduced to the world by Leo Fender, a Southern California inventor and businessman. Now a legendary instrument available in dozens of variations, the iconic "Tele" became the world's first successfully mass-produced solid body electric guitar.
Fender's Esquire guitar was the first prototype for the Telecaster and was produced in limited numbers. It was introduced in 1950 and renamed the Broadcaster shortly after. To avoid confusion and trademark issues with Gretsch Broadkaster drums, the guitar was renamed as the Telecaster. The Esquire was brought back as a single-pickup version of the Telecaster in 1951.
The Telecaster's simple, straightforward design along with its versatility and playability have led to its longevity. It features a single cutaway body and two single-coil pickups that produce the Tele's bright and twangy trademark tone. The headstock has six single-side tuners, and the original design featured three innovative barrel-shaped bridge saddles that allowed guitarists to adjust the string height for better playability.
Fender incorporated production techniques no other guitar builder had used previously. Bodies were built using solid pieces of wood, referred to as blanks, and cavities for the electronics were made using a router. Prior to this, guitar bodies were hand-carved. The cavities offered easy access for repair or replacement of the electronics.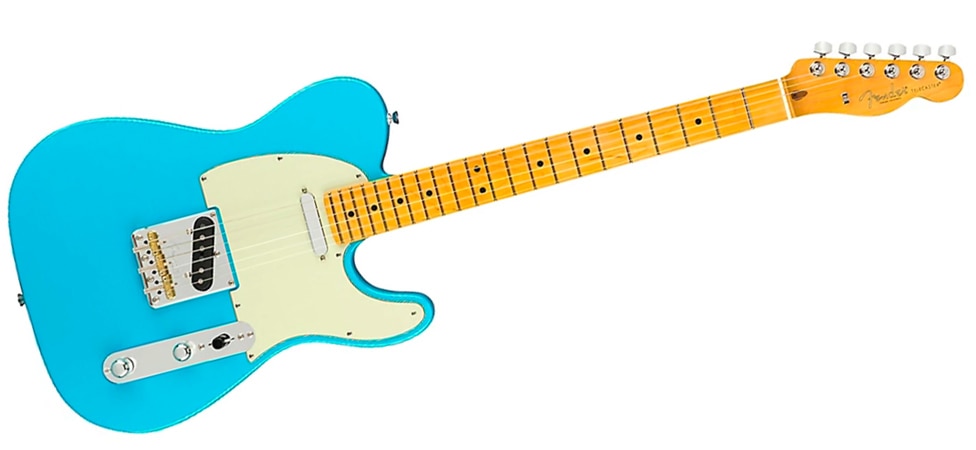 Fender didn't use a traditional set neck. Instead, he routed a pocket into the body and bolted the neck into it, making production faster and easier. This innovation also allowed the neck to be quickly removed, adjusted, or entirely replaced. The original Telecaster neck was shaped using a single piece of maple without a separate fingerboard—another technique used to produce the instrument faster and more simply. Some luthiers, accustomed to using rosewood or ebony fingerboards that were glued onto the neck, found Fender's methods highly unorthodox. Nonetheless, these revolutionary techniques resulted in an affordable, versatile, and highly playable instrument.
The Telecaster's popularity helped pave the way for the many other solid body electric guitar models that followed from other manufacturers—some of them thinly disguised knockoffs of the original Tele. Through it all, the Tele, in one form or another, has remained in constant production since its inception, and remains a workhorse for countless guitarists.
With the many Telecaster models available today, it may seem difficult to know which one's best for you. This guide will give you the information you need to help pick the right Telecaster for your music and budget.
Tele Players: a Who's Who of Guitar Wizardry
Throughout its history, the Telecaster has turned up in the hands of countless players in every modern music genre, ranging from rock to jazz to country to pop and everywhere in between. Along the way, Fender has made many signature-model Telecasters incorporating the specs of legendary players. Arguably, no other guitar has enjoyed such diverse and widespread popularity among so many guitarists representing so many different styles.
One testament to its popularity and influence is the number of legendary guitarists whose nicknames reference the Tele. These include "King of the Tele" Roy Buchanan, "Telemaster" Danny Gatton, and "Mr. Telecaster" Albert Lee.
Just a few famous Telecaster players from a range of musical genres:
Rock - Joe Strummer, Keith Richards, Bruce Springsteen, John 5, Jim Root
Pop - Jeff Buckley, Prince, Andy Summers, James Burton, George Harrison
Blues - Albert Collins, Muddy Waters, Mike Bloomfield, Roy Buchanan
Country - Brad Paisley, Vince Gill, Merle Haggard, Clarence White
Psychedelic Rock - Jeff Beck, Syd Barrett, Zoot Horn Rollo
Jazz - Jimmy Bryant, Mike Stern, Howard Roberts, Barney Kessel
Soul - Steve Cropper, Freddie Stone
Basic Telecaster Features
Although Telecaster come with a lot of model-specific variations, there are some general characteristics to be found on most Telecasters.
Solid body - usually ash or alder
Bolt-on neck - made of maple
Maple or rosewood fretboards (maple is more common)
Nitrocellulose lacquer (vintage Teles), polyurethane or polyester finish (modern Teles)
2 single-coil pickups (one in the bridge position and one in the neck position)
3-position pickup switch
Master tone and volume controls
21 or 22 frets
25.5" scale length
7 1/2" fretboard radius (vintage Teles), 9 1/2" fretboard radius (modern Teles)
To learn what these specs and features mean, check out our Electric Guitar Buying Guide.
With so many different Telecaster models to choose from today, many of these typical specs will vary on a model-specific basis. For the most part, differences among Telecaster models and families usually involve the pickups, electronics, hardware, and finishes. With this guide, we'll walk you through those variations.
Keep reading for a complete rundown on all the currently available Telecaster models from Fender and its Squier division.
Squier Telecasters
Squier is a division of Fender and its Telecasters are based on Fender models, sharing many of the same design features at super-affordable prices. In the company's own words, Squier is the "value brand alternative to its big brother, Fender." Squier Teles are made in Asia.
Squier Bullet Telecaster
The most affordable option on the market, the Squier Bullet Telecaster's wallet-friendly price is the perfect choice for someone who's just getting started that wants classic looks and sound without breaking the bank. Squier's Bullet Telecaster features a poplar body with a gloss polyurethane finish, a maple C-shape neck with Indian Laurel fingerboard and a 6-saddle hardtail bridge.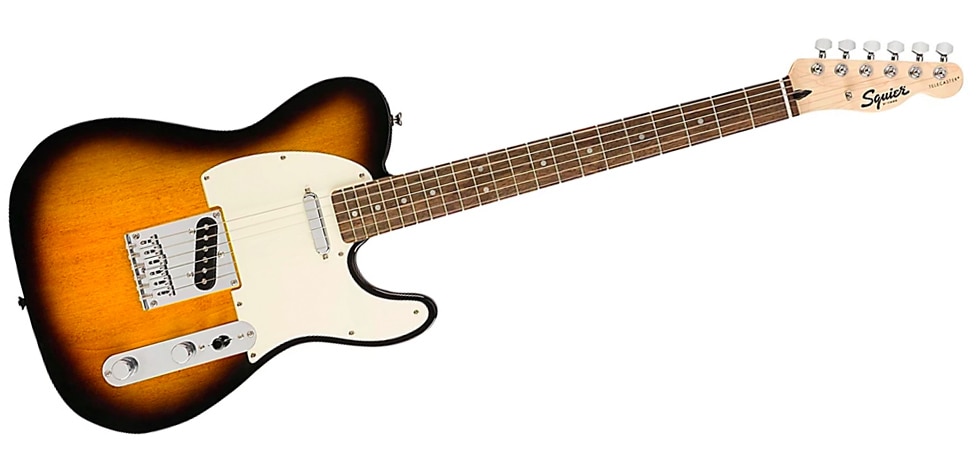 Squier Affinity Telecasters
The Affinity Telecasters target budget-minded players looking for traditional Telecaster vibe coupled with value pricing and good playability. They feature solid poplar bodies and maple C-shaped necks with a comfortable 9.5" fretboard radius, for an exceptionally comfortable playing experience.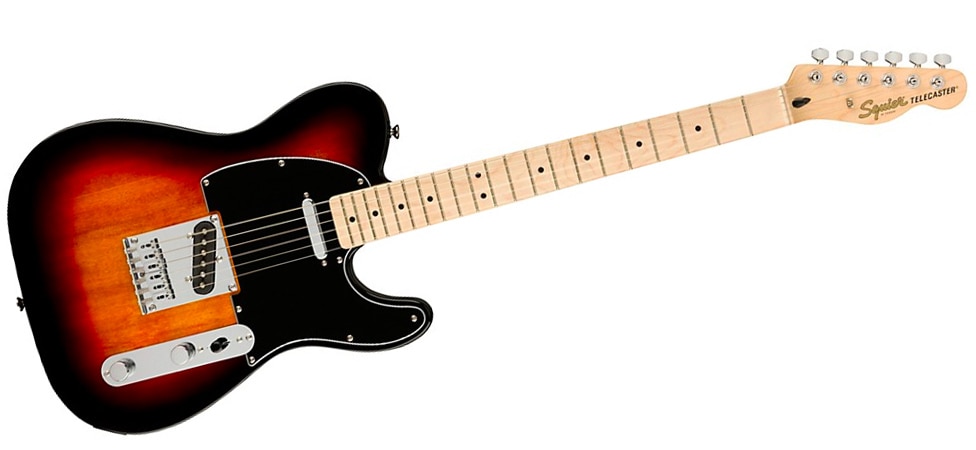 Squier Classic Vibe Telecasters
Squier's Classic Vibe series Telecasters are based on traditional Fender models released during their goldan era from the '50s through the '70s. From standard '50s and '60s-inspired Telecaster models, to Thinlines, Customs and Deluxes, the Squier Classic Vibe series is a great choice for vintage-flavored Teles.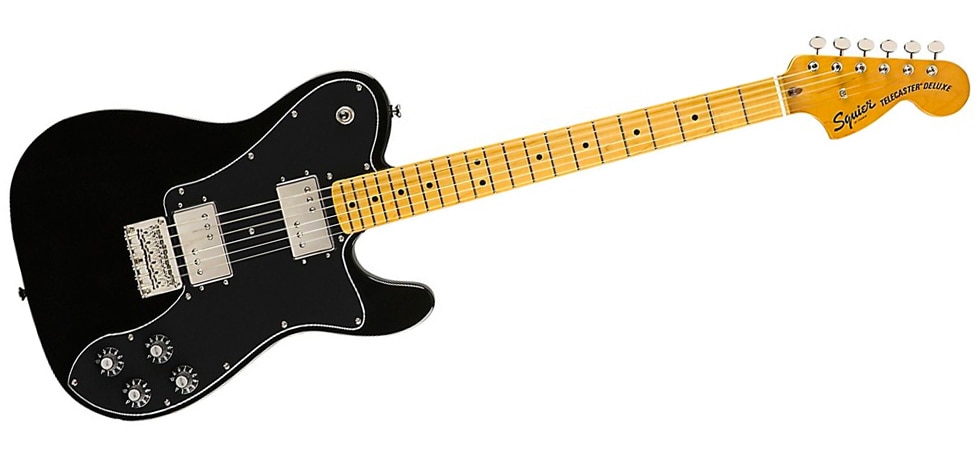 Fender Telecasters
Fender Telecasters have proved to be one of the most versatile and venerable electric guitars ever, having been in continuous production in one form or another since their debut in 1951. Fender Telecasters are favored by country and rock musicians, and are not uncommon among jazz and blues artists. 
Fender Player Telecasters
Fender's Player Series Telecasters were introduced in June of 2018 as part of the larger Fender Player series, and are available in two standard models. The first model is just what you'd expect: a dual single-coil Tele (also available left-handed). The second model is an HH, dual humbucker configuration. Made in Mexico, each of these models have alder bodies, modern c-shaped maple necks and a comfortable 9.5" fretboard radius.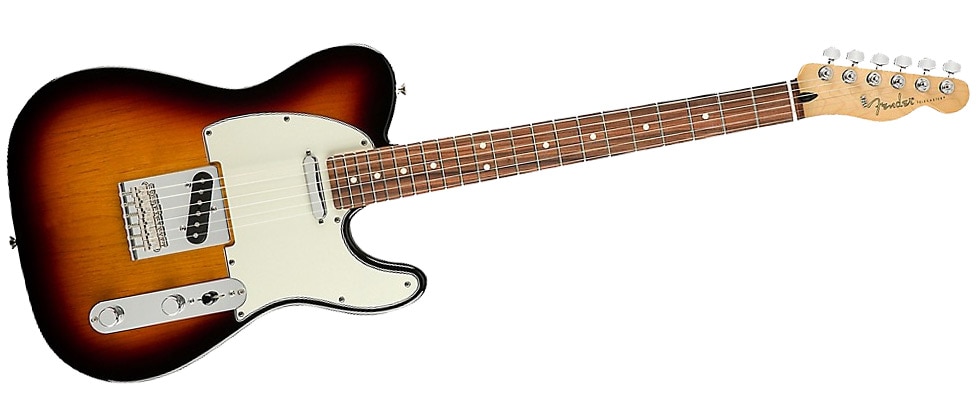 Fender Player Plus Telecasters
Introduced in September 2021, the Player Plus line-up features Fender's most advanced instruments to come out of their Mexican factory. In the words of Fender's Allen Abbassi, Player Plus "takes everything that's great about the Player Series and amps it up a little bit." These models feature a flatter fingerboard radius (12"), new Noiseless pickups and rolled edges, among other player-focused upgrades. This series includes a standard Telecaster and a Nashville Telecaster.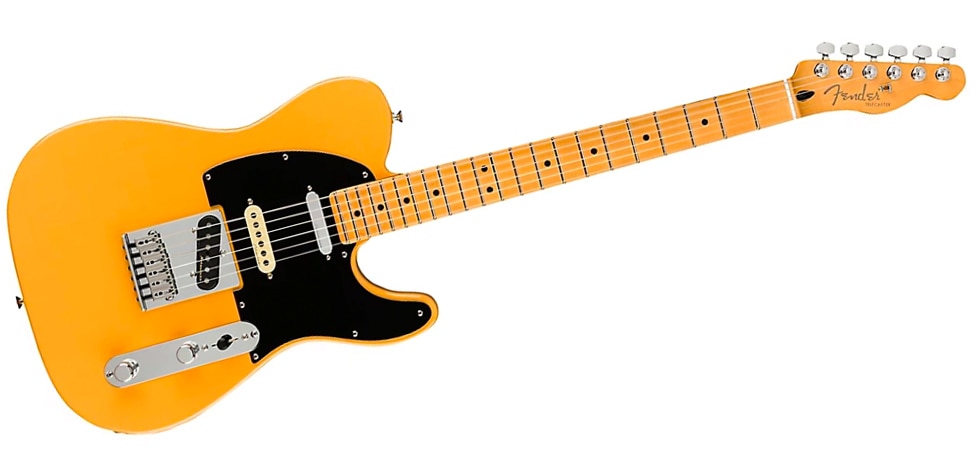 Fender Vintera Telecasters
If you're after a vintage-inspired Fender Telecaster, take a close look at the Vintera line-up. The Vintera series includes classic '50s and '60s tributes, '70s Telecaster Deluxe and '70s Telecaster Custom models and a number of "Modified" models, which build on these vintage platforms with updated features like higher-output pickups, advanced electronics and modern necks.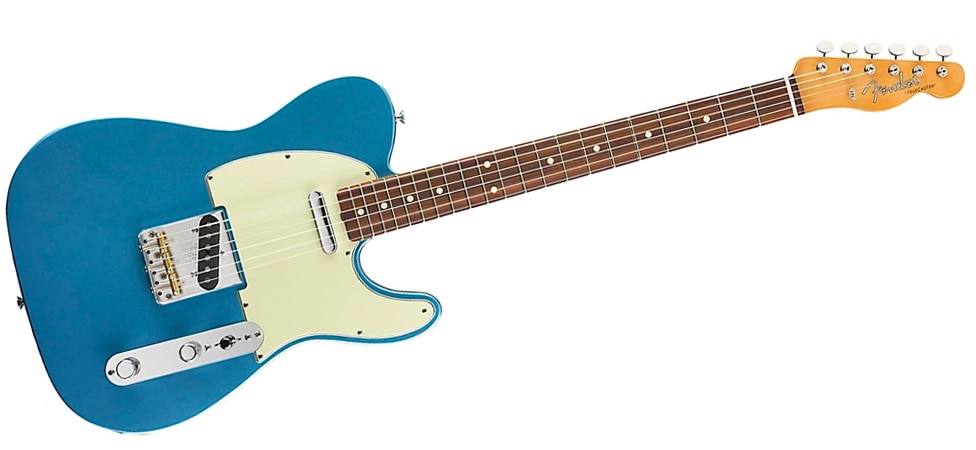 USA-Made Telecaster Guitars
Built in Fender's Corona, California plant, USA Telecasters set the standard for quality, tone, and playability. Made with premium tonewoods (usually alder or ash), Custom Shop pickups, and master craftsmanship, the USA Tele is a legendary electric guitar built to please the most demanding players.
Fender American Performer Telecasters
Introduced as a replacement for Fender's American Special Series, the Fender American Performer series is a wallet-friendly, Made in the USA line of guitars and basses. Fender offers two models of Fender American Performer Telecasters, a standard SS configuration and an HS configuration. Each model features Fender's Yosemite single-coil design, while the HS model features Fender's DoubleTap humbucker. Each model is available with a rosewood or maple fingerboard and each feature gloss-finished alder bodiies, modern C-shaped maple necks and Fender's Greasebucket circuit.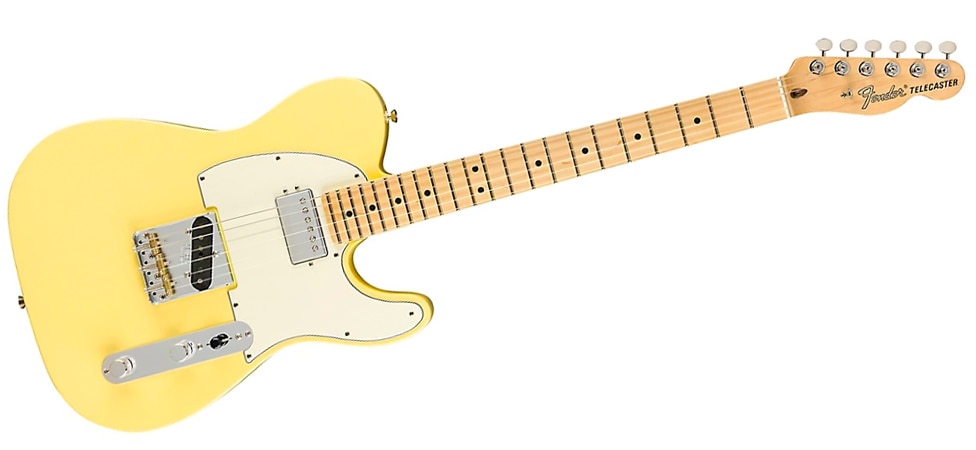 Fender American Original Telecasters
The Fender American Original series, which includes Telecasters, Stratocasters, Offsets and more, was, like the earlier Vintera and Classic Vibe series, designed to offer guitars that reflected a "best-of" approach, taking the best specs and features found throughout the decades they represent. The two Telecasters are the American Original '50s Telecaster and American Original '60s Telecaster.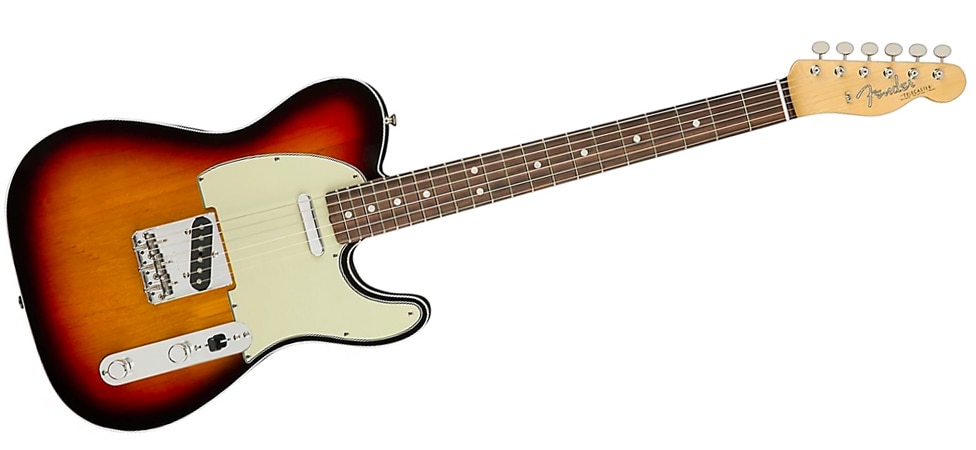 Fender American Professional II Telecasters
The American Professional II Telecaster, available with rosewood or maple fingerboard and standard and Deluxe models, is the tried and true workhorse of seasoned pros and discerning weekend warrior alike. Unveiled in October 2020, the American Professional II Telecasters features a bevy of player-friendly features. From rolled fingerboard edges to a contoured neck heel to a comfortable Deep C neck shape, these instruments were designed for long gigs and all-night recording sessions.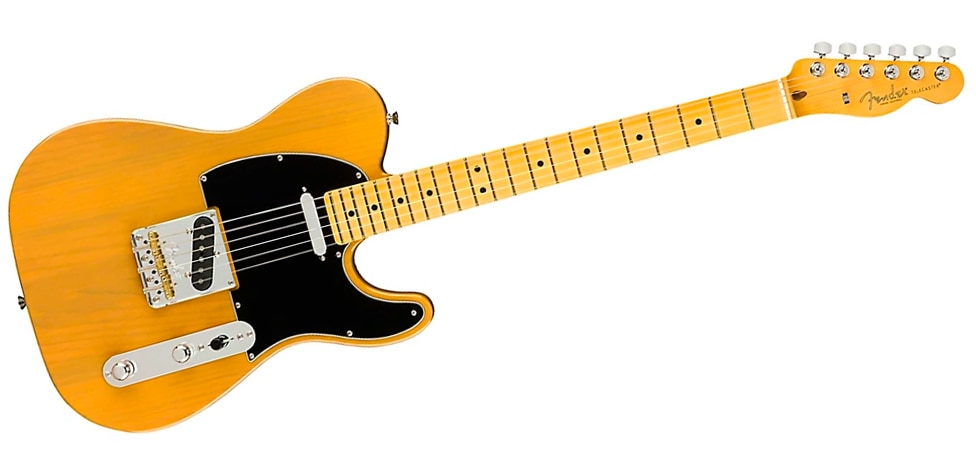 Fender American Ultra Telecasters
The American Ultra Series instruments are Fenders top-of-the-line non-Custom Shop models. Unveiled in November of 2019, they're equipped with Ultra Noiseless pickups, Modern D necks and compound radius fingerboards, amongst other player-friendly features. Fender offers the American Ultra Telecaster with Rosewood and Maple fingerboards,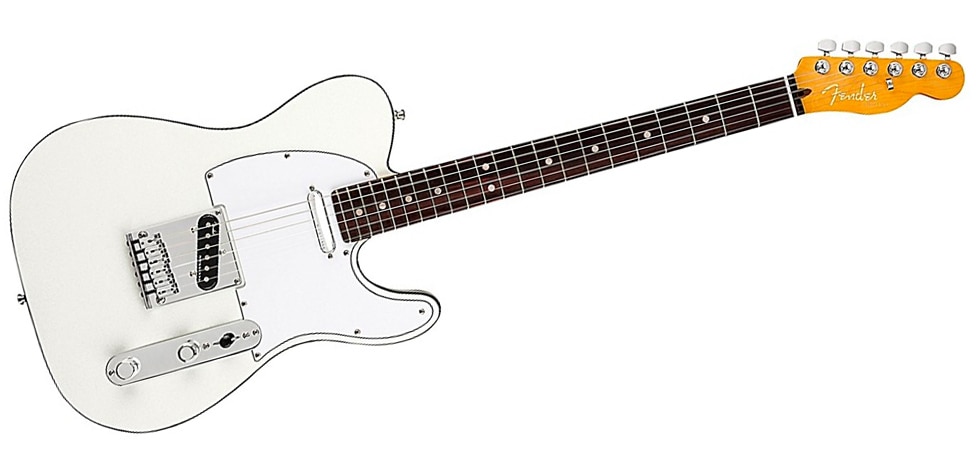 Fender Artist Telecasters
Fender's Artist Telecasters are designed in collaboration with the artists who play and endorse them. They have historically included models that replicate the axes wielded by such artists as James Burton, Muddy Waters, G.E. Smith, John 5 and Jim Root. These models typically feature unique specs that help serve up the artist's special tone. Country of origin varies from model to model.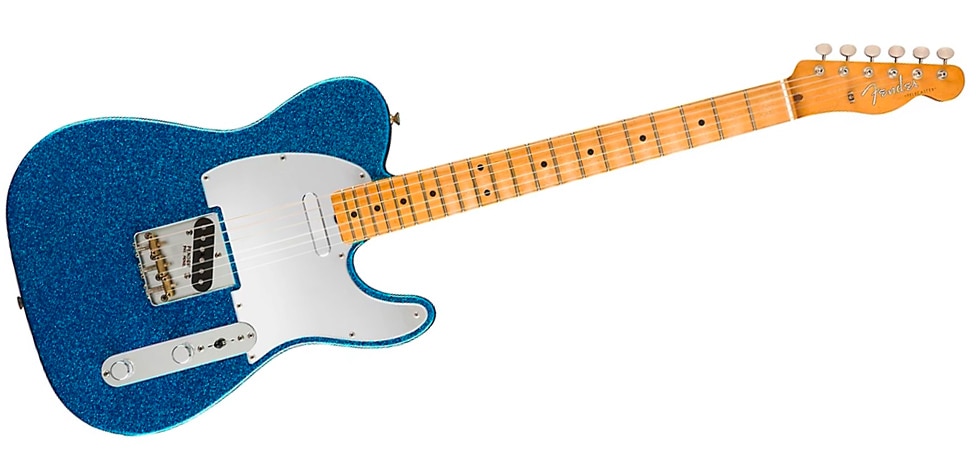 Fender Custom Shop Telecasters
Fender's Custom Shop instruments are simply the finest models they produce. Each one-of-a-kind guitar is hand-built by a master luthier, using the highest quality woods and components obtainable. To see our complete current selection of Fender Custom Shop Telecasters and other Fender instruments, visit our Private Reserve Teles.
Which Telecaster is Right for You
As you can see in this guide, the Telecaster is available in many variations and price levels, with varied features to provide a broad range of options for the Tele enthusiast. Pick the Telecaster that suits your budget and your style. Maybe you don't want to spend a lot, but you want your Tele to have the look and feel of a timeless guitar. Consider the Classic Vibe. Perhaps you want to invest in a true piece of art—not just something to play, but a stunning addition to your collection. Consider a Masterbuilt Tele. Or as a working pro you need a Tele that you can play night after night, show after show—a true workhorse. The American Professional II Telecaster won't let you down.
We want you to be pleased with your Telecaster purchase, and offer a 100% satisfaction guarantee and generous return policy so you can order your new Tele with complete confidence.