With a growing number of killer DJ apps and compatible audio gear coming online, iOS has become a serious option for DJs. With the addition of a few crucial components, your iPod touch, iPhone, or iPad can be transformed into the heart of a super-flexible and highly affordable DJ rig.
Even in professional DJ booths, iPads have become a common sight. With audio apps offering near studio-quality sound and touch controls delivering turn-on-a-dime performances, big-name DJs have begun incorporating iOS mobile devices into their rigs.
Of course, if you plan to use an iOS device in your mobile DJ setup or the DJ booth, you want to make sure you've got the audio equipment that will work well with it. In this guide, we will take a look at some of the best DJ gear designed to work seamlessly with Apple's popular mobile OS.
As you browse the huge selection of live sound equipment and DJ gear at Musician's Friend, you'll find an amazing array of products designed to work with the iOS platform. The Musician's Friend DJ Store is ground zero when it comes to shopping for DJ controllers, groove production gear, stage lighting, live sound equipment, headphones and keyboard controllers.
Table of Contents
iOS devices for DJs
iOS app-specific DJ controllers/mixers
iOS-compatible DJ controllers/mixers
iOS MIDI pad controllers
iOS-friendly MIDI keyboard controllers for DJs
iOS Microphones for DJs
iOS Speakers for DJs
iOS Cables, Connectors and Accessories
Need further guidance?
Glossary
DJ equipment preferences are all over the map despite lots of modern innovations. Some old-school DJs still prefer the traditional analog setup centered on dual turntables and real vinyl records. Others take a strictly digital approach, using their Mac or PC as the backbone of their rig. Still others use a hybrid approach with both digital and analog equipment. No matter which camp you fall in, there are apps available to help run your show and program your beats more intuitively. Everything from creating set lists to constructing massive grooves can be streamlined with an iOS app.
If you are the kind of DJ who embraces new technologies to improve your rig, you may find a lot to love about the capabilities of iOS devices. Not only do they provide an intuitive touch interface and powerful software at low cost, they're also very portable and compact—an important plus in crowded DJ booths or at parties where you've got little more than a card table to work on.
iOS devices for DJs
With each new version, Apple's iOS operating system gets more powerful along with the apps that make it DJ-friendly. Similarly, the audio gear and mobile devices using it get more sophisticated, offering new features, and boasting higher-resolution displays.
Which device you choose as a component of your setup depends on your needs, your budget, and your style.
Those who already use an iPhone have a pocket-sized powerhouse that can connect to a wide range of portable gear. With an iPad and its more generous screen real estate, you trade off a little portability for enhanced ergonomics and functions. Others may find what they need in the iPod touch, which is both the most portable and affordable option among Apple's mobile devices.
iOS app-specific DJ controllers/mixers
As much as touchscreens have their benefits, an iOS-specific controller with its enhanced functions and hands-on control surface can be a be a big help in running your show. Rather than using a virtual interface limited to the size of your screen, a controller gives you ergonomic control over your mix with the same kinds of controls you find on a traditional rig: faders, knobs, trigger pads, scratch pads, and more. Built specifically for use with DJ apps, many controllers will allow you to simply plug in and start mixing with no special mapping or setup required.
For some iOS DJ apps, manufacturers have built fully integrated controllers offering all the functionality of a standard rig in an ultra-portable package. Native Instruments Traktor Kontrol Z1 combines a controller, 2-channel mixer and 24-bit sound card in one compact unit. With 13 knobs, two faders, a cross-fader, and several backlit multi-function buttons, the Z1 allows you to operate all features of Traktor DJ and Traktor PRO 2 with an intuitive, tactile control panel.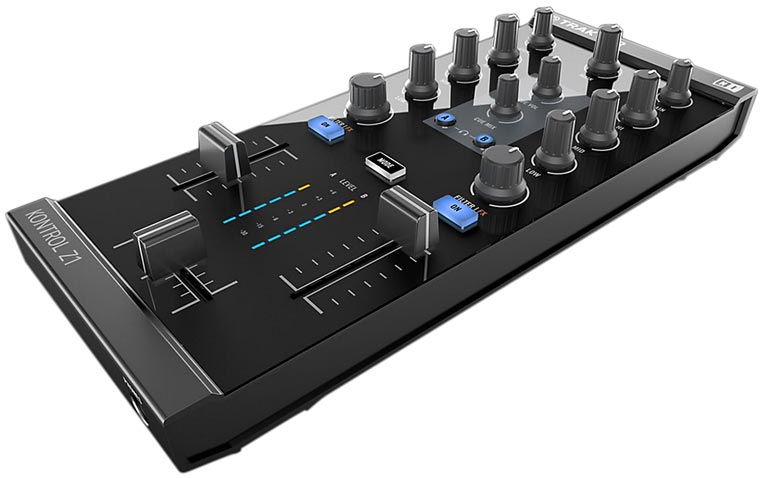 The super-compact 2-channel Traktor Kontrol Z1 offers plug-and-play control of your iOS device or laptop's sound library with the kind of mixing, EQing, monitoring, filters and effects capabilities built into traditional DJ controllers.
Another DJ app, IK Multimedia's DJ Rig, has its own dedicated controller—the iRig MIX. In conjunction with the app, the super-affordable iRig MIX can be used to create a complete portable setup. In addition to the knobs, faders and buttons that control all DJ Rig app functions, an input for a microphone or instrument lets you play along with your tracks or talk to the crowd. Your output signal can be processed using apps such as AmpliTube or VocaLive.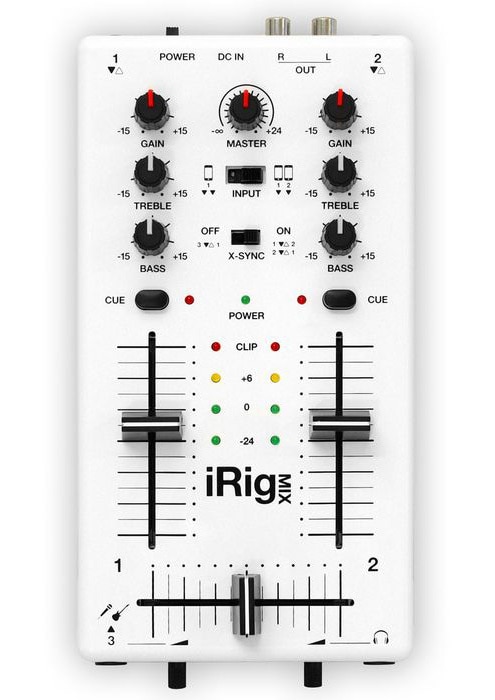 The iRig MIX Mobile Mixer is designed specifically for the DJ Rig iOS app, giving you complete external control of its features.
iOS-compatible DJ controllers/mixers
While some DJ controllers such as those discussed above are made for integration with a specific iOS app, other models take a broader-based approach, offering iOS input and integration as one option among several. Models in this category can range in size and complexity, and they also vary in the amount of iOS integration they provide.
The Numark Mixdeck Quad integrates just about any type of digital media source a DJ could want to use: CD, USB, MP3, computer audio. Through its MIDI interface, it works with a range of iOS apps, and offers pre-mapped control of Traktor Pro 2 and Virtual DJ Pro. With a full-size control surface, it provides all the bells and whistles you could want: dual CD/MP3/USB decks, a four-channel mixer, beat-matching, remixing and pitch tools, and much more.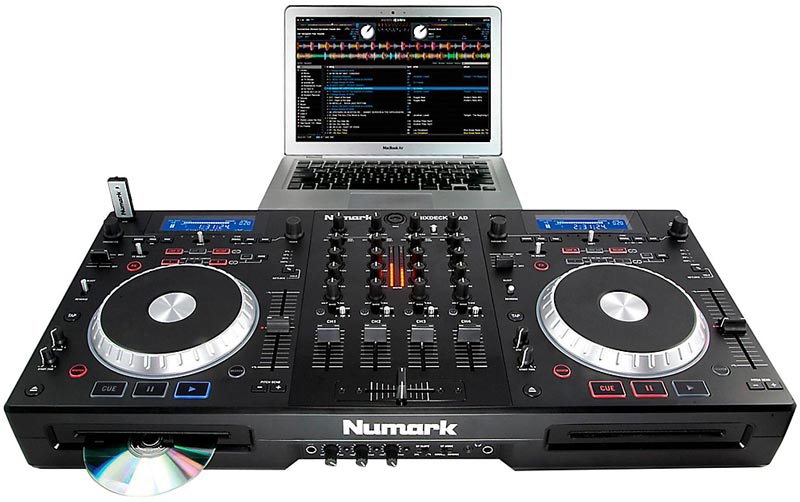 iOS devices are just one of the many media sources the full-size Mixdeck Quad Universal DJ System from Numark can handle.
The Pioneer XDJ-1000MK2 Performance Multi Player takes a different approach by dispensing with CD player functions. It features the same size jog wheel as Pioneer's CDJ-2000NXS2. Its 7" touchscreen gives you hands-on control of a vast array of functions without having to work through a maze of knobs and buttons. You can use its USB connector to load music from iOS or Android devices using the rekordbox app. It even supports WiFi connectivity with an optional LAN router.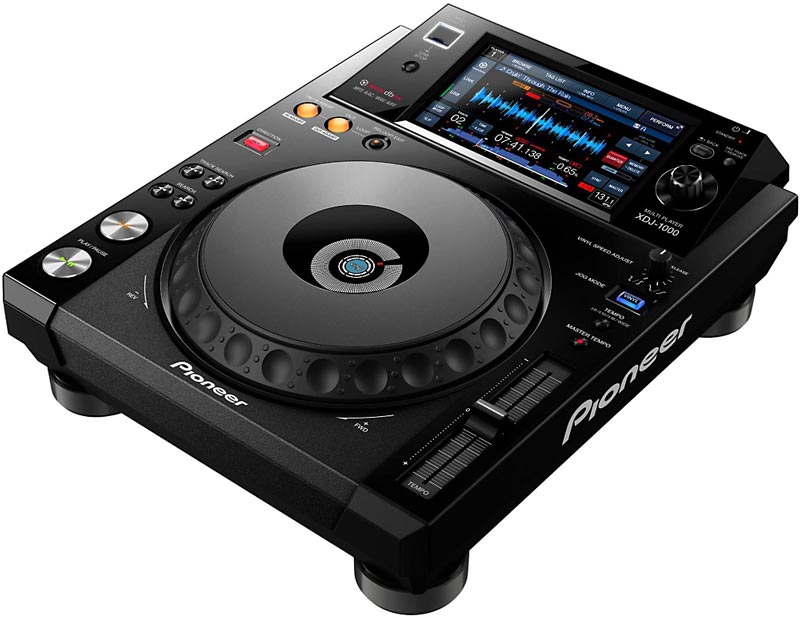 The Pioneer XDJ-1000 Performance Multi Player lets you browse and load tracks from your iOS or Android device. Its large touchscreen will feel right at home to DJs who already are mixing with a tablet or smartphone.
When looking for a complete mixing deck that's compatible with your iOS device, there are a few considerations that are particularly important. You'll want to consider how compact and portable you'll need the unit to be, how much control you get with the included features, whether you can play all the media types you'll want to use, and whether it will work with the specific iOS DJ apps you want to use.
You'll find more iOS-compatible controllers and mixers in the hefty Musician's Friend selection of professional DJ controllers and interfaces.
Learn more with our comprehensive DJ Controller and Interface Buying Guide.
iOS MIDI pad controllers
MIDI pad controllers often have deceptively simple surfaces, usually containing nothing more than some rows of square-shaped pads. Appearances can be deceiving though; these devices are sophisticated and versatile in what they can do for your mixes. A MIDI pad controller can be used for a range of functions, whether it's triggering samples or tapping out beats in real time. Adding one to your setup can open up a whole range of performance possibilities.
Plugging into the Core MIDI framework in iOS, an iOS-compatible pad controller can work with whichever MIDI-enabled app you use for your samples, mapping those samples to your trigger pads. In addition, pad controllers with touch-sensitive trigger pads make an excellent tool for creating drum beats, in cases where you want to build your own percussion loops on on the fly.
A MIDI pad controller can help add flavor to your mixes by allowing you to trigger loops and samples. Plugging into the Core MIDI framework in iOS, a compatible pad controller can work with whichever MIDI-enabled app you use for your samples, mapping those samples to your controller's pads. In addition, pad controllers with touch- and velocity-sensitive trigger pads make an excellent tool for creating drum beats and percussion loops on on the fly. With good rhythmic skills you can create sets that sound like nobody else's.
DJs who use Ableton Live software should take a close look at the Novation Launchpad PRO. Its 64 pads have RGB illumination that exactly matches the color layout in your session view inside Live, making for a very easy transition for seasoned users. The pads keep you completely informed at a glance. Whether you¹re working in realtime getting the crowd fired up, or constructing beats at home, the super-intuitive interface is easy to grasp. Because the Launchpad Pro maps to Ableton Live's drum rack, you can create very sophisticated grooves. You can also arm tracks, start and stop loops, control your I/O, volumes, and pans, and even have assigned drums trigger video clips, all while never putting a finger on the touchscreen on your mobile device.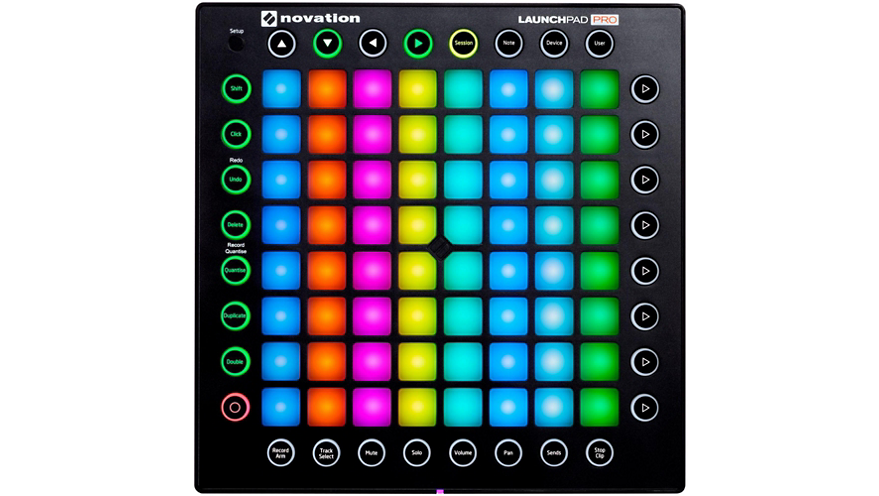 Explore more iOS-compatible pad controllers in the Musician's Friend collection of iOS keyboards and controllers.
Dig deeper with our expert DJ Groove Production Hardware and Software Buying Guide.
iOS-friendly MIDI keyboard controllers for DJs
MIDI keyboard controllers are increasingly becoming the hardware command center for DJ and groove production workflow. Many models offer tools and controls for manipulating music production and groove creation while also being great performance instruments. Although the level of control and workflows these devices offer might not always rival a full-blown, dedicated DJ workstation, they can cost less than a dedicated keyboard and separate control surface.
DJs and groove producers who use KONTROL software and are comfortable in a keyboard-oriented creative environment, should find the Native Instruments KOMPLETE KONTROL S49 Keyboard Controller with KOMPLETE 12 Ultimate bundle to their liking. The 49-key MIDI keyboard controller has a sweet Fatar keybed for excellent playability and expression. It also features two touch strip controls for advanced MIDI control. Aside from the latest version of KONTROL software, it comes with a huge suite of sounds, instruments, and effects and is ready to play straight out of the box with NI's MASCHINE.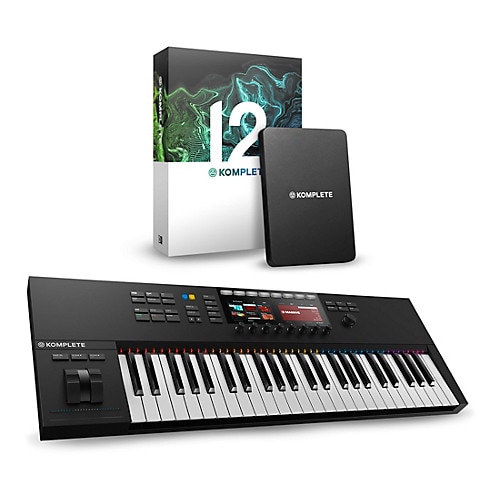 If you already are a keyboard player, having that function integrated into your DAW controller can be a huge asset. DJs who find pad-based performance and groove production unnatural are likely to find a keyboard controller much more to their liking.
Explore the complete selection of iOS keyboard and pad controllers at the Musician's Friend DJ Store.
Get into all the details with our DJ Buying Guide to Keyboard Controllers.
iOS Microphones for DJs
You may want to connect a microphone to your iOS-based DJ rig so you can address the audience during your sets. If you're connecting your iOS device to a compatible DJ controller, it likely has a microphone input where you can connect a standard mic using a TRS or XLR cable. But in other cases, you may need to plug a microphone directly into your iOS device. If that's your situation, an iOS-enabled mic is the simple solution. Be sure to browse the complete selection of iOS micrphones at Musican's Friend. 
iOS Speakers for DJs
With your portable, iOS-based DJ system, you are going to need something to project your mixes to the audience, and the speakers you select for the job can make or break your sound.
This is not an area of your rig where you want to go with the cheapest option.
However, there is more to consider than just the sound quality when you're building a mobile setup. You'll also want to think about how you'll be connecting your setup to the speakers and how well the speaker system can adapt to performance situations (such as an outdoor venue without ready access to a power source).
Some manufacturers have created mobile-ready speaker units with both sound quality and portability in mind. For instance, the Alesis TransActive Portable Powered Bluetooth Speaker System uses a built-in amplifier and a large driver to project sound up to 150 feet, and it offers simple push-button pairing to easily connect your iOS device via Bluetooth. This way, regardless of where you set up your rig, the speaker can be positioned to deliver the best sound. The TransActive has a rechargeable battery capable of powering the system for as long as 50 hours.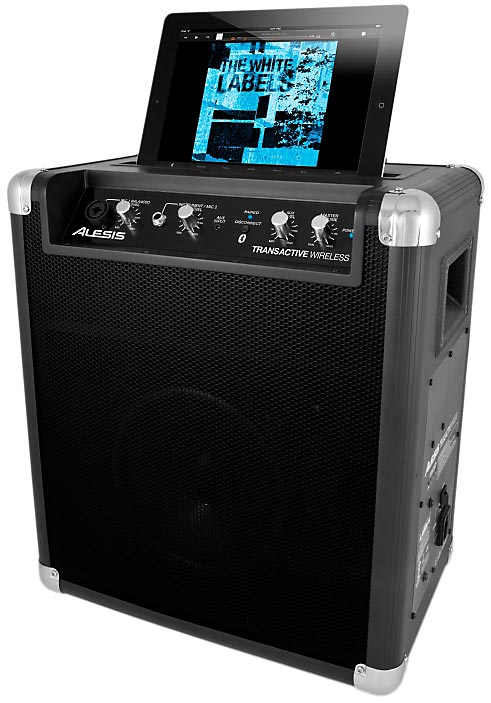 The Transactive Speaker System from Alesis offers on-the-go, cordless sound ideal for events such as outdoor weddings.
While mobile-friendly options exist, you can also connect directly to a standard PA system or powered speakers if you are using the right iOS-friendly equipment for the job. Docking your system to a mobile-ready rig like the Numark Mixdeck Quad, which features a master RCA output along with ¼ inch input and output options, lets you connect your iOS devices to professional sound gear and get the party started.
For much more about getting your show out to the crowd, check out our DJ Live Sound Buying Guide.
iOS Cables, Connectors and Accessories
Don't forget the cables! In configuring your iOS-based rig, you'll probably need cables, connectors, adapters or splitters to get all your components talking to each other. At Musician's Friend we offer a huge selection of audio cables and adapters to solve any connection challenge.
If you need additional help selecting the best cables for your DJ setup, consult our comprehensive Audio Cable Buying Guide.
Need further guidance?
After reading this guide, if you're still not sure which gear is right for your DJ rig, we encourage you call to one of our friendly and knowledgeable Gear Heads at (877) 880-5907. We'll help you get set up with the gear that best fits your needs.
Glossary
Analog: As opposed to digital sound production, which involves converting audio signals to and from digital data, analog sound production involves an electronic representation of an audio signal. In DJing, an analog setup consists of traditional turntables, a mixer, and a speaker system.
Balanced signal: Using a three-wire XLR and other types of cables, audio signals can be carried over long run without picking up noisy electronic interference.
Beatmatching: Synchronizing two different audio tracks so they play simultaneously to create a new composition.
BPM: the number of beats per minute for a given track.
Channel: An individual audio signal path.
Clipping: When an audio signal is overdriven, it can produce an output that exceeds an amplifier's maximum capability. This can result in harsh distortion and popping sounds that are generally considered undesirable.
Core Audio: An audio standard developed by Apple that ensures compatibility of audio devices with the Mac OS and and iOS operating systems.
dB/Decibel: Put simply, a decibel is a unit of measurement that's used to describe the intensity of a sound.
EQ: Equalizer or equalization. An EQ control allows you to manipulate the different frequencies of an audio signal, changing its sonic profile.
Fader: A sliding control on a mixing board or other audio device used to adjust levels.
Frequency band: A particular part of a frequency range (e.g. bass or treble).
Frequency response: A measure of output over a frequency range.
iOS: The operating system used on Apple's mobile devices, including iPad, iPod touch, and iPhone. In order to create a mobile recording setup based on your Apple device, you need to make sure the equipment you buy is compatible with iOS. Especially if you are using an older version of an Apple mobile device, you should double check that the gear you're considering is compatible with the version of iOS you use.
iPad Camera Connector: Working as an adapter to provide an input for your iOS device, the Apple iPad Camera Connector is sometimes required for connecting iOS gear. I In most cases, a product's description will tell you whether this adapter is required.
Level: the amplitude or strength of an audio signal
MIDI: A standard that allows certain devices like synthesizers to communicate with other devices, such as computers and iOS gear. MIDI carries information such notation, volume, panning, and many other parameter. Some iOS-compatible audio gear also has MIDI compatibility.
Monitor: A speaker designed specifically to reproduce sound as accurately as possible. Used as a reference in both music production and performance.
Phantom Power: A way to transmit electrical power to a microphone through its cable, which requires a device configured to supply the power. Condenser microphones typically require phantom power to work.
Power amplifier: A device that increases the power of a signal.
RCA cables: RCA connectors are most commonly used on stereo equipment. In PA systems they're often used to connect a stereo CD player or other consumer electronics devices to the mixing board. They usually consist of a pair of wires molded together with separate ends color coded for left and right channel in stereo devices. They're also used with the aux and tape inputs and outputs. Some mixers also have RCA outputs for connecting to a recording device.
RPM: Revolutions per minute.
Signal-to-noise ratio (SNR): Typically measured in decibels, the SNR refers to the ratio of the signal's volume to unwanted noise. There are a number of ways manufacturers represent this number, but in general, a higher number is better.
Signal processor: Any device used to process sound in order to achieve a desired effect. Compressors, reverb units, and multi-effects devices are a few examples.
Sound pressure level (SPL): Measured in db, SPL refers to the strength of sound signals. An average rock concert, for instance, would have an SPL of around 95 db.
TRS cables: A "Tip, Ring, Sleeve" connector looks like a standard TS connector, but has an additional segment on the shaft called the "ring. TRS connectors are often found on Y cables used as mixer insert jacks that handle incoming signals with one conductor and outgoing signals with the other.
TS cables: TS stands for "Tip, Sleeve" connectors. Available in ¼" and ⅛" configurations they have two conductors for unbalanced operation and are used with patch, instrument, and speaker cables.
Trigger Pads: An electronic sensor used to produce a sound that is assigned to it from a program. Some devices consist primarily of trigger pads, while others, such as many keyboard models, integrate a number of pads.
Unbalanced signals: Unbalanced cables have two conductor wires: a hot wire that carries the signal, and a common ground wire that is connected to an insulated wrap. Because long unbalanced cables are more prone to noise problems, the length should ideally be kept under 25 feet.
XLR cables: XLR connectors have three pins for the positive, negative, and ground. They are most commonly used on microphone cables, but you will also see them used on balanced patch cables and with DMX-enabled lighting equipment.