Music recording used to be something that was only done by professionals in large studios full of expensive equipment. To learn the trade, a person generally needed to enroll in a specialized program or apprentice in a studio, giving them access to this equipment. And if musicians wanted to put their songs on record—even just to make a passable demo recording—they needed to shell out some pretty serious dough to buy studio time.
In recent years, that has all changed.
The ever more powerful consumer devices we use—such as laptops, tablets, and even smartphones—are now capable of powering a low-cost recording setup that virtually any musician can afford. With a few well-chosen pieces of recording gear, just about anyone can set up and operate a fully functional home or mobile studio. And that means aspiring producers can get plenty of hands-on experience right in the comfort of their own homes.
This guide will cover some of the most important recording equipment you'll need to build a mobile or home studio and give you some recommendations for equipment that's great for starting out. Additionally, you can always browse the complete collection of recording gear at Musician's Friend for more ideas.
Interested in podcasting? Check out our expert podcast audio gear guide.
Table of Contents
Computers and iOS devices for recording
Recording software and apps
Audio interfaces for recording
Microphones
Headphones for recording
Studio monitors
Studio subwoofers
Audio recorders
Recording packages
Recording desks—a place to put it all
Call us for more advice
One great thing about building a home or mobile recording studio is that you can start with just a few essential pieces of gear, then add or upgrade as you develop your skills and want additional options. This guide will cover the most important pieces of recording equipment: computers, audio interfaces, microphones, headphones, and studio monitors.
We'll also cover some additional audio gear that can expand your studio to be just what you want it to be.
Computers and iOS devices for recording
Nowadays, most recording setups are based around computers. At one time, it was best to use a high-powered desktop computer for the job, but now, technology has advanced enough that even mobile devices like smartphones can get the job done. And laptops are commonly used as the central unit of a full-scale home studio.
For those who want to create a mobile studio, iOS devices (iPads, iPhones, and the iPod touch) are a great option. There is plenty of gear built specifically for use with iOS devices, which makes it easy to plug right in and get started. 
With an iPhone tucked in your pocket and a little extra gear, you can do some serious sound capture. Portable USB mics offer a big step up in sound quality over your phone's internal mic. And there's a rapidly growing category of smart phone-friendly devices ideal for nailing everything from a fleeting guitar riff to a complete composition.
When it comes to laptop or desktop computers, many models will work for your recording needs. You might be able to get started with the computer you've got at home now. However, if that model is more than a few years old and it's beginning to seem a bit sluggish, it may be time to consider an upgrade.
While the cost of a Mac computer is typically a bit higher than a Windows PC with similar specifications, many musicians and recording engineers prefer Macs for their reliability, ease of use, and build quality. These Apple computers have a good reputation for handling recording gear well, without creating any unwanted surprises. The vast array of software that has been designed to function seamlessly with the Mac operating system is a big plus.
For an affordable option in a Mac computer, beginning recording artists might consider the Mac Mini—a small, desktop box that connects to an external monitor and delivers all the features musicians love about Macs.
One further advantage of Macs is the fact they come with GarageBand, a basic but easy-to-use recording application with which you can create surprisingly polished music. Read on to learn more about the software to capture and edit your music.
Recording software and apps
Without audio software programs, computers don't do a whole lot to help you record and mix music. The software that musicians and engineers use for their music production is commonly referred to as a digital audio workstation (DAW) program, and there are a lot of different DAW options to choose from. Ranging from more basic programs such as Ableton Live 10 Intro to Pro Tools—the choice of most professional studios—there is a DAW program that will match your music, budget and skills. For a complete selection of program options, browse the Musician's Friend selection of DAW software.
Most digital audio interfaces (explained in the next section) often include some basic software that should be suitable for most beginners to create near-studio-quality recordings. Those looking for something a little more powerful—with tools to help compose, edit, mix, and arrange music—might consider a software package such as Image Line's FL Studio, an end-to-end music production program that's both highly-regarded and affordable enough for beginners.
Check out our 6 Top DAWs Rundown for more great DAW choices.
Audio Interfaces for Recording
If you're using a computer as the center of your recording studio, you need a way to plug in the microphones and other gear you will be recording with. This is where the digital audio interface comes in. Beyond simply offering the types of connections you'll need, the digital audio interface processes the sound you're recording and converts it to digital data so your software can work with it. The good news is that most interfaces with USB connectivity are compatible with all the major DAW software titles that work with Mac and Windows computers‹but double-check to be certain.
When looking at audio interfaces, it's important to find one that has all the connection types you'll need. You'll also need to make sure it's compatible with the type of computer or device you'll use to record with. So be sure to check the product descriptions for these details.
Built to handle the needs of anyone who records vocals and instrument together, the Focusrite Scarlett Solo (3rd Gen) USB Audio Interface delivers a sweet-sounding preamp and instrument input at a great price. The latest edition improves on the excellent sound of the original with a more even gain structure that makes balancing your mixes easier. The instrument input has been upgraded to handle the hottest pickups. Reduced latency means you'll perform more confidently and be able to run your favorite plug-ins in real time. 
Another great choice for getting into recording is Sterling Audio's Harmony H224 audio interface. This 24-bit, 192kHz audio interface features NXS Class A electronics and offers two Mic/Line preamp inputs (with combo XLR/1/4" jacks) as well as two dedicated front panel instrument jacks optimized for directly connecting your guitar or bass. Four 1/4" outputs and a stereo headphone jack provide plenty of monitoring flexibility.
Read our Audio Interface Buying Guide to learn more about all the options available to match your recording needs and budget.
Microphones
A good microphone is one of the most important items in the beginner's recording setup, as it makes a big impact on how a recorded voice or instrument will sound. To get started, you likely only need one quality microphone that you can put to use recording lots of different sound sources. So you will want to pick a versatile model that sounds good recording a wide range of frequencies.
There are two types of microphones you'll work with most often: dynamic mics and condenser mics. While dynamic mics are more rugged and often preferred for live performances, condenser mics usually have a better frequency response range and sensitivity, so they're often the go-to for studio recordings. Many condenser mics require what's called phantom power, supplied by an external preamp or interface. Be sure to read specs carefully to make sure your rig will provide any necessary power. For on-the-go recording, USB microphones get their juice from the host computer or interface, making them plug and play. Similarly, if you¹re using a tablet or smartphone for audio capture, then an iOS-friendly mic is the way to go.
Condenser microphones tend to be more costly than dynamics, but in recent years, many good-quality, lower-cost models have become available. The MXL 3000, for example, is a great, multi-purpose condenser microphone that includes a shockmount and a pop filter.
There are also many dynamic microphones suitable for the beginning studio setup. The Shure SM58 is a good choice for vocals and will also serve double duty in live performance.
The Shure SM57 is a fixture in just about every pro recording studio for capturing instruments and vocals and is often used in both live and recording settings to mic guitar amp speakers.
Take a look at the Musician's Friend huge collections of condenser microphones, dynamic microphones or iOS microphones for more options.
The Blue Spark SL Microphone provides classic, transparent sound and plenty of versatility, with a high-pass filter and -20dB pad, making it capable of accomodating loud vocalists, instruments or amplifiers with ease.
To learn more about microphones, read our expert Microphone Buying Guide.
Headphones for recording
When you listen back to your recordings, you want the sound to be as accurate as possible so you know what you want to change in your mixes. A good pair of studio headphones is often the most cost-effective option for beginners. Closed-back headphones are essential when you're recording vocal or instrumental parts over existing music tracks. Their sealed design prevents pre-recorded sound from leaking into the microphone as you monitor the backing track(s) while overdubbing new parts of the music.
Studio headphones vary greatly in price. When you're just starting out, there's no need to break the bank. Plenty of good, accurate models are available within an affordable price range. The Audio-Technica ATH-M40x and Sennheiser HD 280 PRO Studio Headphones are both highly rated products that deliver good accuracy at a beginner-friendly price.
Browse the Musician's Friend collection of studio headphones for more great options.
Studio Monitors
The best way to get accurate playback is through speakers specifically designed for the job. These speakers, referred to as studio monitors, come in different designs for different listening environments. In large studios—where the monitors might be positioned some distance from the recording engineer—mid-field or far-field monitors would be most appropriate, as they are designed to produce an accurate sound at a distance.
Near-field monitors, on the other hand, are designed to be positioned directly in front of a listener, so they are the best kind to use in small home studios.
For a beginning recording engineer, a small set of near-field monitors designed for desktop use are a good option, as they fit take up little space while delivering an accurate representation of your recording. Sterling Audio's MX3 monitors and JBL's 305P MKII monitors are both strong options in this category.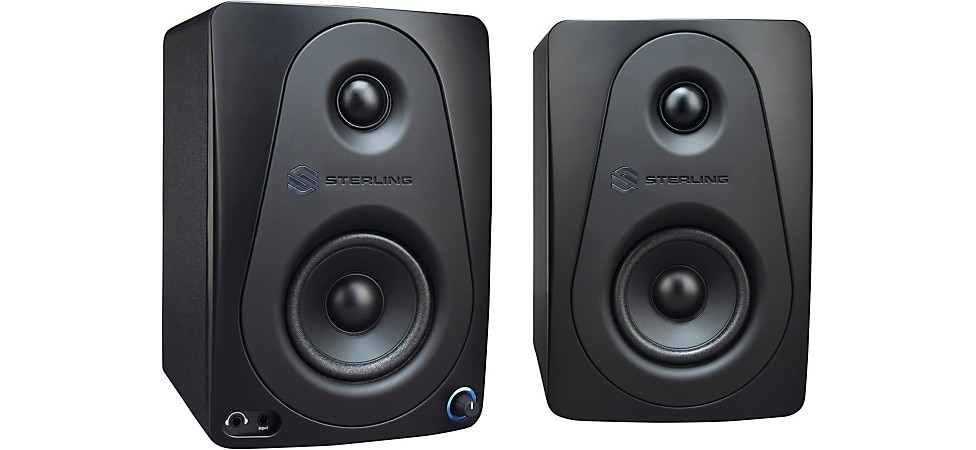 The Sterling Audio MX3 studio monitors aren't much larger than standard computer speakers, but they are built for great sound.
View more options for studio quality playback in the Musician's Friend collection of studio monitors.
Can you mix using just headphones? Check out our tech tip!
Studio subwoofers
Adding subwoofers for studio monitoring is not always a necessity for recording beginners. However, by adding a more accurate response at low frequencies, subwoofers can enhance the results of your mixes, no matter what type of music you are recording. Of course, if you are planning to record bass-heavy music, such as hip-hop, a subwoofer might be a more essential consideration.
The Yamaha HS8S Powered Subwoofer has an 8" driver that can accurately reproduce the deeper frequencies of bass and drums and is a fantastic match for their HS series studio monitors. If you're looking for more options, browse the Musician's Friend studio subwoofer collection.
Audio Recorders
With all the talk of digital audio workstations and computer-centered recording we've been doing, you might think a computer is an absolute necessity to get anything recorded. That certainly isn't the case. In fact, there are some excellent standalone recorder options that provide great portability, extensive features, and excellent ease-of-use for very reasonable prices.
For a full-scale, all-in-one music recording solution that doesn't at all rely on your computer, the Tascam DP-24SD 24-Track Digital Portastudio is complete, mobile, and affordable. Or, if you want a straightforward device for on-the-go field recordings, the Zoom H2n Handy Recorder is a perfect fit. You can view all of the different options available in the Musician's Friend selection of audio recorders.
Recording Packages
Although there aren't a whole lot of components in a basic recording rig, it still can seem like a lot of work to make sure you are picking the right tools that will all work together well. As an alternative to making individual selections, you may want to consider a recording package. At Musician's Friend, we've created carefully chosen gear bundles that take the guesswork out of deciding what will work together best. These packages also save money on your total purchase price versus buying the separate components.
Take a look at the Focusrite Scarlett 2i2 Studio Pack or the incredible value of the PreSonus AudioBox iTwo Studio bundle. Or you can browse through all of the different recording packages from Musician's Friend.
Recording desks—a place to put it all
While an ordinary desk or tabletop might be sufficient to house your beginning home studio, you'll probably find yourself accumulating gear that can pose a placement challenge. Desks, tables and workstations specifically designed for studio use can be a big help where it comes to routing cables and placing gear and audio/video monitors in the right spots.
At Musician's Friend you'll find a huge selection of studio-friendly desks and workstations designed to make your recording work more comfortable and ergonomic. From small workstations designed to hold just the basics to larger desks that can house a full-blown studio's gear, you'll find the right one in our selection.
The On-Stage Stands Workstation is a good choice for the beginning studio, providing surfaces to hold your audio monitors, computer display and keyboard, and other recording gear. It can be assembled in two different ways to match your workspace and preferences.
Call us for more advice
After reading this guide, if you're still not sure which gear is right for you, we invite you call to one of our friendly and knowledgeable Gear Heads. We'll help you find the perfect gear to get your recording studio up and running.