Table of Contents
Trumpet Basics
Trumpet Types
Bass trumpets
C trumpets
E trumpets
Piccolo trumpets
Pocket trumpets
Slide trumpets
Herald trumpets
Eb/D trumpets
Should I rent or buy?
We are here to help!
When faced with the task of selecting a new trumpet, you'll find that there are many factors to consider. And while it's great to have options, this can make the decision confusing for buyers—even those who have experience with a particular type of trumpet.
That's why we've put together this guide to help you choose the right trumpet for your needs. You'll find explanations of all the different trumpet types and some tips on what to look for in an instrument. You also can get started by browsing the complete collection of trumpets at Musician's Friend.
Trumpet Basics
Before you select a trumpet to purchase, it is important to understand the key pieces that combine to form a trumpet and produce its unique sound: the bore, the leadpipe, the valves, the bell and the finish.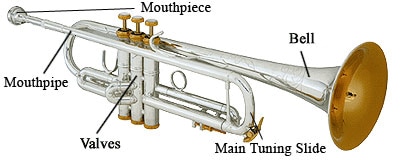 Bore
The bore is the inside diameter of the trumpet's tubing measured at the second valve slide. Most players use a bore from around .458" to .460". Horns with larger bores can be played with more power, but require more effort. They are usually used by advanced or professional musicians. For new, and especially young players, a horn with a small bore is more appropriate because the small bore makes it easier to support a good tone.
Mouthpipe
A mouthpipe (also called a leadpipe) is the tubing that goes from the mouthpiece to the main tuning slide. It can be made of yellow brass, red brass or sterling silver. Red brass is often preferred for student trumpets because it is less susceptible to corrosion. Yellow brass requires more frequent cleaning. There is also a reversed leadpipe in which the tuning slide goes over, rather than into the leadpipe. It is a step-up feature, desirable because it decreases resistance.
Valves
Valves, or rather the valve pistons, come in a variety of metals. Nickel-plated pistons are often found in student trumpets because they are hard, durable and tolerant of infrequent cleaning. Monel pistons are another popular piston alloy. Monel is softer than nickel plate and requires frequent cleaning and lubrication to perform at its best. It is super-resistant to corrosion so it can last longer, and it wears in for a great feel. Many professional instruments have Monel pistons and so do some student instruments. More often it is considered a step-up feature of an intermediate horn. Stainless steel pistons are yet another type. They are quite good and are sometimes found in intermediate and professional horns.
The critical factor is that the valves play quickly and smoothly. This is the result of valves having been properly "lapped," the final process of making the piston fit the cylinder. Step-up horns often have hand-lapped valves, meaning an expert has performed this finish work by hand making sure the valves work perfectly.
Bell
Bell materials also vary. Yellow brass is most common and is used in horns from student models to professional instruments. Rose brass bells are also common and impart a warmer, darker quality to the tone. Silver bells are less common and usually only found in high-grade horns. Nickel plate is another finish that once was common but is now seldom seen.
More important than the bell material is how the bell is made. The best bells are one piece, hand-hammered into shape over a mold by a skilled craftsman. It is felt that these bells vibrate more uniformly. Student and intermediate horns usually have two-piece welded bells, as opposed to the the one-piece bells found on professional horns. In recent years the technique of plasma welding has made these more like one-piece bells and is sometimes used for intermediate instruments. Bells also vary in size and taper, both of which can affect the sound of the instrument in subtle ways.
Finishes
Trumpets usually have a clear lacquer finish on a buffed brass surface. Another kind of finish is silver plate which is considered better than lacquer because it is a thinner coating compared to lacquer and allows the metal molecules to vibrate and ring more, resulting in a brighter tone. Lacquered nickel plate trumpets available in various colors as well as black can add a lot of appeal for the trumpet player who's not wedded to traditional looks.
Trumpet Types
There are many types of trumpets, and we'll familiarize you with their characteristics and the music genres they lend themselves to. Read on to discover the wide variety of instruments in the trumpet family.
Bb Trumpets
Bb trumpets are by far the most common in the trumpet family. With a warm tonal quality that blends nicely with ensembles of all types, the Bb trumpet is widely used across virtually all types of music, from classical to modern pop and jazz.
Bb also is the most common tuning for beginning students, as there is a large body of written music and instructional material available for the Bb instrument.
To make shopping simpler and help you hone in on the trumpet that matches your skill and budget, you can select from student, intermediate, or professional models collections.
Browse the large collection of Bb trumpets at Musician's Friend.
Student Bb trumpets
Most trumpet manufacturers make a number of models designed specifically for players who are new to the instrument. These beginning-level instruments are constructed to be both affordable and durable, and they often include features that make them easier and more fun for new students to play. For instance, the smaller bore on a beginning trumpet makes it easy to get a full sound from the trumpet without requiring too much effort.

Using a small .459 inch bore that makes it easy to get a full sound, the Prelude by Conn-Selmer TR711 is a well-constructed instrument that's great for the beginning player.
You can browse the full selection of Bb student trumpets at Musician's Friend.
Intermediate Bb trumpets
More advanced students might find beginning-level trumpets to be limiting. As such, trumpet makers design intermediate instruments that incorporate some advanced features to help developing players get a richer sound from their instruments—without the cost required for a full-featured professional model. Musician's Friend carries a number of these intermediate Bb trumpets within the Bb trumpet selection.
The Yamaha YTR-4335GII features a wide, gold-brass bell that delivers a rich tone and promotes good technique. It's an excellent choice for developing, intermediate-level players.
Professional Bb Trumpets
Professional-level trumpets are constructed using the finest materials, employing careful craftsmanship, and keeping a seasoned performer's needs in mind. Trained trumpeters looking for the best in tone and responsiveness will want to look here for masterfully crafted instruments.

Featuring a large .462-inch bore, an interchangeable leadpipe system, and a hand-hammered, one-piece yellow brass bell, the Getzen 3003 Genesis Custom Series is designed with the seasoned player in mind.
Shop the entire selection of professional quality trumpets at Musician's Friend.
Marching Bb trumpet
While not specifically aligned to a particular playing level, manufacturers also build trumpets designed for the needs of marching bands. Of course, durability is always a consideration for marching band instruments. Additionally, marching trumpets commonly have larger, dynamically positioned bells for stronger projection and sturdy construction to support quick maneuvers.
Bass trumpets
Although the bass trumpet is most commonly played by trombonists, a number of well-known trumpet players have become skilled with the instrument and perform with it regularly. British trumpet player Philip Jones and Dave Matthews band member Rashawn Ross are two examples of such players.
Bass trumpets, which are pitched the same as a trombone, are most commonly tuned to C or Bb. Music for the instrument is written in the treble clef, but sounds one octave (C bass trumpet) or a major ninth (Bb bass trumpet) lower than written.
While the slide trumpet isn't a common choice for beginning trumpet students, it could be a wise choice for slide trombone players looking to hone their skills on a valved instrument, or for trumpeters interested in expanding their range with a lower-pitched instrument.

The big, brassy sound of the Kanstul 1088-1 Bass Trumpet makes it a top choice among first-call professional trumpeters.
Check the bass trumpets selection at Musician's Friend.
C trumpets
Although it's not as pervasive as the Bb model, the C trumpet is far from a rarity—in fact, it's growing in popularity in some circles.
While they occasionally appear in other contexts, C trumpets are becoming quite common in orchestras, where they are used alongside the Bb trumpet. The C model, which is tuned one whole tone higher than the Bb instrument, has a slightly smaller body, which gives it a brighter tone that is popular in orchestral arrangements.
For professional players and advancing students alike, the C trumpet is a strong choice for expanding your skill set.
Browse the Musician's Friend selection of C trumpets.
E trumpets
Aside from Bb and C—the most common trumpet types—models tuned to higher notes can be found quite readily. These specialized models typically are used in orchestral playing for compositions in which the higher tuning helps improve accuracy and makes fingerings more natural.
The E trumpet is one example of such an instrument. And while it might not get as much use as a Bb, C or even Eb instrument, the E trumpet is a worthy addition to a professional orchestral player's collection. In many instances, the E tuning is included as part of a combination instrument using changeable bells to offer tunings in several higher keys.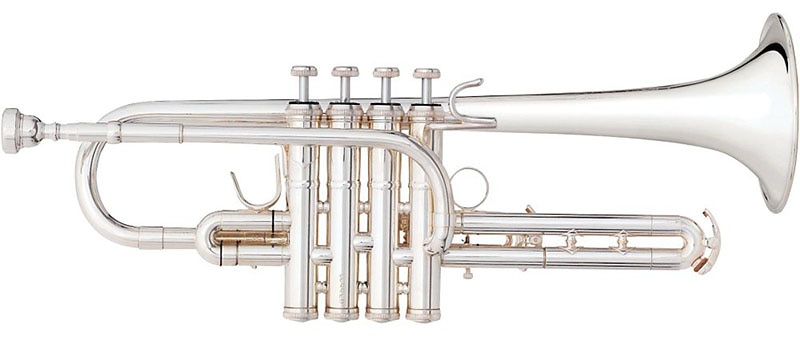 Crafted for the most discriminating trumpeters, the B&S 3117JH Challenger II has hand-hanmmered interchangeable E and Eb bells.
Piccolo trumpets
For trumpeters who play a lot of high-pitched parts—the kind that are common in Bach and a lot of baroque music—the piccolo trumpet is a mainstay.
The piccolo trumpet is tuned to Bb, one octave above the standard Bb trumpet, and almost always comes with an additional leadpipe, which allows the player to tune the instrument down one half-step to A. In addition, most piccolo models include a fourth valve, which extends the instrument's range down a perfect fourth. Together, these features give the instrument a versatility that make it well worth the investment for intermediate and professional players.
The Getzen 3916 Custom Series Bb/A Piccolo Trumpet features nickel-plated brass A and Bb mouthpipes and a 4-inch bell for great projection.
Take a look at the Musician's Friend collection of piccolo trumpets.
Pocket trumpets
Trumpeters who are often on the go might be happy to know that they have an option for an even more compact instrument than the standard trumpet. Created by winding the tubes extra tight, the pocket trumpet delivers the same range as a standard trumpet in a small frame that's easy to carry in common luggage.
While this style of trumpet offers great convenience for keeping up a practice routine, it typically is not suitable for a performance, although some jazz musicians have been known to incorporate them in gigs from time to time.
Browse the selection of pocket trumpets from Musician's Friend for specific models.
Slide trumpets
While the slide trumpet isn't a common choice for beginning trumpet students, it could be a wise choice for slide trombone players looking to hone their skills on a valved instrument or for trumpeters interested in expanding their range with a lower-pitched instrument.
Trumpet players looking to add some variety to their sound and take on a new challenge can find slide trumpets that ditch the valve setup completely. Though not recommended for a beginning trumpeter, the slide trumpet can be a great second instrument for experienced jazz players to expand their sound. The slide trumpet also has some specific applications in baroque and renaissance orchestral pieces.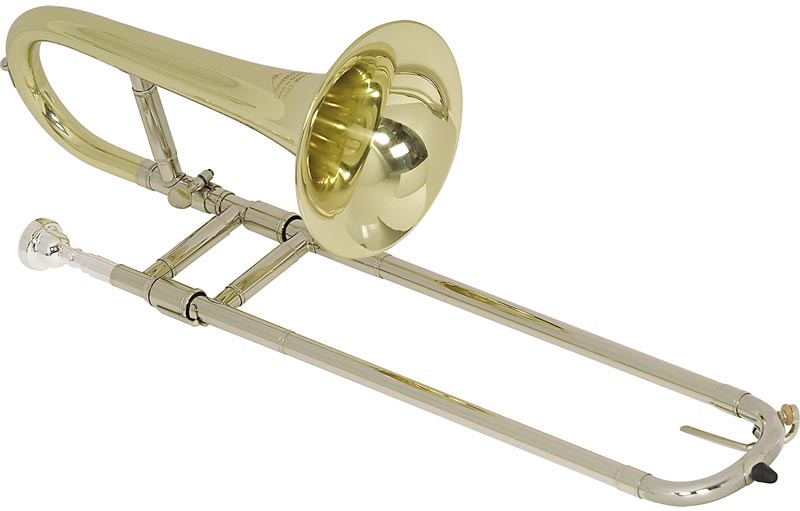 Herald trumpets
In ceremonial playing situations, trumpeters often turn to an instrument model that's a bit more lavish than the standard. This is where the herald trumpet fits the bill. By tightening the coiling in the instrument's body, manufacturers are able to elongate the straight tubing so that the bell sits far out in front of the player.
While this isn't exactly the type of instrument you'd take with you to an orchestral performance or jazz gig, it's a common sight at parades and processionals.

Beautifully crafted, the Kantsul 910 Series Bb Herald Fanfare Trumpet has a .480-inch bore and is outfitted with flag-holder rings.
Browse the Musician's Friend selection of herald trumpets.
Eb/D trumpets
Eb and D trumpets have gained popularity among some orchestral players for their ability to play compositions that exploit the trumpet's highest registers.
Most trumpets tuned to Eb come with an additional set of slides that the player can use to tune the instrument to D.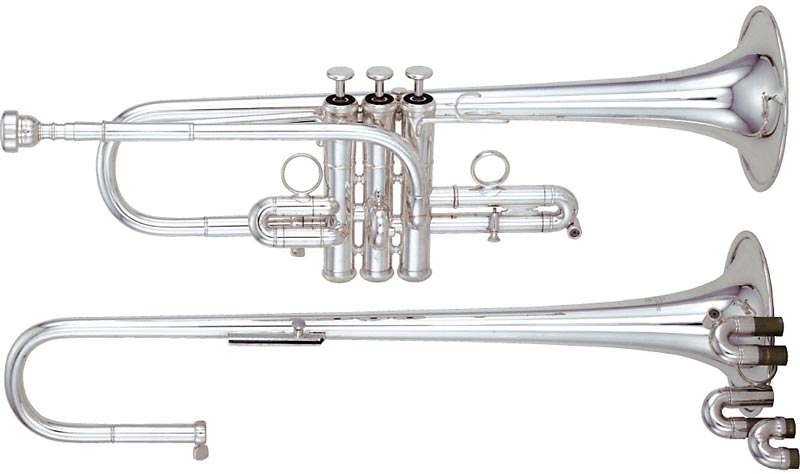 Rather than interchangeable slides or leadpipes, the Kanstul 1523 Series Eb/D Trumpet features two separate tuning bells, allowing the player to switch between Eb and D.
Explore the Musician's Friend collection of Eb/D trumpets.
Should I rent or buy?
If you're shopping for a beginning student, you may be tempted to rent an instrument since your student's commitment is unproven. There are some good reasons to opt for a purchase instead. These include:
Long-term rental fees can add up quickly. A very playable student-level trumpet can often be purchased for less than the cost of a year's rental.
A well-chosen student instrument that is well cared for will retain its value and usually return a substantial part of its purchase price when sold used or traded in for an intermediate trumpet.
Rental instruments may be a bit worse for wear with nicks, dents, and scratches. You're also liable for any damage on a rented clarinet.
We are here to help!
If you have read through this buying guide and are still unsure which trumpet suits your particular needs, give one of our friendly Gear Heads a call at (877) 880-5907. We'll help you hone in on the right trumpet for your needs and budget.