In the world of guitar amplifiers, bestselling models gain their popularity and their reputations for a variety of reasons, whether it's great tone, decent onboard effects, portability, or simply solid, reliable performance. This is true not just for the high-end models the pros use, but also budget-friendly guitar combos that will set you back just a couple of hundred bucks.
If you're looking for an amp for $200 or less, you might be surprised at what you can get for this kind of money. There are a number of amps in this range that players rely on day-to-day for their practice, jamming, and even small gigs. Here, we'll consider seven of the bestselling guitar amplifiers under $200 and take a closer look at what makes each one a solid buy.
Let's get started.
Orange Amplifiers Crush 20 1x8" Guitar Combo Amp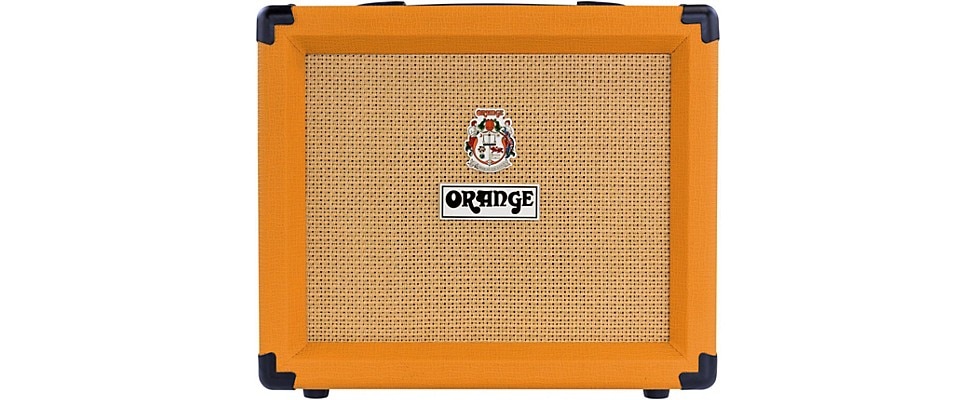 With classic looks, a range of sound and incredible portability, the Orange Amplifiers Crush 20 is a versatile practice and bedroom amp .
Orange's Crush 20 offers 20 watts of fantastic, high gain, all-analog Orange Amplification tone. This two-channel amp offers clean and driven sounds, so it makes a fantastic choice for beginner players looking for a high-gain starter amp or more advanced players looking for a portable, dependable practice amp that will deliver the gain they need.
An all-analog signal path keeps the amp responsive and lively, while a 3 band EQ gives you plenty of control, whether you like to scoop the mids or roll of the highs. The two-channel design offers players plenty of versatility, with a broad range of sounds from ear-pleasing cleans to brutal Orange's classic crunch onto more modern gain sounds.
A headphone/line output allows for recording as well as silent practicing and features Orange's CabSim technology, which offers faithfully emulated Orange 4x12" cabinet sound.
The Orange Amplifiers Crush 20 is available in Orange and Black.
Fender Champion 40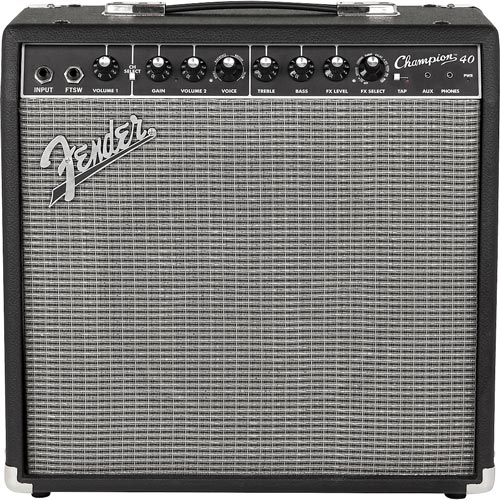 The Fender Champion 40 gets that classic Fender clean on channel 1; switching to 2 opens up a world of convincing modeled amp tones from every corner of the music universe.
For an amp that can push a lot of wattage, the Acoustic G120 is pretty easy to lug around. However, if you aren't going to need that much juice, there are options with more compact designs that are easy to transport and deliver a range of features geared toward players who will use the amp mainly in the home or studio.
One such model is the Fender Champion 40, a 40-watt, solid-state guitar amplifier that's among the highest rated and most popular in our lineup from this legendary manufacturer. The Blackface Clean channel generates that unmistakable, crisp Fender clean tone that's ready as-is for surf, country, blues and old-school rock sounds.
But the Champion has much more to offer tone-wise. Switching to the second channel grants you access to a wide range of modeled amp voicings that go from classic UK stacks to modern, high-gain beasts.This thing will cover just about anything from smooth jazz to extreme metal. Get an optional footswitch and you're ready for anything, hands-free!
A good assortment of effects helps you to further dial in those tones to match your music. The TAP button syncs up time-based effects to the rhythm of the song. The auxiliary input lets you bring your tunes to the amp for playback through the Champion's 12-inch speaker.
The Champion 40 (along with its 20W and 100W brethren) rockin' it in the bedroom, in the studio and onstage.
Fender Mustang I V.2 20 Watt 1x8" Guitar Combo Amplifier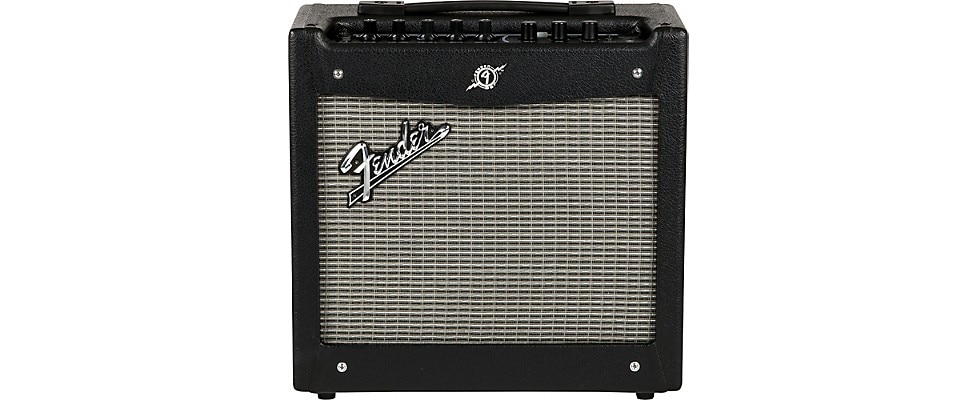 Out of the gate the Fender Mustang I V.2 offers a huge roster of editable and storable tones and FX. Connect your Mac or PC to unlock more of everything.
In addition to building classic tube amps, Fender also has been at the forefront of modern amplifier designs. Incorporating modeling technologies and software integration, there's a new generation of Fender amps that embrace the possibilities of modern technology.
One such model is the Mustang I V.2. Featuring 18 amplifier models, 24 presets, a chromatic on-board tuner, and a whole range of effects, you can dial in just about any tone you can imagine. Using its deceptively simple and intuitive top-mounted control panel, you can shape and save effects and amp settings in logically organized banks to your heart's content. 
What really makes this amp stand out, though, is its ability to integrate with DAW software on your computer. It's also bundled with AmpliTube Fender LE edition. It connects to your computer via USB cable (not included) to become a recording powerhouse. Fender's proprietary FUSE software gives you access to a world of other presets and effects. You can download amp settings by both pros as well as fellow Mustang users on Fender's website and upload your own patches. At its price and given its outstanding feature set, the Mustang serves up a great ride into modern amp technology.
Fender's tutorial steps you through all the cool stuff you can do with Fender Mustang guitar combos.
Acoustic Lead Guitar Series G20
Small jams don't have to sound small with the Acoustic G20, which offers two channels and surprisingly bold sound.
Like its larger sibling, the G120 covered above, the Acoustic G20 offers a whole lot of tone options in a small package.
Except this time, that package is in a much smaller, lighter and more affordable package.
Rated at 20 watts and loaded with a single 10-inch speaker, the Acoustic G20 is just the right size and volume for jamming or practicing at home. Its auxiliary input lets you plug in your audio player to jam along. And just like its larger stablemates,the G20's range of tones, plus extensive effects and EQ controls help you dial in whatever sound you're looking for.
Line 6 Spider V 30
A boatload of great amps and effects are packed into the Line 6 Spider V 30 compact cabinet.
When you bring up modeling amplifiers, one of the first brands that come to mind for most guitarists is Line 6. For years, Line 6 has wowed players at all levels with its ability to capture the tones of classic British and American amplifiers in effects units and amps that you can haul around just about anywhere.
The Spider V 30 is a super-affordable example of the company's technology in action, offering over 200 classic amps, cabs and effect models.
If you're a beginner and making sense of a bunch of different amps and effects is overwhelming for you, the Spider V offers 128 presets to choose from. These presets run the gamut of sounds, so there's something there for everyone.
All this capability comes in a small 30-watt package with a single 8-inch speaker. Even with all those different amps living inside it, the Spider V 30 still can be stored in all sorts of small places, making it a great choice for someone living in an apartment or dorm room. Get it out anytime you're ready to jam, there's a world-class collection of amp sounds and FX within, ready to do your bidding.
Roland Micro Cube GX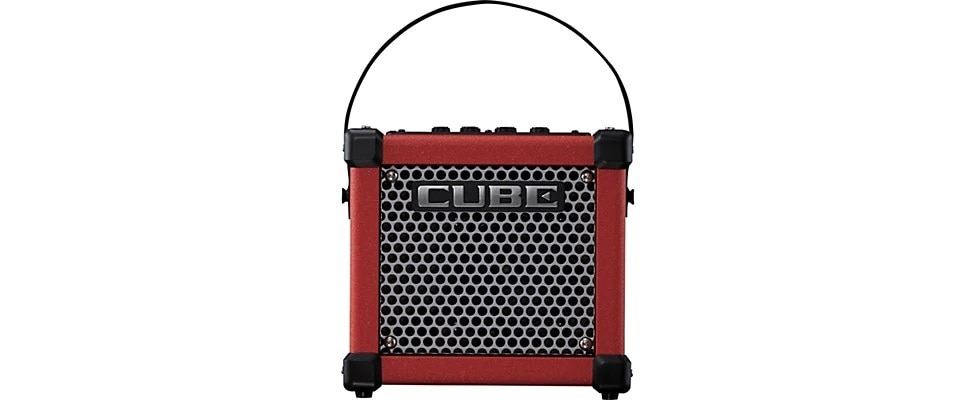 Take your tunes anywhere—absolutely anywhere—with the battery-powered Roland Micro Cube GX. Its sound and tonal dexterity will blow you away.
Being able to carry your amplifier anyplace is one thing, but if you've gotta plug it into the wall in order to play when you get there, is it really portable?
Battery-powered amplifiers offer total portability, and one of the most highly rated models in the the category is the Roland Micro Cube GX. With eight convincing COSM amp models and an octet of essential effects, the Micro Cube GX doesn't stint on versatility. Its Memory function lets you save amp and effects settings for instant recall from a separate channel. A simple button press lets you shift back and forth between your two channels.
Roland thought of all the critical extras too: an interface for iOS devices, a chromatic tuner, a recording headphone output, and a ⅛" aux input for music players. And this little sucker can actually belt it out for up to 25 hours on a set of six NiMH AA batteries! This is a terrific little rig for the street musician, the bedroom composer, or anybody who believes you should be able to take it with you.
Get a load of the incredible range of tones and FX you can crank out of the mighty little Roland Micro Cube GX Combo.
Marshall MG30CFX
The Marshall MG30CFX updates the company's hard-rocking legacy with a powerful little performer bristling with DSP goodies.
Since the company's birth in the 1960s, the name Marshall has been synonymous with the hardest forms of rock and blues. Marshall guitar heads and cabinets continue to be found in the backlines of the world's biggest touring acts to this day. And while other amps on this list are made to cross over music genres, the Marshall MG30CFX is really meant to do one thing and do it well.
That thing, of course, is to rock.
That's not to say that the MG30CFX offers no versatility. On the contrary,covering a spectrum of hard rock to metal sounds, the amp offers four storable channels (two overdrives, one crunch, and one clean), a potent collection of effects, and an aux input for jamming along with your tunes. But through all of this is one constant: that unmistakable Marshall tonal legacy that has defined so much of rock history.
If you'd like a healthy dose of Marshall tone at a friendly price, the MG30CFX is a good way to get your feet wet without breaking the bank. With 30W of solid-state power and a 10" speaker, it can get plenty loud. A speaker-emulated headphone output makes for late night jams that'll keep the domestic peace while giving you the sound of a real Marshall cabinet.
Dig deeper into amps of all kinds with our Instrument Amplifier Buying Guide.
Looking for more power? Check out our recent guide 14 Combo Amps Under $500.
Need help?
Still wondering which amp might be best for you? Our team of Musician's Friend Gear Heads at 877-880-5907 are ready to help you sort through the features and specs to find the best guitar combo for your money and music.