If metal in any or all its flavors is your musical obsession, you already know that amps play a crucial role in cranking out those searing leads and chest-pounding rhythm chunk. Whether your focus is on black, dark, death, doom, or Goth metal; grindcore, metalcore, speed metal, thrash metal, or any combination of the above—your amp is key. Your riffs are the foundation of your playing, your axe is the instigator of your expression, but it's your amp that seals the deal.
An amp that can't deliver the boosted gain structures, overdriven tones, and cutting articulation that metal guitar demands is a recipe for frustration. Whether you're in the market for a head, a combo or a stack, here are seven options to consider.
Randall Thrasher Tube Amp Head
Randall has been building high-gain, metal-friendly amps since the 1980s, and its top-selling Thrasher 120W 4-Mode All-Tube Amp Head cranks out an earthshaking 120W via a quartet of 6L6 power amp tubes. One of two new designs birthed from a 2012 partnership with Mike Fortin, the Thrasher line is gourmet metal gear with the extreme gain structure that made designer Fortin the go-to guy in extreme metal sound.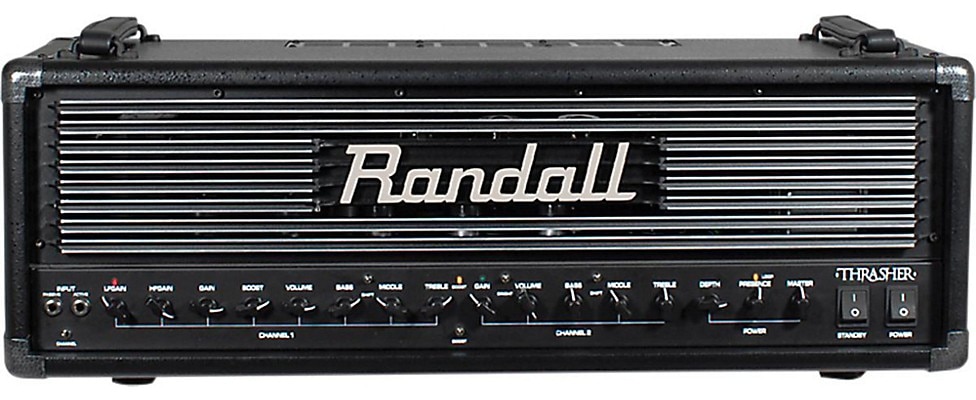 Randall's Thrasher 120W 4-Mode All-Tube Amplifier Head is a powerhouse of towering high-gain tone, and can be found in some of the most prestigious metal guitarists' backlines.
This dual-channel beast is a tone-tweaker's dream while being the straightforward heart of your stage rig. Its control layout and four operating modes are made for turn-on-a-dime tone shifts that let you seamlessly and instantly morph from plaster-shattering rhythms to screaming, scooped-out lead sounds. Fortin designed the Thrasher for easy tube swaps, and included voltmeter test points and easy-to-use bias controls.
Engl Invader Tube Amp Head
Engl is known for their bulletproof, very controllable high-gain metal amplifiers, and the Invader 150 amp head more than measures up. Aside from the huge 150W class A output from the Invader's complement of six EL34s, it has four discrete voicing sections that give you tone options galore for precisely focusing all that power. Its four channels offer distinctly different overdrive and gain structures. With full MIDI implementation, the Invader combines cutting-edge amp control with the harmonically complex output of all-tube circuits.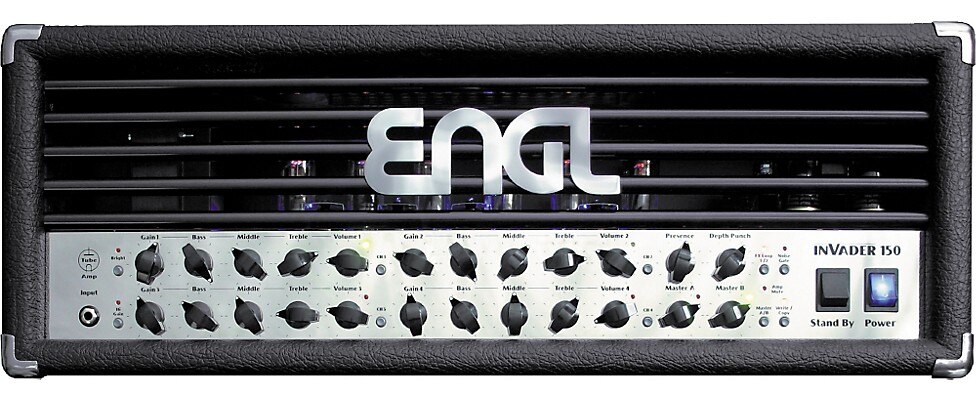 The Engl Invader 150W Guitar Amp Head puts out enormous slabs of high-gain sound that are completely customizable using an array of tone-shaping controls.
A well-configured back panel provides all the usual connectors plus dual effects loops and three different interfaces for connecting MIDI and footswitches. The amp is also configured with 128 MIDI preset locations via 16 channels for instant access to saved amp configurations.
Randall RG1003H 100W Solid State Head
Randall's experience with solid state amps goes back to the 1980s. Hard rocking guitarists such as Randy Rhoads were early adopters, counting on Randall's high-gain power sections to deliver the sonic goods. They were also drawn to the trouble-free, no-maintenance operation of solid state designs.
The Randall's RG1003H Solid State Guitar Head is a great choice for the guitarist who plays smaller venues or is looking for a practice amp with real metal sound.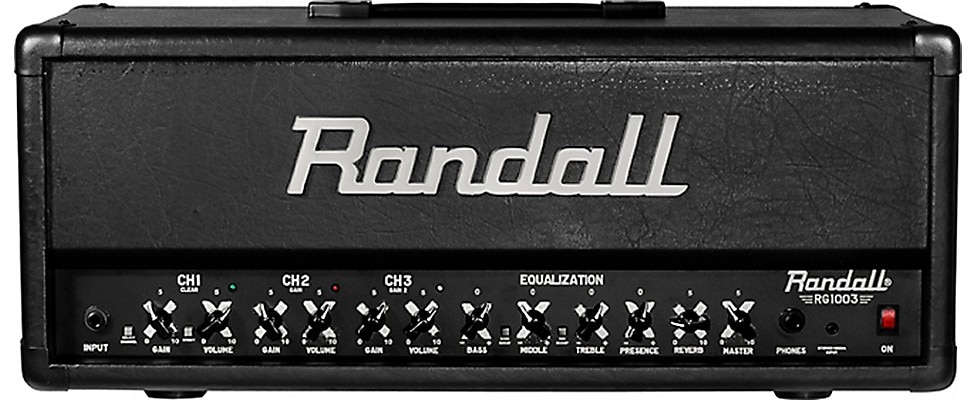 Randall's RG1003H Solid State Guitar Head is a more affordable option that something with tubes, but still produces all the crunchy distortion and punishing low-end you need.
With three footswitchable channels, spring reverb, an effects loop, and included footswitch, you get a lot of bang for the buck. An 1/8" stereo input on the back panel lets you connect music players and other gear for practice and jam-along fun.The headphone output is perfect for practicing late and loud.
EVH 5150 III Tube Combo
From the mind of Edward Van Halen comes the EVH 5150III 1x12 combo. Crank it up, close your eyes and try to pretend you're not standing in front of a half-stack. The seven JJ 12AX7 preamp tubes and pair of 6L6 power tubes team up to deliver a range of creamy to hairy distortion sounds and 50 very loud class A watts. A custom Celestion 12" speaker gives it plenty of firepower.
EVH's 5150III 50W 1x12 Tube Guitar Combo with control and rear panels designed to Eddie Van Halen's specs has all the power, tweakability and connectivity you could want.
With clean, crunch, and lead channels, getting the sound to match your music mode is easy. The rear panel features 4, 8, or 16 ohm outputs for versatile extension cab options. A MIDI input, preamp output, effects loop, and headphone jack for silent practice makes this a super-flexible combo. The included four-button footswitch plus MIDI implementation gives you extensive hands-free control options. A popular choice among metal guitar players, the 5150 III is no one-trick pony. You can dial in sounds for a broad range of genres making this a good choice if your music covers a lot of territory.
Peavey 6505+ 112 Tube Combo
Based on the acclaimed Peavey 6505+ head, and housed in a more portable package, the 6505+ Combo thrives on metal sounds, especially those generated by active guitar pickups. Mostly at home with various metal and hard-rock styles, you can, with judicious use of the independent dual-channel EQs, dial in cleaner, less intense sounds.
The rhythm channel has a Crunch switch that adds heart-thumping breakup, while the lead channel naturally gravitates to the high-gain sounds of the 6505+ head.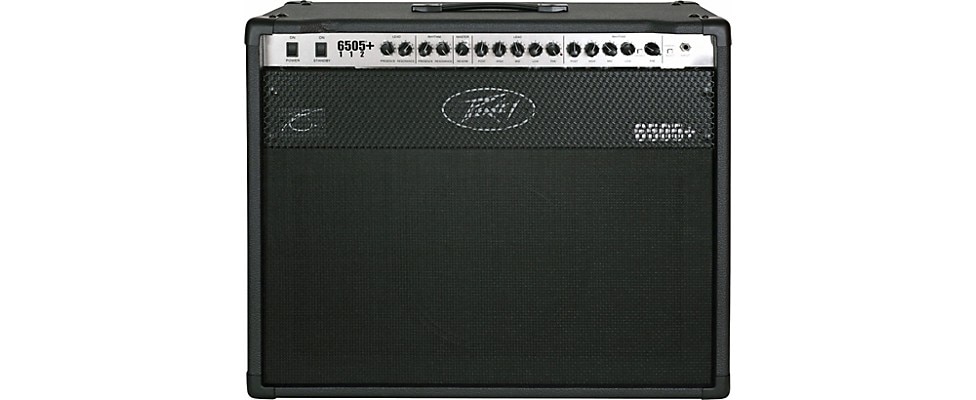 The Peavey 6505+ 112 Tube Combo borrows its power amp from the acclaimed 6505+ head and includes an interface for generating the sound of a miked guitar cab.
Five 12AX7 preamp tubes and two 6L6GC outputs provide all-valve tone and 60 very loud watts of power. Aside from the 3-band channel EQs, use the independent Presence and Resonance controls on each channel to dial in the 6505+ 112 Combo to match your guitar's sound and your playing dynamics. The onboard miked-cabinet simulation is convincing and useful onstage and in the studio.
Laney Ironheart Tube Combo
If you're looking for a hard-hitting amp that's easier to transport to smaller venues, or want a sweet studio amp with output that can be attenuated to less than a watt while preserving monster tone, the Laney Ironheart Combo could be your next amp.
Setting it apart from the competition is a selectable DI circuit that takes its signal at the power stage output with any cabinet emulation you've dialed in. A feature usually found on high-end custom rigs, the DI function gives you plenty of fur and overdriven sounds, even playing at modest practice levels in your bedroom.
Laney's Ironheart Combo produces huge tone without blowing the roof off.
The rhythm and lead channels are equipped with 3-band EQs, and the clean channel has a pre-boost switch for unaffected sounds. The four 12AX7 preamps and two 6L6 power amp tubes mirror the tube complement of Laney's larger combos. Although it doesn't get as loud as some of the other amps presented here, for smaller venues and home studio use, the 30W Ironheart is a serious contender. Digital reverb and a footswitch round out this complete combo package.
Vox Valvetronix VT40X
Maybe you're looking for a smaller combo amp with lots of presets and effects to match a variety of musical styles, but one that won't break the bank. Enter: the Vox Valvetronix VT40X.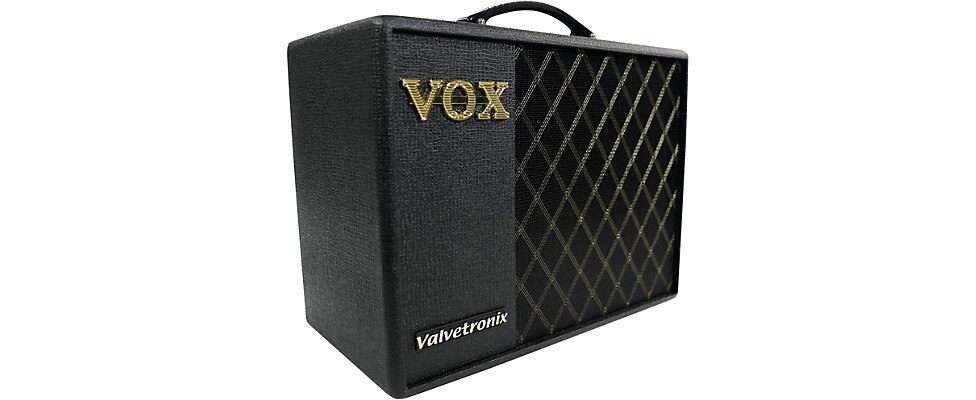 Vox's Valvetronix VT40X produces serious metal sounds (and a whole more tones) at a not-so-big price.
The VT40X generates 40 watts and features a multi-stage Valvetronix tube preamp stage. The VT40X is packed with 11 distinct amp models including some of the latest high-gain boutique beasts. Combine them with the 12 onboard effects to dial in your sound. The headphone output also includes the simulated speaker cabinets for more satisfying silent practice and jamming. 
Marshall JVM410H Tube Head with 1960AV Cabinet Half Stack
Marshall's JVM410H wasn't designed specifically for metal, but with the highest gain in the company's lineup it easily transits from classic UK hard-rock roar to more extreme metal realms. With four independent, footswitchable channels including two flavors of overdrive routing 100 watts, this all-tube monster is considered the most versatile amp Marshall has ever made. The included 6-way switch with memory lets you pull off amazing mid-performance shifts.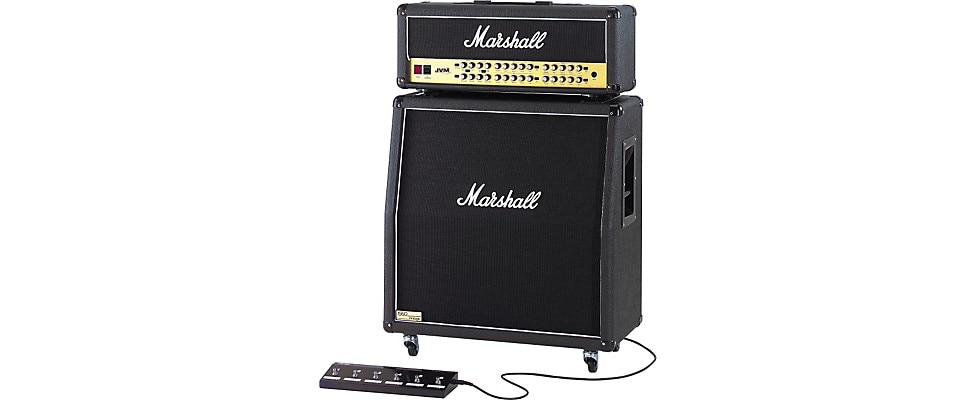 The Marshall JVM410H Head is the loudest, most adaptable amp Marshall has ever produced.
All channels have three footswitchable modes, each with its own gain structure, in effect giving you a 12-channel amp!
In this half stack, the JVM410H is paired with the popular 1960AV speaker cabinet, which is loaded with Celestion G12 Vintage speakers. They have a smoother high end and sound that's a little warmer than the G-12Ts used in the 1960A cabinet. (See the next entry.) You can choose between an angled or straight front cab, or add an additional cabinet for an unbeatable full stack.
9. Marshall JCM800 2203 with 1960A Cabinet Half Stack
The single-channel, 100W JCM800 2203 is a much-celebrated reissue of the now hard-to-find original produced in the early '80s. If you have ever listened to '80s metal, you have heard this amp. With a topology inherited from the fabled Plexi head, it was among the first Marshalls to have a master gain function. Apart from that, both the original and the reissue are studies in minimalist control. The only nod to modernity in the new 2203 reissue is an effects loop.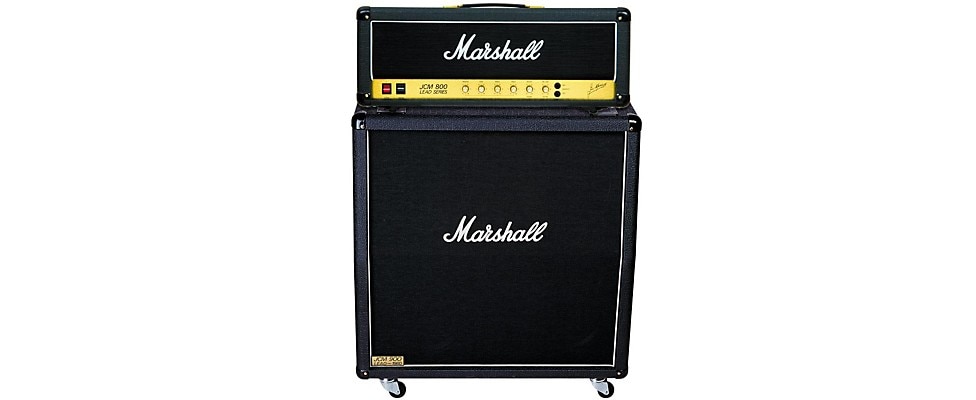 If you love the sounds of '80s metal and play larger venues, the Marshall JCM800/1960A half stack has your name on it.
The best-selling 1960A 4x12" speaker cabinet is baffled so the top two Celestion G12-75 speakers point slightly up for improved high-frequency sound projection. Much like the JCM800, this cabinet is a classic.