Announced at Winter NAMM 2018, the Fender Parallel Universe series offers a "What if?" take on some of Fender's most iconic models and features. Models include: the Strat-Tele Hybrid, the Jazz Tele, the Elite Nashville Telecaster HSS, the Meteora, the Troublemaker Tele, the Whiteguard Strat, the Tele Thinline Super Deluxe Tele, the Jaguar Strat and the '51 Telecaster PJ Bass. 
We stopped by the Fender booth at Winter NAMM to take a closer look with Fender's own Steve Pepper. 
Strat-Tele Hybrid
The Strat-Tele Hybrid features an ash Tele body, three Custom Shop '69 Aged Strat pickups, comfort contours and a Strat synchronized tremolo bridge. A maple, "Deep C" American Professional Neck features a 9.5" radius fingerboard with 22 narrow-tall frets and a bone nut. The Strat-Tele Hybrid, available in 2-Color Sunburst, is expected to ship in late March of 2018.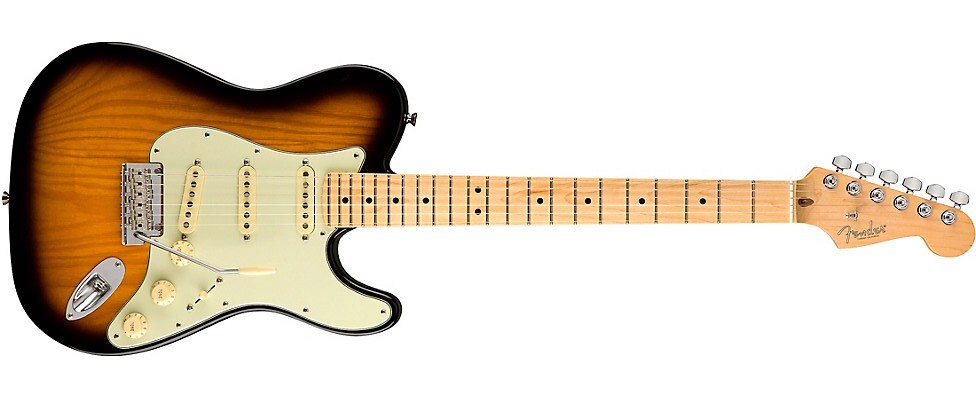 Jazz Telecaster
Featuring a pair of American Vintage '65 single-coil Jazzmaster pickups, the Jazz Telecaster offers classic Fender offset sound. Both modern and vintage touches are found throughout this guitar. A gloss nitrocellulose-finished ash Tele body, 3-ply Mint Green pickguard, American Vintage tuners and a pair of white "witch hat" knobs bring plenty of classic vibes. Conversely, the American Professional Jazzmaster tremolo and bridge, as well as the modern "Deep" C" neck and 9.5" rosewood fingerboard offer modern updates and comforts. The Jazz Tele is expected to ship in May 2018 in 2-Color Sunburst and Surf Green.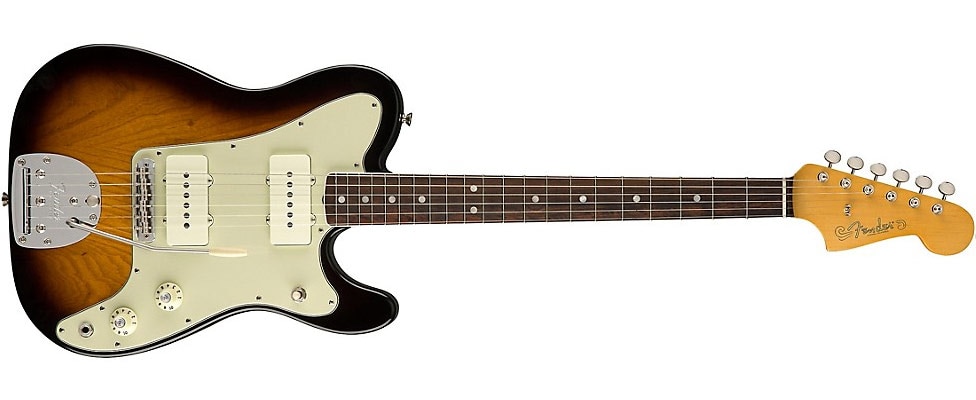 Meteora
The striking Meteora offers a unique, new body shape and two biting Custom Shop Tele pickups: a vintage-style Tele bridge pickup and a Twisted Tele neck pickup. Meteora features a 25.5"-scale American Professional Jazzmaster maple neck, a 9.5"-radius fingerboard,  block inlays, a bone nut and 22 narrow-tall frets. Available in a a gloss nitrocellulose Butterscotch finish, the limited run Meteora is expected to be available in October of 2018.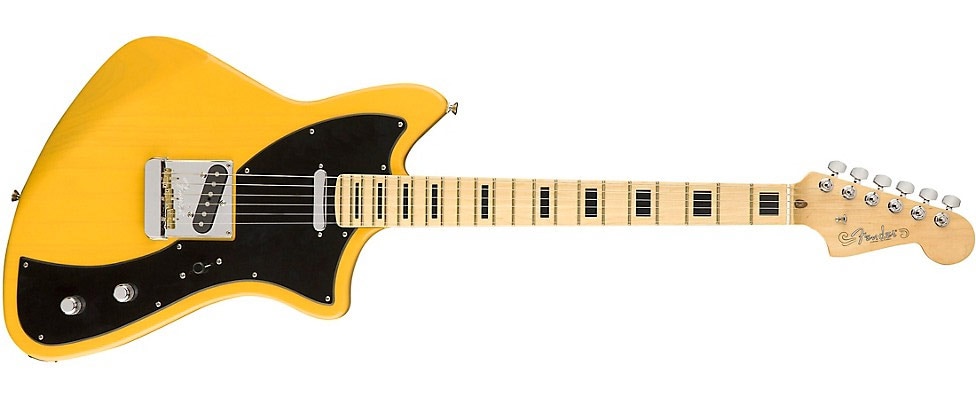 Elite Nashville Telecaster
Looking at the Elite Nashville Telecaster HSS, we find a direct mounted ShawBucker humbucker in the bridge, and Pure Vintage '64 Tele pickups in the middle position and neck positions. A compound "C-to-D" shaped neck features a 9.5"-15" compound-radius fingerboard, with medium jumbo frets and a bone nut. This guitar, available in Antique Cherry, is expected to ship in April of 2018.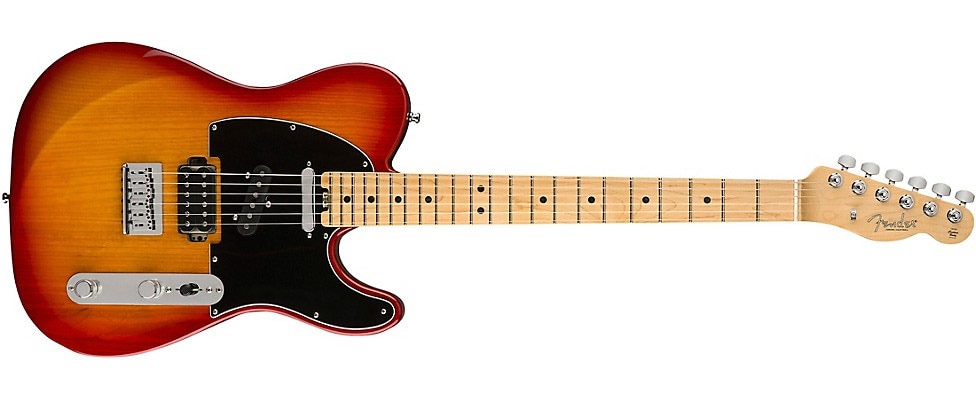 Troublemaker Telecaster
Sure to raise a few eyebrows, the Troublemaker Tele features a bound mahogany body with a maple top and a gloss nitrocellulose lacquer finish. Throw in a pair of ShawBucker 1T and 2T humbuckers and you've got some serious tone on tap. The mahogany neck, with its modern "Deep C" feel and 9.5"-radius fingerboard, provides plenty of modern playability. The Troublemaker Telecaster will be available in Iced Tea Burst and Ice Blue Metallic and is expected to ship in June of 2018.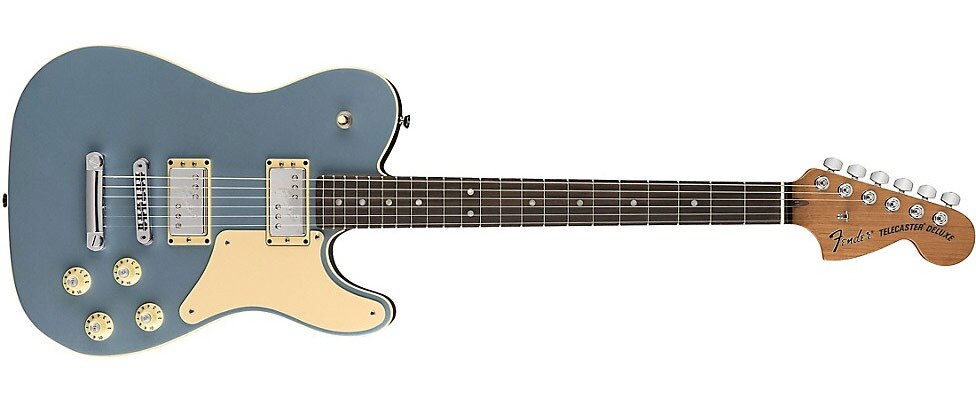 Whiteguard Stratocaster
Moving down the line we have the Whiteguard Strat, which gives you Tele tone and Strat look, feel and playability. This eye-catching guitar features an ash body with a gloss nitrocellulose-finish. A pair of Fender Custom Shop '51 Nocaster pickups hearken back to Fender's early years, providing plenty of classic tone. While the tone may be vintage, the "Modern C" maple Telecaster neck features a 9.5" radius fingerboard with 22 narrow-tall frets and a bone nut, making it extremely playable for the modern musician. It is expected to ship in late August of 2018.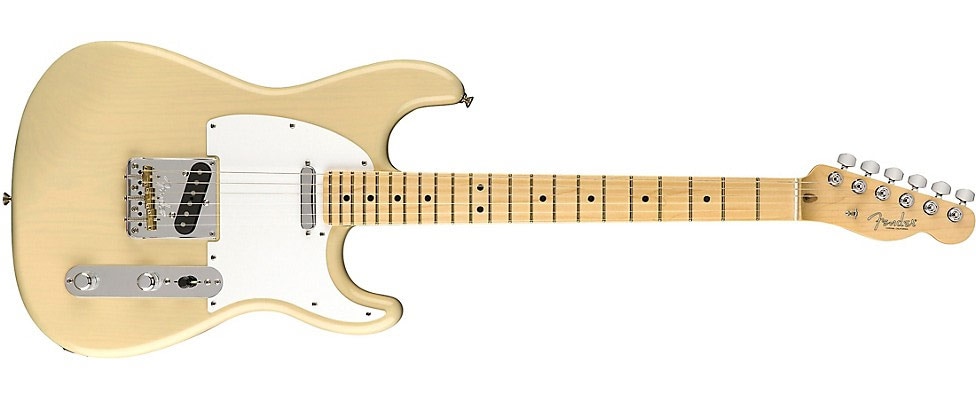 Jaguar Stratocaster
Next in Fender's Parallel Universe series is the Jaguar Strat. The Jaguar Strat features an alder Strat body and is loaded with Jaguar controls, American Vintage '65 Single-Coil Jaguar pickups, and a 4-ply tortoiseshell pickguard. A 25.5" scale maple neck features a "Deep C" profile, with a 9.5" radius fingerboard and 22 medium jumbo frets, making this an extremely playable guitar. Mustang bridge saddles, Jaguar knobs and more make this an extremely unique guitar. Available in Candy Apple Red, the Jaguar Stratocaster will be available in extremely limited numbers in September of 2018.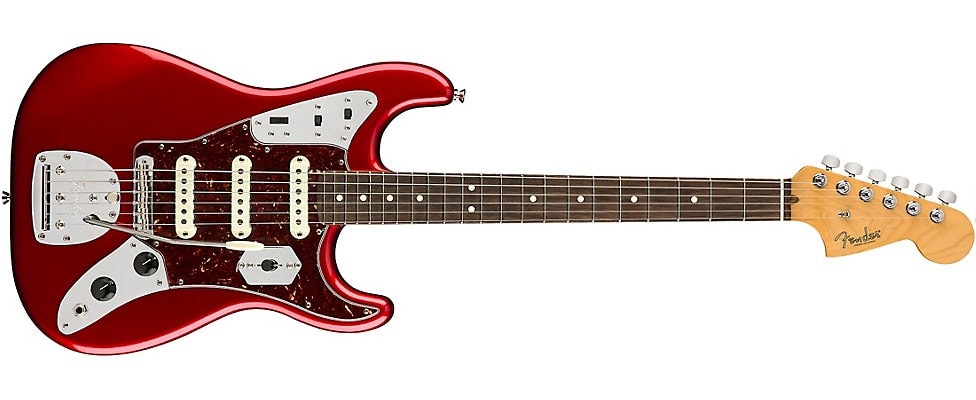 Telecaster Thinline Super Deluxe
The Tele Thinline Super Deluxe has a pair of TV Jones Classic pickups, standard controls and a semi-hollow Tele design. The 25.5" scale maple neck features a 9.5" radius fingerboard with 21 Narrow Tall frets. Available in Orange, it is expected to ship in July of 2018.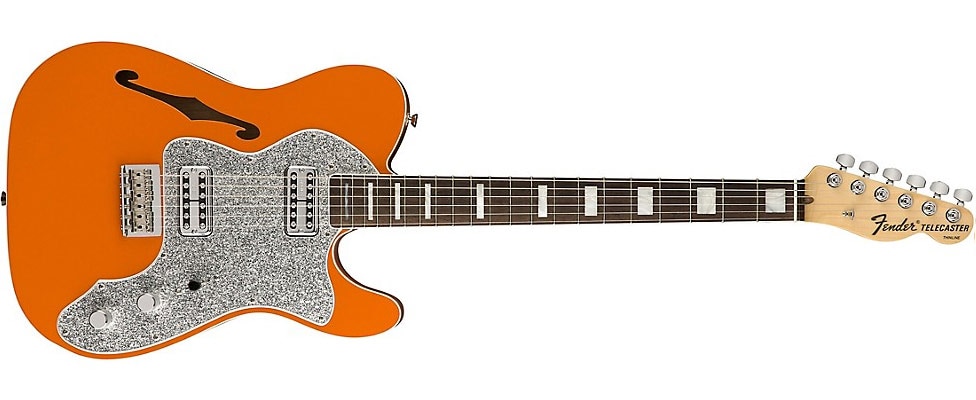 '51 Telecaster PJ Bass
Finally, the '51 Telecaster PJ Bass offers a 34"-scale Telecaster bass maple neck and an American Vintage '63 P Bass-shaped profile. A '60s Jazz Bass single coil bridge pickup and '60s P Bass split-coil middle pickup give you plenty of tonal variety to work with. A maple "1963 C" neck offers vintage feel, while the modern 9.5" radius fingerboard offers a more modern playability. Available in Blackguard Blonde, the '51 Telecaster PJ Bass is expected to ship in late November of 2018.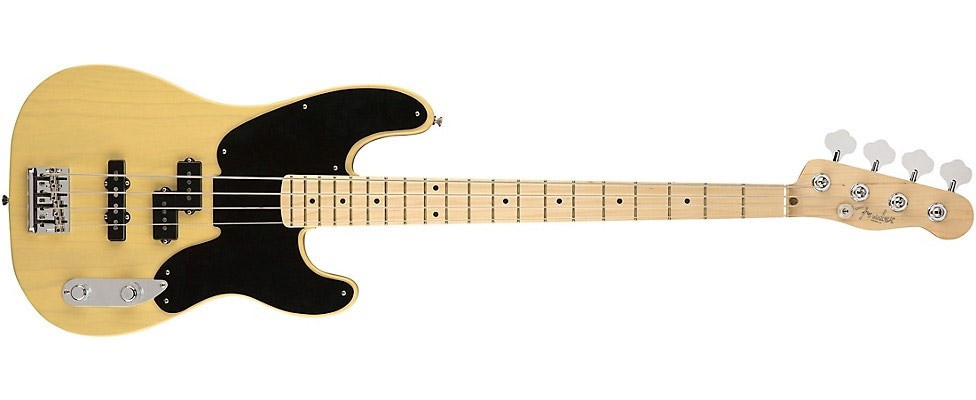 These guitars will be released throughout the year in limited quantities, so you'll want to get your order in as quickly as possible. 
Looking for something with more vintage vibe? Check out Fender's new American Original series.
Related: Fender launches limited edition 60th Anniversary Jazzmaster series.
Shop all Fender guitars at Musician's Friend.