In the not-too-distant past, making a decent audio recording took lots of expensive, complicated gear, as well as assistance from trained professionals who knew how to operate that gear. Then, as recording technology eventually became more compact and affordable, do-it-yourself musicians were able to build small studios capable of producing demo-quality recordings from the comfort of their own homes.
Now, with mobile devices like the iPhone, iPad, and iPod becoming ever more powerful, musicians have the ability to create professional-sounding recordings from virtually anywhere, using little more than the devices they're already using for everything else in their day-to-day lives.
In this guide, we'll take a look at the different kinds of hardware you can use to harness the recording and music production power of your iOS device.
Browse the Musician's Friend iOS for Musician's Store for your specific needs.
Table of Contents
Audio/MIDI interfaces for iOS
Single input interfaces for iOS
Multiple I/O interfaces for iOS
iOS controllers
iOS mixers
iOS-friendly microphones
iOS monitors
Music production tools for iOS
iOS synthesizers and keyboards
iOS trigger pad controllers
iOS Recording Accessories
We're here to help
Glossary
Musicians and producers at every level are making their iPads a go-to piece of equipment in the studio, and in some cases, even using it as the foundation for their recording setups. Gorillaz frontman Damon Albarn, for instance, recorded the entirety of his group's 2011 album The Fall on an iPad–all while he was in the middle of a world tour. Some indie bands have recorded, mixed, and mastered entire records on iPhones. And often, even top recording engineers with lots of high-end gear at their disposal make heavy use of iOS devices to make their jobs easier.
If you're a musician or producer of any stripe, iOS devices offer affordable, convenient options to create music on the go. And with the addition of a few simple hardware components, you can turn your iPad or iPhone into a recording powerhouse that's ready to handle just about anything you could possibly need.
Of course, to turn an iPad into a full-fledged pro-audio device, you will need a few add-on components. And which components you select should be suited to the role you would like the device to play in your recording routine.
With that in mind, here is a look at some of the most popular recording gear for iOS.
Audio/MIDI interfaces for iOS
Try as you might, you can't plug your guitar, bass, microphone, etc., directly into your iPad. And even if you could, you might not be thrilled with the result. Without preamps, converters, and other technologies that help process your signal before it reaches the device, you probably would find a less-than-ideal sound for recording. You probably also would have to deal with lag that makes it difficult to play in time, sync up tracks, and monitor your recordings.
That is where a good iOS interface comes into play.
There is a range of different models you can find, from straightforward dongles with a single input to complete workstations with all the I/O you'd need to record a group.
Single input interfaces for iOS
If your recording needs are simple and you will be working with a single primary instrument, you can find compact and affordable devices specifically designed to handle the input and make sure you can get a high-quality sound.
For guitarists and bassists, the Apogee Jam or the Line 6 Sonic Port are both strong choices to help you achieve the tone you want in your recordings.
Keyboard players or other musicians who use MIDI will also find compact interfaces made for connecting their instruments in order take advantage of all the MIDI music production and DAW apps iOS has to offer. One such example is the IK Multimedia iRig MIDI 2.
Vocalists, or any musician who needs a microphone to record their instrument, can find microphone connectors such as IK Multimedia's iRig PRE. This device, which supplies a basic preamp and an XLR input, allows for the connection of virtually any microphone to offer a range of recording possibilities.
For singer-songwriter who work with a guitar and vocal combination, devices like the Focusrite iTrack Solo with Lightning connector provide just the right combination of inputs and preamps for the job, all at an attractive price.

Equipped with a quality mic preamp plus guitar input, the Focusrite iTrack Solo plays nice with all Lightning-equipped iOS devices.
Multiple I/O interfaces for iOS
For musicians whose recording needs are simple, a specialized interface that handles just one input is a cost effective solution that can yield excellent results. However, multi-instrumentalists, singer-songwriters, and those looking to produce more complex recordings may need devices with a bit more versatility.
There are plenty of options for interface devices that handle multiple inputs, and with many different configurations, anyone looking for a great home recording tool should be able to find what they need.
The important thing when investigating options for an interface is to consider what you'll be plugging in, so you can focus on the tools that are designed to handle the input well and help you get the sound you're looking for.
Learn more with our expert Audio Interface Buying Guide.
For singer-songwriters or anybody who works with a guitar and vocal combination, the Focusrite Scarlett Solo USB Audio Interface delivers a sweet-sounding preamp and instrument input at an attractive price. The latest edition improves on the excellent sound of the original with a more even gain structure that makes balancing your mixes easier. The instrument input has been upgraded to handle the hottest pickups. Reduced latency means you'll perform and monitor more confidently while also being able to run plug-ins in real time without a DAW.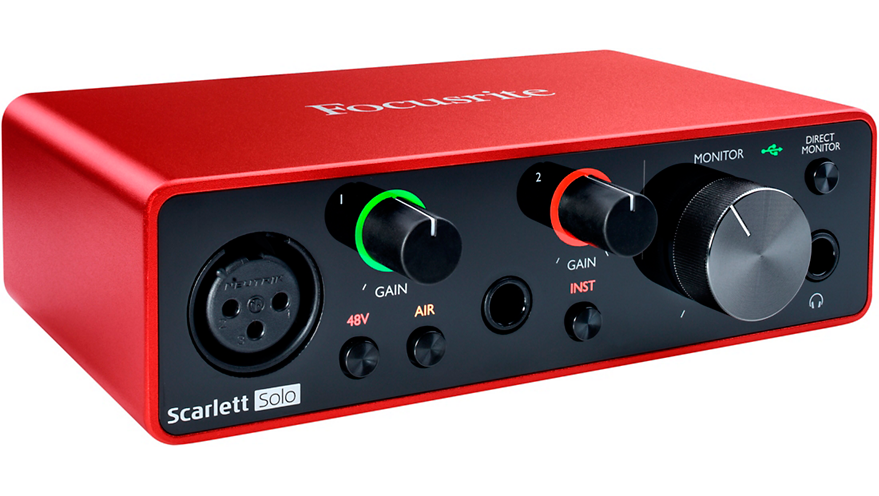 Musician's Friend offers a complete range of 3rd Gen Scarlett Interface products, including wallet-friendly studio packs that come complete with microphones.
With two instrument/mic inputs, a 24-bit A/D D/A converter, and MIDI connection capability, the Apogee Duet packs a lot of recording power into a small unit.
EDM producer Wayne Wilkins uses an Apogee Duet so he can stay productive when he's away from his home studio.
iOS controllers
The iPad is a powerful device capable of running full-scale DAW apps. And while the touch control capabilities of the iOS platform might sometimes be an improvement over the mouse and keyboard model of desktop software, many mobile producers will probably find that dedicated hardware control surfaces can be helpful for getting their hands on the apps they use.
That's one reason that top pro-audio brands have created compact, MIDI-based controller models compatible with the iOS platform. The Korg Nano line of products, for instance, includes models for both music production and DAW control. The nanoPAD2, for instance, is great for triggering samples or virtual drum sounds, while the nanoKONTROL2 offers a complete workstation control surface in a package that's smaller than a standard desktop keyboard.
A compact option for complete control of your iOS or desktop DAW, the Korg nanoKONTROL2 will quickly become a workhorse for your studio.
The Line 6 Sonic Port XV takes a different approach by building in stereo condenser mics plus robust I/O, mixing and signal processing. Mobile and desktop DAW compatibility means the sky's the limit for the recording singer-songwriter.
Create broadcast-worthy music using the Line 6 Sonic Port XV and your creativity.
iOS-friendly microphones
While many iOS audio interfaces can accept microphone connections, there is a more straightforward option for vocalists or those who would like to make simple recordings on the go. That is, a range of microphone models have been specifically designed to plug straight into your iPad or iPhone. These can be an excellent option for the ultimate in compact, portable recording.
You can shop the full selection of iOS mics here.
The iRig Mic HD 2 from IK Multimedia is an excellent choice for hand-held use with your iPhone, iPad, iPod touch or Mac equipped with 30-pin or Lightning connectors. It'll even work with Android devices (with an OGT adapter) and delvers excellent 24-bit definition sound.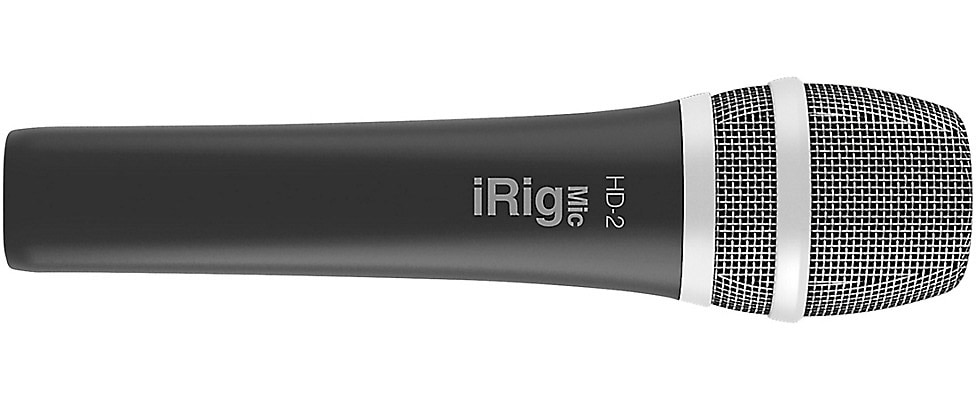 The IK Multimedia iRig MIC HD 2 is a professional-grade condenser microphone with 24-bit output and plug-and-play compatibility with iOS.
Plug the Zoom iQ6 X-Y Stereo Microphone into your compatible iPhone or iPad's Lighting connector to transform it into a full-fledged studio, ready to capture music, conferences and ambient sounds with awesome fidelity and realism. Dual unidirectional condenser mics swivel from 90-120º allowing you to control the sound field. Smartly engineered, Zoom includes an extended connector and spacer so the mic connects securely to devices with covers on them. A gain wheel plus 3-segment LEDs help dial in levels and avoid distortion. The iQ6's headphone jack also doubles as a line output so you can use it for monitoring during recording and playback. Zoom's Handy Recorder App gives you on-screen metering and numerous options to fine-tune your recording.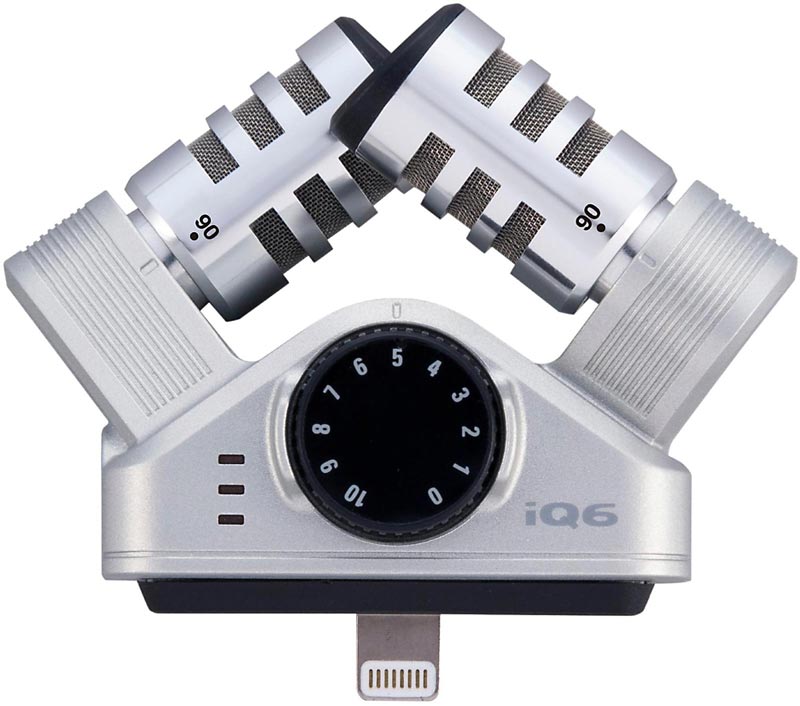 Armed with an iQ6 from Zoom and your compatible iO device, you're ready to capture any sound, anyplace with stunning fidelity and realism.
Learn more with our expert Microphone Buying Guide.
iOS monitors
Any professional audio engineer knows the importance of good studio monitors for creating the perfect mix. In the studio, you need speakers designed to give you accurate, uncolored playback so you know what your audio really sounds like. This is just as true for your mobile studio as well, and that's why some manufacturers have started creating portable speakers that offer the accuracy of a quality studio monitor.
One example of a mobile studio monitor is IK Multimedia's iLoud. Offering 40 watts of power and high audio resolution, the iLoud gives you more than enough volume and clarity to produce an accurate mix on the go.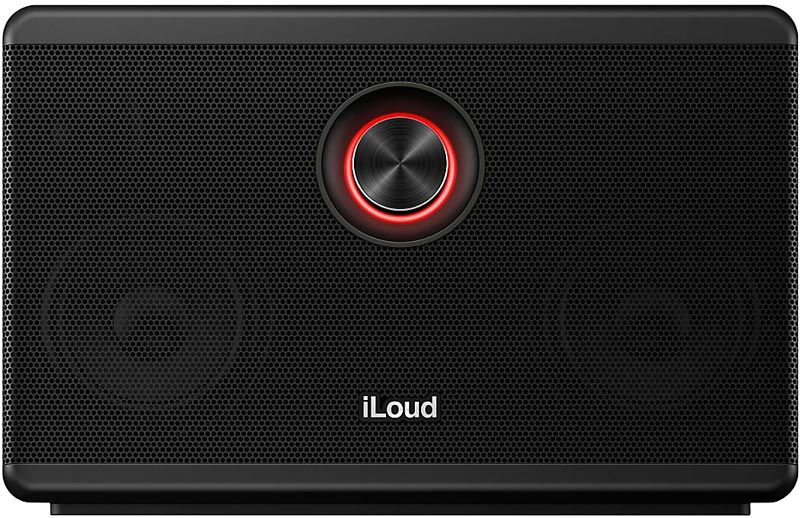 Music production tools for iOS
Using music production tools as part of your recording and engineering process can be important for filling out compositions and achieving the sound you want for your tracks. And just like its desktop operating system counterparts, iOS has plenty of tools available to help you do just that. With the addition of the right hardware components, you can easily turn your iPad, iPhone, or iPod into a complete mobile music production lab.
Here are a few of the devices that can help you get there.
iOS synthesizers and keyboards
Recognizing the popularity of mobile devices as pro audio tools, keyboard makers have taken to designing ultra-portable models that integrate with iOS and give you everything you need from a synthesizer.
The super compact Korg microKEY Air 25 gives you big-time MIDI control and works with iPhone, iPod touch, iPad and Macs/PCs. Even better? It can connect wirelessly via Bluetooth to your iOS device.
Learn more with our expert Keyboard Controller Buying Guide.
iOS trigger pad controllers
Plenty of iOS apps are available for creating loops, drum tracks, and sample sequences. But to take full advantage of these tools, it's best to use an external controller designed for ease of use. Recently, manufacturers have started creating mobile-ready controllers that plug in to your iOS device and give you a more intuitive interface for making digital music.
Producers and DJs who use Ableton Live will find a lot to like in the Novation Launchpad Pro. It seamlessly integrates with the application using RGB LEDs that exactly match the colors in your session views for the ultimate in intuitive, visual control. With its 64 pads you can play elaborate percussion parts, launch clips, trigger loops, and control a host of other parameters.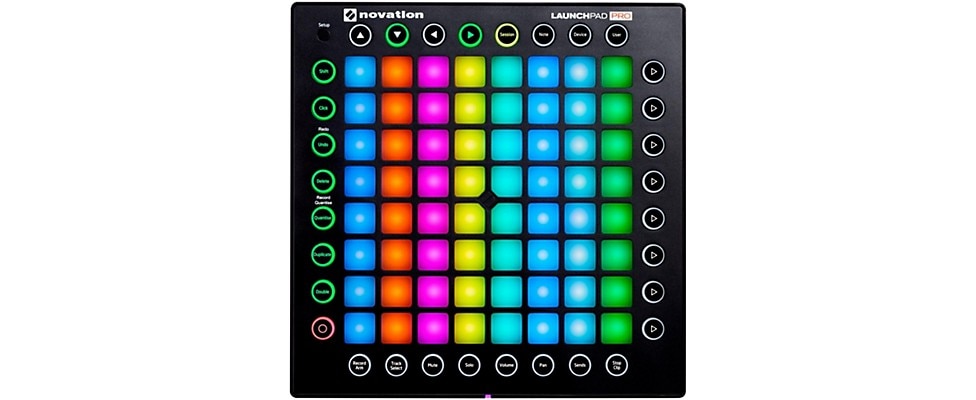 Anything you can do with Abelton Live you can do better controlling the application with the Novation Launchpad Pro.
Novation Launchpad RGB delivers awesome and very colorful control over every aspect of Ableton Live.
Learn more with our expert Groove Production Hardware and Software Buying Guide.
iOS Recording Accessories
In addition to the tools that can allow you to turn your iOS device into a complete recording platform, some simple accessories can be helpful for integrating the device into your home studio. For instance, if you aren't docking your iPad into a professional audio device, it can be helpful to invest in a professional-grade mount such as the On-Stage Stands Tablet Mounting System. This way, the device stays firmly in place while you use it to create your mixes.
You also might consider whether you will need any professional quality cables or adapters to use for your iOS setup. For example, if you will be recording guitar and monitoring the output on an amplifier, you might need an 1/8-inch stereo male to 1/4-inch mono female adapter.
For these and other iOS accessories you may need in your home studio, take a look at the variety of iOS accessories offered through Musician's Friend.
We're here to help
We want you to be pleased with your iOS gear purchase, and offer a 100% satisfaction guarantee and a generous return policy so you can order with confidence.
After reading this guide, if you're still not sure which gear is right for you, we invite you call to one of our friendly and knowledgeable Gear Heads at 877-880-5907.
Glossary
Condenser microphone – The most common types of microphones fall into one of two categories: dynamic and condenser. Being more rugged and less sensitive to loud noises, dynamic microphones are often the best choice in live settings. Condenser microphones, however, typically have better frequency response and transient response, making them the preferred option for use in many studios. Most of the made-for-iOS microphone models you will find are condenser mics. However, it is possible to use a dynamic microphone with a iOS-compatible interface.
Digital audio workstation (DAW) – A digital audio workstation is a setup for recording and editing audio centered around a computer program or, in some cases, digital audio hardware. As personal computing technology has become more powerful and affordable, DAWs have become a very popular approach to recording both in home studios and professional environments.
I/O – Tools such as recording interfaces for iOS are I/O (input/output) devices because they handle the transfer of data from one device to another. The options available for input types and methods for output are important to consider when looking for a device that will work with the gear you want to connect.
iOS – The operating system used on Apple's mobile devices, including iPad, iPod, and iPhone. To create a mobile recording setup based on your Apple device, you need to make sure the equipment you buy is compatible with iOS. Especially if you are using an older version of an Apple device, you might also want to double-check that your selections are compatible with the version of iOS you use.
iPad Camera Connector – Working as an adapter to provide an input in to your iPad or iOS device, the Apple iPad Camera Connector is sometimes required for connecting iOS gear. If you don't already own this device, make sure you know whether you need it for the gear you want to connect. In most cases, a product's description will tell you whether this adapter is required.
MIDI – A standard that allows certain devices like synthesizers to communicate with other devices, such as computers and iPads. MIDI carries information that signals notation, volume, panning, and many other parameters, allowing you to get the sound you want from your MIDI based instrument or operate a DAW with a controller.
Mono/Stereo – Stereo sound is sound reproduction that uses two or more channels. Modern recordings are almost always done in stereo. Mono is sound reproduction using a single channel. Individual instruments often are recorded in mono.
Phantom power – A way to transmit electrical power to a microphone through its cable, which requires a device configured to supply the power. Condenser microphones typically require phantom power to work.
Trigger pads – An electronic sensor used to produce a sound that is assigned to it from a program. Some devices consist primarily of trigger pads, while others, such as many keyboard models, integrate a number of pads.
TRS – Tip/ring/sleeve connectors are the common connection type used for ¼ inch instrument cables and professional stereo equipment. Most audio interfaces contain at least one TRS input.
XLR – The connection type commonly used for microphones and some other professional audio equipment. Those planning to connect a microphone to their mobile recording setup will want to make sure they have an interface with at least one XLR connection.