In 1801, Johann Georg Martin sent his 15 year old son Christian Frederick Martin to Vienna to apprentice with Johann Stauffer – one of the preeminent guitar makers of the day. Under Stauffer's tutelage, Martin developed the skills and craft that have become his legacy six generations and more than 181 years later.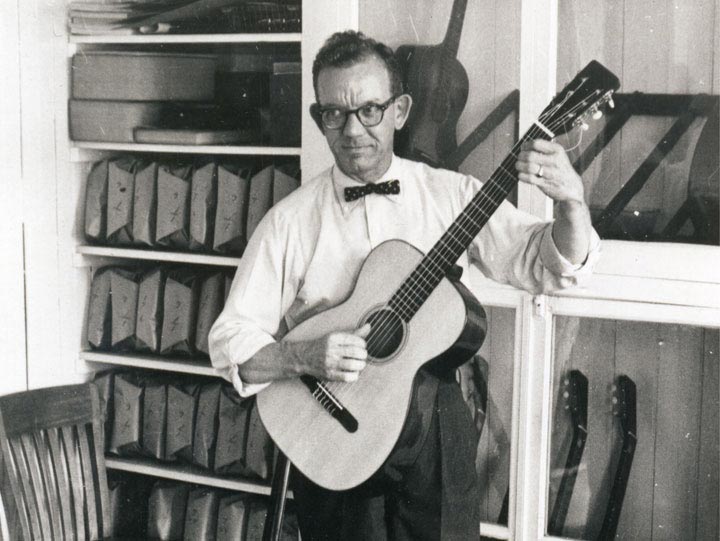 Christian Frederick Martin III in 1948.
After returning from Vienna to his hometown of Markneukirchen, Germany, Martin became embroiled in a feud with the restrictive violin and cabinet makers guilds. In 1833, he packed up his family and tools and emigrated to America to establish his trade in a growing nation. After six years in New York City, Martin moved to Nazareth, Pennsylvania where in 1867 he founded C. F. Martin & Co. with his son and first cousin.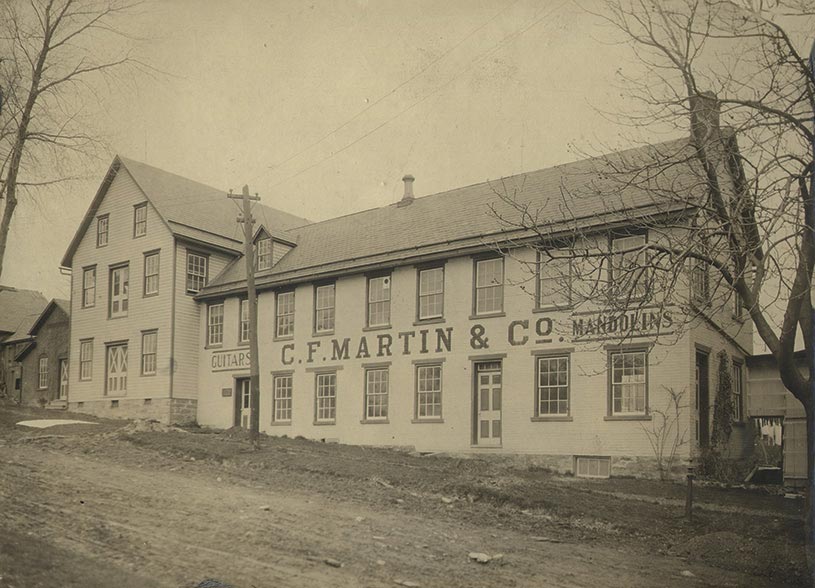 The Martin factory's façade in 1912.
Throughout its history, C. F. Martin & Co. has been at the forefront of guitar design, craftsmanship, premium materials and tone, developing many innovations that are now recognized as standards of the industry. Martin's innovative X-bracing, first introduced in 1843, as well as countless original body shapes and sizes (such as the famous Orchestra Model and Dreadnought models) have defined the acoustic guitar worldwide. Growing from a small shop in New York to its current Nazareth location with more than 600 employees, Martin guitars have continued to drive innovation while honoring tradition and legacy in the guitar world. Whether you're a beginning player or a guitar legend, Martin's makes a guitar that will inspire your passion for music!
Take a video tour of the faces, hands, hearts, and minds behind the exquisite craftsmanship of Martin guitars.
Why Choose a Martin Guitar?
The Martin Museum contains an unparalleled treasure trove of vintage instruments that span the company's history. More than just a repository of great instruments, the museum is an essential resource for Martin luthiers who pore over the collection in the course of re-creating historic models as well as using it as a touchstone in developing new designs. As a further resource, Martin's instrument builders also have access to a recently digitized archive of essential details about historic instruments. The museum and archives help inform Martin's R&D efforts in a way that's unmatched elsewhere.As we note below, Martin guitars have been played by some of the most important musicians of our era. As these countless artists appreciate, Martins have a trademark sound and playability that make them the gold standard other guitar makers attempt to emulate.
As with all great organizations, Martin's strengths lie in the people who work there. Many employees are second- and third-generation members of families whose Martin ties run deep. The culture of old-world craftsmanship has been passed down through these families and generations, and that transmission of "Martin DNA" continues to be a big factor in the company's continued vitality. This collective knowledge continues to infuse Martin with the mojo that has kept the company at the forefront of the acoustic instrument world.
Martin maintains what may be the most incredible repair facility in the world. Charged with the responsibility of repairing and restoring some of the most valuable and oldest instruments in the world, the staff has a deep understanding of old-world construction techniques. When you purchase a Martin guitar, you can count on this expertise should any issues arise with your instrument.
Why Purchase Your Martin from Musician's Friend/Private Reserve Guitars?
The best in-stock selection as well as exclusive and custom models
We've maintained a decades-long close, collaborative relationship with Martin
Hand selection of materials for custom instruments
Hands-on assistance from our resident expert Private Reserve Guitar Advisors. We can hand-select your instrument—typically from among multiple instruments—to find the guitar you desire and that you'll cherish for a lifetime. Call one of our Guitar Advisors at 866-926-1923 for in-hand tone reports, additional photos, or to schedule Skype sessions.
View the enormous selection of Martin instruments at Musician's Friend.
Martin guitars come in many different sizes, shapes, and wood combinations. They are available at many different price points as well. The degree of handwork and the quality of the woods and other materials used in various Martin models dictate their prices. That said, as we note below, there are some remarkably affordable Martin acoustics that can deliver much of the tone and craftsmanship for which the company is known. Only you can ultimately determine which Martin will best suit your budget and your needs. Use this guide to help you narrow down the options from the hundreds of Martin models you'll find at Musician's Friend.
Size, Scale and Sound
A logical first step is to determine the body shape and size that best suits you. If you are petite, have small hands, or prefer a smaller-bodied guitar, consider one of the Little Martin Series models built on a ¾ scale. You can choose from both acoustic and acoustic-electric models. Some guitarists who often travel opt for a Little Martin due to their great portability.
Orchestra and 000 body styles are another option for those looking for a smaller instrument. Smaller than a standard dreadnought, they offer greater comfort, especially for folks with smaller hands and frame. These smaller-bodied guitars have a more balanced sound than dreadnoughts with somewhat less emphasis on bass notes. Die to their well-balanced tonal range they're a popular choice in recording. Choose what is right for you.
Martin dreadnought models are prized for their great projection and volume. Their larger sound chambers provide deep, rolling bass notes that are ideal for powerful rhythmic accompaniment in settings such as bluegrass bands where strong, percussive rhythm playing is essential. Open-string chords deliver plenty of bright jangle and fingerstyle picking reveals the great tonal contrasts that Martin dreadnoughts are known for.

The Martin 15 Series 000-15M Acoustic Guitar has a comfortable 000 body style with 14-fret neck and is built entirely of solid mahogany for warm, round tone with the increased articulation thanks to its smaller body.
Martin Guitar Tonewoods
When choosing your Martin guitar, it is important to consider wood. A significant portion of a guitar's sound comes from the type of wood used for the top (the soundboard). Most Martins feature a solid wood top, which will produce a fuller, richer, louder sound than their laminate counterparts discussed below.
Spruce is the most common wood used for Martin soundboards, due to its loud, clear response. However, other tonewoods are available including cedar, which delivers a light and airy sound, and mahogany, which is tonally deep and robust.
The back and sides of the guitar contribute greatly to the guitar's overall tone as well. The most common options for back and side woods are mahogany, rosewood, and maple. Rosewood helps the guitar to stand out among a mix of instruments, with its deep bass resonance and brilliant highs. Mahogany tends to blend more, having a more balanced tonal spectrum. (Sapele found in many Martin instruments offers similar tonal qualities as mahogany.) Maple emphasizes volume, projection, and increased sustain. Consider where you plan to play your Martin. Many live performers—whether plugged or unplugged—prefer a spruce and rosewood combination to help their guitar sound stand out while performing. Many studio artists prefer a spruce and mahogany combination for more even dynamics. All of these options usually can be found in a Martin that's within your budget.
Laminates used for the tops, backs, and sides of the most affordable Martins are identified as HPL, standing for high pressure laminate. Made of compressed fibers and resins, these laminates are identified according to the grain pattern on their surface and have a protective clear coating. A guitar designated as having an HPL Spruce top, for example, will have the appearance of spruce. While HPL does not offer all the tonal sparkle and richness of classic tonewoods, the most economical Martin acoustics are still capable of offering a very satisfying sound and playing experience based on the company's tried-and-true designs. HPL is also very strong, resists warping, and is resistant to climate changes.
Electronics and Cutaways
Other factors to consider are electronics and cutaway options. Martin has teamed up with Fishman to include stage-ready electronics to many of their most popular guitars. Fishman is one of the top names in acoustic amplification, and their electronics complement Martin's legendary sound to deliver a professional amplified performance. Fishman pickups and preamps are specifically designed to help bring out the unique natural tonal spectrum of each Martin acoustic-electric model on which they're installed.
Cutaway body styles are a common feature on acoustic-electrics. The cutaway simply allows the player to access the higher notes on the neck of the guitar. If you tend to play a lot of solos and do a lot of fretting high on the neck, a cutaway will help enhance your performance.
The Martin Family of Guitars
Martin produces a wide variety of guitars in a number of different families, each with it's own specs, price ranges, and characteristics. These families include:
X Series
Road Series
Performing Artist Series
15 and 16 Series
17 Series
Standard Series
Vintage Series
Authentic Series
Read on to find out more about these families and some specific models.
X Series
Featuring solid spruce or spruce- or mahogany-grained HPL (high-pressure laminate) tops, and mahogany-, rosewood-, or koa-grained HPL backs and sides, Martin X Series guitars are among the most affordable Martins. Acoustic-electric models feature onboard Fishman Sonitone electronics for plug-and-play simplicity in amplified settings. Available in 6- and 12-string models in a wide range of body shapes and sizes, they are an excellent choice for a first guitar and for the musician on a tight budget.
Martin uses some innovative and environmentally friendly materials in constructing X Series guitars. Aside from the laminated tops, backs, and sides, these include Stratabond, a laminated hardwood used on necks to resist warping. Resin-based Richlite fingerboards and bridges hold up to many years of hard playing while keeping the price of X Series instruments within reach of the budget-challenged picker. And lefties are in luck—many X Series guitars are available in left-handed models at no extra cost.
Here are some of the most popular X Series models:
Martin DXMAE
The DXMAE is one of Martin's most popular and affordable acoustic-electric models. Featuring a dreadnought body, an HPL spruce top and HPL mahogany back and sides, this guitar offers Martin's exceptional quality at a great price. Perfect for the beginner or someone who is looking to upgrade without breaking the bank, the DXMAE delivers rich, sweet tone and comfortable performance. Fishman electronics faithfully amplify its articulate sound.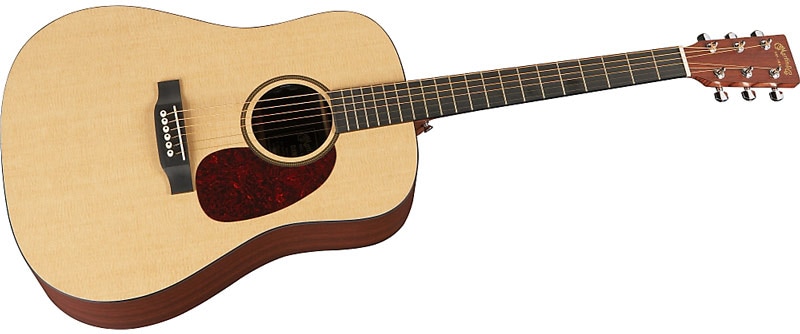 HPL construction on the Martin DXMAE keeps the price down while Martin's proven design and top bracing deliver plenty of full, detailed sound from its big dreadnought body.
Martin DXK2AE
With similar specs to the DXMAE, the DXK2AE has a dreadnought body for plenty of volume and an HPL koa-patterned top, back, and sides that visually set this guitar apart from the pack. The Fishman Sonitone electronics have easy-access volume and tone controls mounted just inside the soundhole.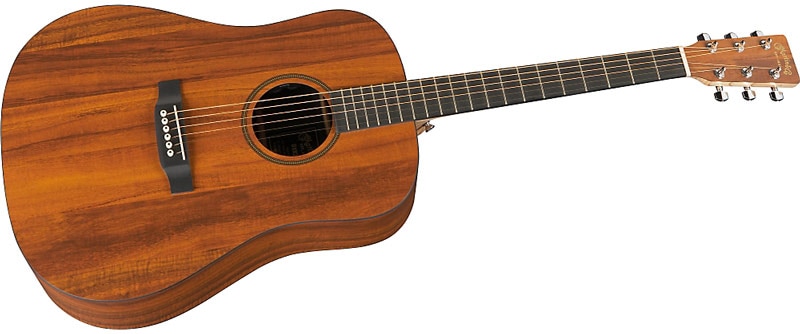 Richly figured koa HPL laminate gives the DXK2AE a distinctive look while Fishman Sonitone electronics make amplification a snap.
Martin DX1RAE
Another dreadnought in the X series, the DX1RAE has a solid spruce top for bright, articulate sound and beautiful HPL Indian rosewood-patterned back and sides. Its full-size body joins the neck with Martin's patented mortise and tenon construction that maximizes tone transfer. Stage-ready Fishman electronics make this a great buy for the performer on a budget.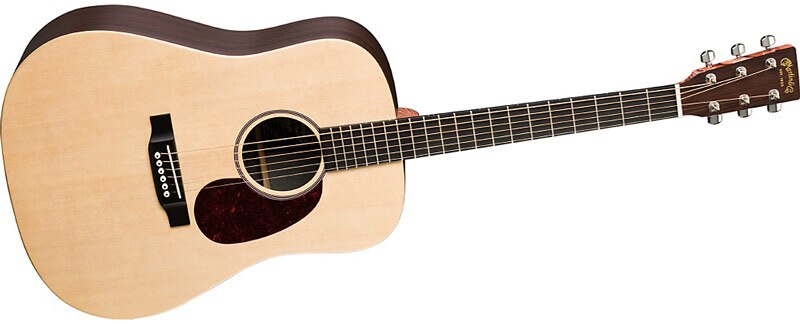 The classic combination of a solid spruce top on an HPL rosewood-grained dreadnought body woth Fishman electronics on board makes the DX1RAE a terrific buy.
Martin 000X1AE
The 000X1AE features a crisp-sounding solid spruce top, HPL-grained mahogany back and sides, and Fishman electronics—all in the smaller 000 body size. This guitar is a great option for the smaller-statured player, but all players will be pleasantly surprised at how comfortable the 000X1AE is to play.

The 000 body of the 000X1AE is extremely comfortable, and the on-board Fishman electronics help accurately capture the articulate snap of its solid Sitka spruce top.
Martin Ed Sheeran 3 Divide Signature Edition Little Martin
The Ed Sheeran 3 Divide Signature Edition Little Martin, based on the Martin X Series LX1E Little Martin, features a Sitka spruce top, an etched Divide signature with matching blue rosette and a mahogany HPL back. Fishman Sonitone electronics make this a stage-friendly choice.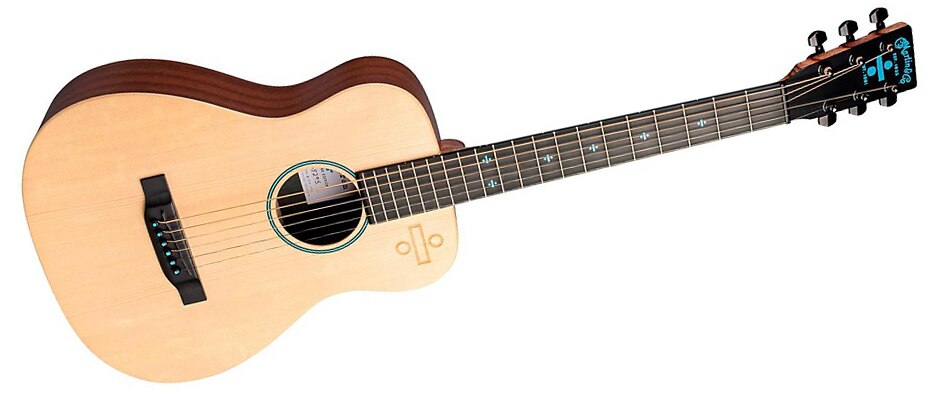 With a solid Sitka spruce top, Fishman Sonitone electronics and an extremely comfortable body, Martin's Ed Sheeran 3 Divide is a great choice for the performing singer-songwriter.
Road Series
Stepping up from the X series, Martin's Road Series guitars are Martin's lowest cost instruments with all solid-wood construction. They feature more handcrafted details and more sophisticated electronics in the models making them perfect for the gigging musicians. Road Series guitars serve up Martin's signature sound reliably, night after night at very modest prices.
Learn more about the full range of wallet-friendly Road Series guitars.
Martin DRS1
The Martin DRS1 Dreadnought Acoustic-Electric Guitar is crafted in solid mahogany-like sapele that offers rich tone and beautiful visuals. The onboard Fishman Sonitone electronics have a preamp discretely mounted inside the soundhole for easy volume and tone control control access, and a bridge-mounted piezo pickup that captures the top's warm, rounded tone. The DRS1 neck is built with multilaminate Stratabond for extra rigidity and durability, and the belly bridge and fingerboard are made of Richlite that achieves a look similar to ebony. Includes a hardshell case.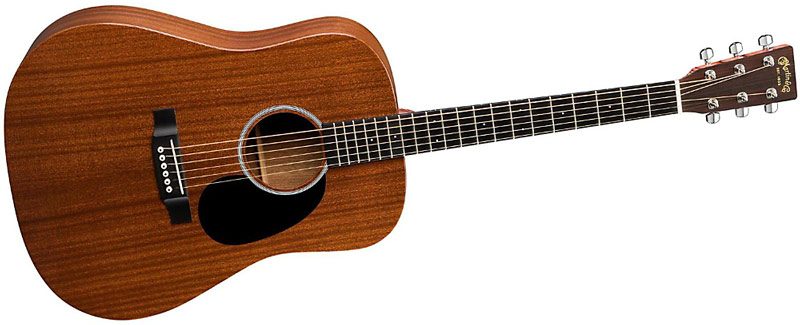 The DRS1 dreadnought's solid sapele construction generates warm and rounded tones that are accurately captured by the Fishman Sonitone electronics.
Performing Artist Series
All Performing Artist models have cutaway bodies that grant easy access to high notes, making them a good choice if you do a lot of soloing. With greater hand-detailing and step-up Fishman electronics on acoustic-electric models, this moderately priced series is aimed at musicians who play out extensively and need an acoustic with superb tone and the ability to hold up to tough touring, night after night. Performing Artist models and all USA-made Martins are constructed with simplified or full dovetail neck joints that maximize tonal transfer by creating an exceptionally tight junction between the neck and body.
Martin GPCPA4
The exquisitely matched African sapele back and sides generate the rich, sonorous tone of mahogany while a book-matched solid Sitka spruce top with hybrid "A-Frame" scalloped braces rings out clean and clear. The analog Fishman F1 pickup and preamp system faithfully reproduces all that tonal goodness when you're performing at amplified gigs. The GPCPA4's slimmer taper at the 12th fret offers greater playing comfort, especially for guitarists with smaller hands.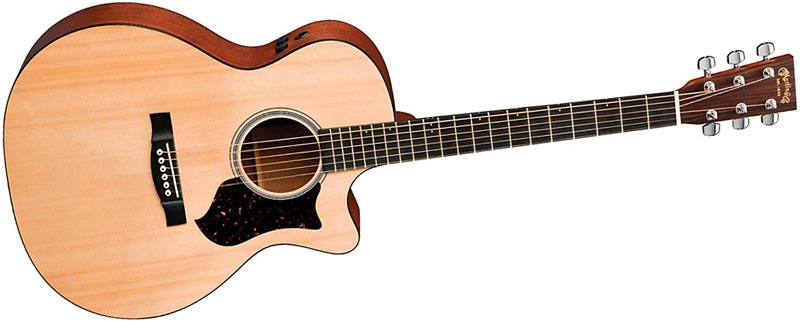 The body-hugging Performing Artist profile of the GPCPA4 Acoustic-Electric combined with its slimmer neck taper make it a very comfortable box for those long sets.
Explore the entire Musician's Friend selection of Martin Performing Artist acoustics.
Martin Guitar 15 Series
Designed to appeal to the traditionalist, they are crafted to reproduce the look and sound of 1940s 15 Series models. Featuring East Indian rosewood on the fingerboard, Martin's A-frame X-bracing, and solid mahogany tops and bodies, they deliver the vintage tone that is a hallmark of Martin's legacy. Martin's 15 Series is sure to please old-school guitar enthusiasts. Fingerboards and bridges are made of morado—a Bolivian rosewood.
Martin D-15M
The big dreadnought body and 14 open frets provide great tonal range. The top and body are are crafted in solid mahogany for robust reponse and articulate note definition. Reminiscent of the sound of 1940s-era Style 15 guitars, the vintage tone sounds sweet on everything from folk to country to blues. Deluxe appointments include a single-ring rosette, bone nut, tapered headstock with a solid East Indian rosewood headplate, inlaid fingerboard diamonds and squares, a belly-style bridge, and open-geared tuners with vintage butterbean knobs. A Delmar tortoise pickguard underscores the vintage vibe. Includes a Martin 345 hardshell guitar case.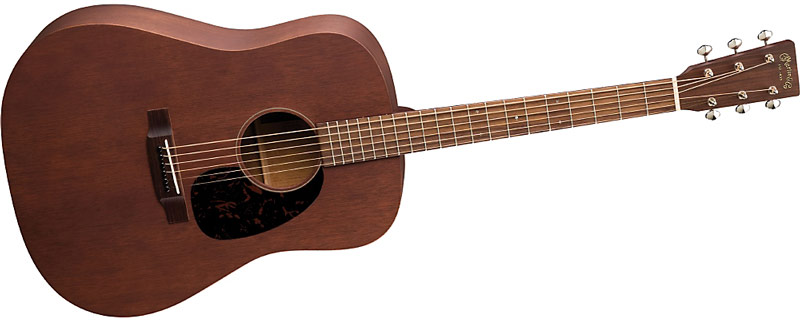 The D15M with its all-mahogany dreadnought construction and luxurious appointments is an ideal match for the guitarist who loves the look and sound of 1940s 15 Series instruments.
Martin 00015M
A bookmatched solid mahogany top with solid all-mahogany body produces rich, vintage tone with looks to match. A-frame Sitka Spruce X-bracing and a traditional maple bridge-plate provide excellent tonal transfer. The mahogany 14-fret neck is topped with an East Indian rosewood fingerboard and headplate. Deluxe appointments include a bone saddle and nut. A dark mahogany stain with satin lacquer finish provides elegantly simple looks. Includes a case.

The 000 solid mahogany body and top of the 00015M generates rich, resonant tone that's slightly dark and satisfyingly well-rounded.
16 Series
Martin's 16 Series instruments are appreciated by players looking for a moderately priced guitar that delivers a lot of sustain and punch. While they may not have all the cosmetic luxury of more costly series, they produce plenty of the famed Martin bass response and very evenly balanced overall tone.
Martin D-16GT
This dreadnoughts solid Sitka spruce top with hybrid "X" scalloped bracing on a solid mahogany body generates plenty of robust tone across all registers. The modified low oval neck shape is extremely comfortable.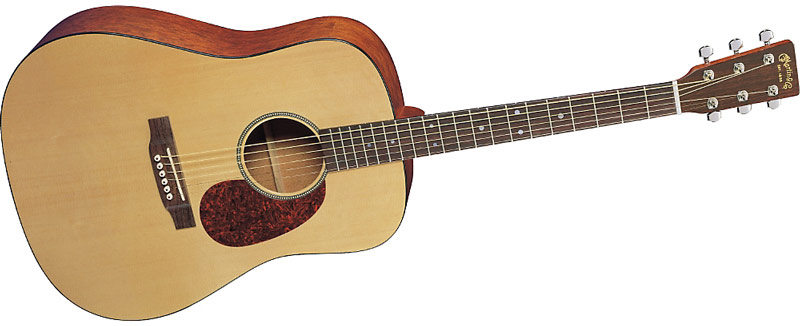 The D-16GT Dreadnought has modern hybrid X bracing that coaxes every bit of sparkle from the solid Sitka spruce top. A solid mahogany body generates those resonant rolling bass notes.
17 Series
With a rich history dating back to 1906, the Martin 17 Series have clean, vintage styling and can be used to produce satisfying sounds in diverse styles of music. 
Martin 17 Series 000-17 Auditorium Acoustic Guitar
The 17 Series 000-17 Auditorium Acoustic Guitar is available in an inviting sunburst or sharp black finish. With a solid Sitka spruce top, mahogany back and sides (with grained ivoroid binding), it features a modified low oval neck with a Performing Artist taper. The Guatemalan rosewood fingerboard is a joy to play. All of these high-quality elements combine for an acoustic guitar that produces a range of beautiful and dynamic tones.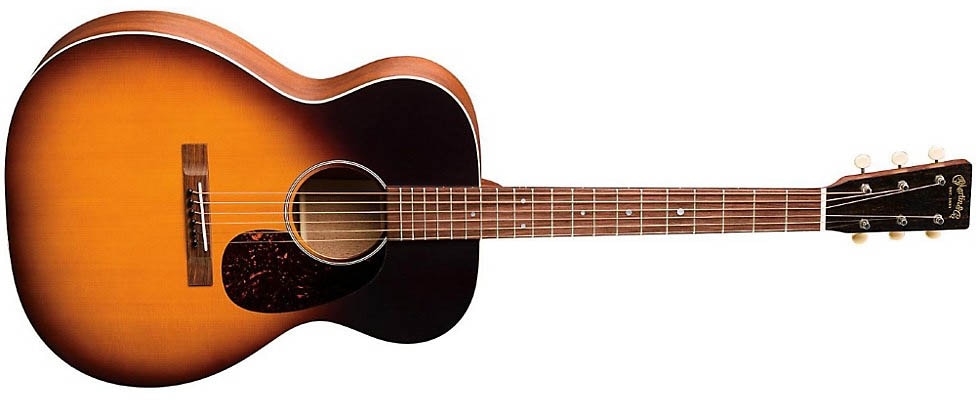 If you're looking for a warm, vintage-styled acoustic guitar that's a joy to play, you'll want to take a closer look at the Martin 000-17 Auditorium in Whiskey Sunset.
Standard Series
Including some of Martin's most iconic and longest-running models, the Standard Series encompasses the heart of Martin's legacy. Including the D28 and D35, the Standard Series features premium tonewoods, brilliant bracing and scalloping techniques, as well as lavish appointments and finishes . Whether you're looking for the guitar of a lifetime, or a workhorse for your studio, the Standard Series has models to meet the demands of the most sophisticated guitarists.
Martin D-28
The revered sound of the Martin D-28 Acoustic Guitar makes it the legend that it has deservedly become. This flagship Martin has a solid Sitka spruce top with glossy finish that produces bright and articulate string-to-string definition. The stunning polished East Indian rosewood back and sides, and genuine ebony fingerboard and bridge speak to its innate luxury. With its enormous warmth and punchy projection, the D-28 excels at delivering forceful rhythms in settings ranging from rock to bluegrass. The choice of countless performers and a staple in recording studios, the D-28 represents the pinnacle of the luthier's art. Includes a Martin deluxe hardshell case and limited lifetime warranty.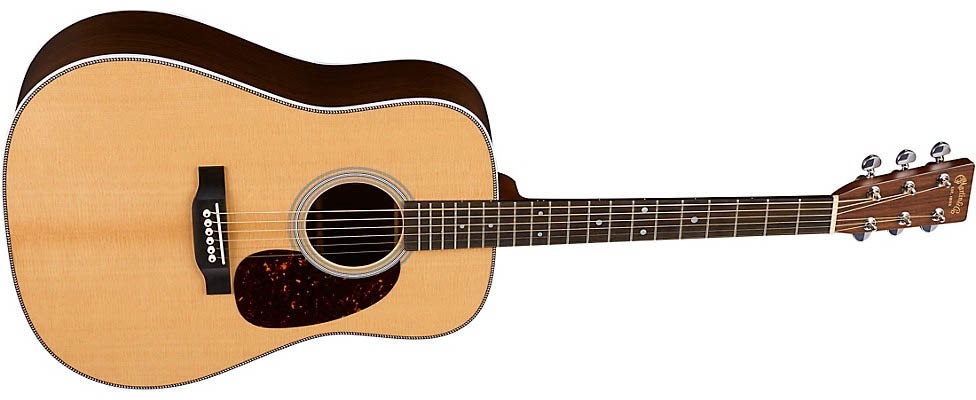 Nothing equals the Martin Custom HD-28 VTS for sumptuous, rolling bass notes and brilliant trebles balanced by a gorgeous, highly articulate midrange. The Vintage Tone System, their proprietary temperature aging process, results in a vintage, worn-in sound. Superb craftsmanship and the highest quality tonewoods like Sitka Spruce make it the standard against which all other dreadnoughts are judged.
Martin's Tim Teel offers a video introduction to the company's flagship Standard Series models.
Explore the full selection of Martin Standard and Vintage Series guitars at Musician's Friend.
Authentic Series
Martin's extensive museum collection and archives gives its guitar builders the resources to accurately reproduce the most valuable acoustic instruments ever made. To ensure the magic of the originals is retained in the Authentic models, Martin luthiers apply hand-building skills that have been passed down and preserved for over 180 years. Authentic instruments retain the light weight, aesthetic beauty, quality materials, and sonic properties of the best original specimens. Even the cases are made from the actual tooling used to make the originals.
Martin Authentic VTS 1931 OM-28
For this historically exacting 000-14 fret Orchestra model, Martin turned to an exemplary original owned by folksinger Mike Seeger. Dimensions and tolerances are true to the original in just about every respect. Due to the endangered status of Brazilian rosewood, solid Madagascar rosewood is instead used for the back and sides. The Adirondack spruce top has received Martin's Vintage Tone System treatment—a process in which the wood is given the patina and tone of a vintage instrument. Deluxe appointments and cosmetics make this OM-28 a fine investment-grade instrument; its ringing, crisp tone is a natural for performers who appreciate getting a lot of projection out of a comfortably sized instrument.

Martin luthiers took their inspiration from a beautiful original owned by Mike Seeger in building the VTS 1931 OM-28.
A deeper look at the Vintage Tone System, Martin's approach to making new guitars sound and look like old ones.
Find your voice with a Martin today
In this guide are just some of the many exquisite guitars Martin currently offers. Check out our enormous Martin collection to find all the wonderful gems available from one of the finest guitar manufacturers in the world. Whether you're just starting out, looking for a reliable road guitar, or a unique collectible, Musicians Friend has what you're looking for.
For expert help in selecting the Martin guitar that matches your musical needs and budget, call one of our friendly Gear Heads at 877-880-5907.
Learn more about choosing the right instrument with our Acoustic Guitar Buying Guide.