In 1801, Johann Georg Martin sent his 15-year-old son Christian Frederick Martin to Vienna to apprentice with Johann Stauffer—one of the preeminent guitar makers of the day. Under Stauffer's tutelage, Martin developed the skills and craft that have become his legacy six generations and more than 181 years later.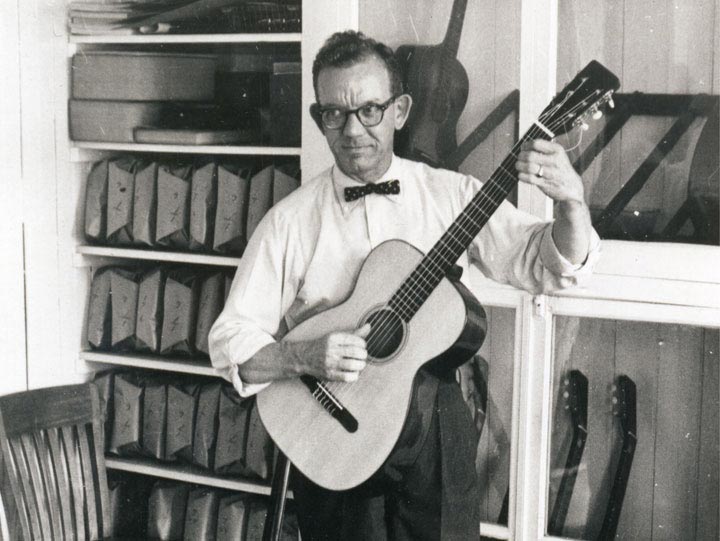 Christian Frederick Martin III in 1948.
After returning from Vienna to his hometown of Markneukirchen, Germany, Martin became embroiled in a feud with the restrictive violin and cabinet makers guilds. In 1833, he packed up his family and tools, and emigrated to America to establish his trade in a growing nation. After six years in New York City, Martin moved to Nazareth, Pennsylvania, where, in 1867, he founded C. F. Martin & Co. with his son and first cousin.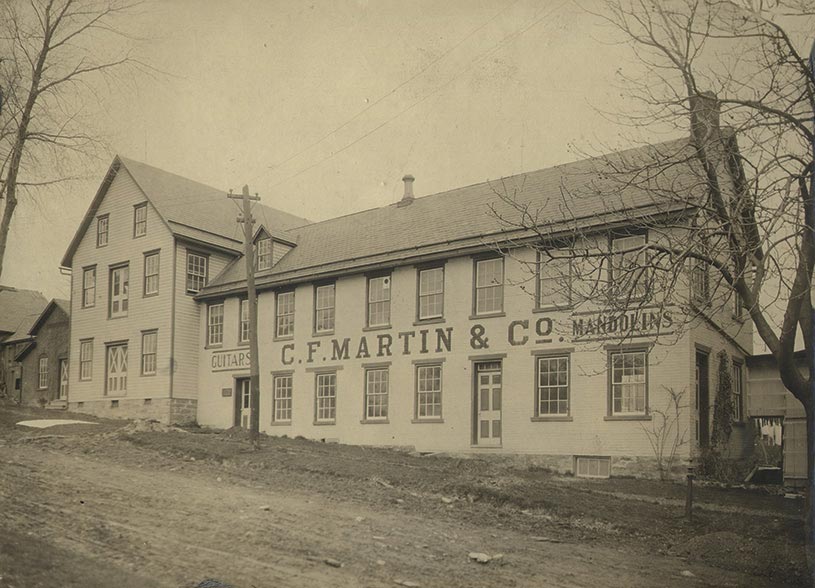 The Martin factory's façade in 1912.
Throughout its history, C. F. Martin & Co. has been at the forefront of guitar design, craftsmanship, premium materials and tone, developing many innovations that are now recognized as standards of the industry. Martin's innovative X-bracing, first introduced in 1843, as well as countless original body shapes and sizes (such as the famous orchestra and dreadnought models), have defined the acoustic guitar worldwide. Growing from a small shop in New York to its current Nazareth location with more than 600 employees, Martin guitars have continued to drive innovation while honoring tradition and legacy in the guitar world. Whether you're a beginning player or a guitar legend, Martin makes a guitar that will inspire your passion for music.
Take a video tour of the faces, hands, hearts and minds behind the exquisite craftsmanship of Martin guitars.
Why Choose a Martin Guitar?
The Martin Museum contains an unparalleled treasure trove of vintage instruments that span the company's history. More than just a repository of great instruments, the museum is an essential resource for Martin luthiers who pore over the collection in the course of recreating historic models as well as using it as a touchstone in developing new designs. As a further resource, Martin's instrument builders also have access to a recently digitized archive of essential details about historic instruments. The museum and archives help inform Martin's R&D efforts in a way that's unmatched elsewhere. As we note below, Martin guitars have been played by some of the most important musicians of our era. As these countless artists appreciate, Martins have a trademark sound and playability that make them the gold standard other guitar makers attempt to emulate.
As with all great organizations, Martin's strengths lie in the people who work there. Many employees are second- and third-generation members of families whose Martin ties run deep. The culture of old-world craftsmanship has been passed down through these families and generations, and that transmission of "Martin DNA" continues to be a big factor in the company's continued vitality. This collective knowledge continues to infuse Martin with the mojo that has kept the company at the forefront of the acoustic instrument world.
Martin maintains what may be the most incredible repair facility in the world. Charged with the responsibility of repairing and restoring some of the most valuable and oldest instruments in the world, the staff has a deep understanding of old-world construction techniques. When you purchase a Martin guitar, you can count on this expertise should any issues arise with your instrument.
Why Purchase Your Martin from Musician's Friend/Private Reserve Guitars?
The best in-stock selection as well as exclusive and custom models
We've maintained a decades-long close, collaborative relationship with Martin
Hand selection of materials for custom instruments
Hands-on assistance from our resident expert Private Reserve Guitar Advisers. We can hand-select your instrument—typically from among multiple instruments—to find the guitar you desire and that you'll cherish for a lifetime. Call one of our Guitar Advisers for in-hand tone reports and additional photos.
View the enormous selection of Martin instruments at Musician's Friend.
Martin guitars come in many different sizes, shapes and wood combinations. They are available at many different price points as well. The degree of handwork and the quality of the woods and other materials used in various Martin models dictate their prices. That said, as we note below, there are some remarkably affordable Martin acoustics that can deliver much of the tone and craftsmanship for which the company is known. Only you can ultimately determine which Martin will best suit your budget and your needs. Use this guide to help you narrow down the options from the hundreds of Martin models you'll find at Musician's Friend.
Size, Scale and Sound
A logical first step is to determine the body shape and size that best suits you. If you are petite, have small hands or prefer a smaller-bodied guitar, consider one of the Little Martin Series models built on a 3/4 scale. You can choose from both acoustic and acoustic-electric models. Some guitarists who often travel opt for a Little Martin due to their great portability.
Orchestra and 000 body styles are another option for those looking for a smaller instrument. Smaller than a standard dreadnought, they offer greater comfort, especially for folks with smaller hands and frame. These smaller-bodied guitars have a more balanced sound than dreadnoughts, with somewhat less emphasis on bass notes. Due to their well-balanced tonal range, they're a popular choice in recording. Choose what is right for you.
Martin dreadnought models are prized for their great projection and volume. Their larger sound chambers provide deep, rolling bass notes that are ideal for powerful rhythmic accompaniment in settings such as bluegrass bands where strong, percussive rhythm playing is essential. Open-string chords deliver plenty of bright jangle, and fingerstyle picking reveals the great tonal contrasts that Martin dreadnoughts are known for.

Martin Guitar Tonewoods
When choosing your Martin guitar, it is important to consider wood. A significant portion of a guitar's sound comes from the type of wood used for the top (the soundboard). Most Martins feature a solid wood top, which will produce a fuller, richer, louder sound than their laminate counterparts discussed below.
Spruce is the most common wood used for Martin soundboards, due to its loud, clear response. However, other tonewoods are available, including cedar, which delivers a light and airy sound, and mahogany, which is tonally deep and robust.
The back and sides of the guitar contribute greatly to the guitar's overall tone as well. The most common options for back and side woods are mahogany, rosewood and maple. Rosewood helps the guitar to stand out among a mix of instruments, with its deep bass resonance and brilliant highs. Mahogany tends to blend more, having a more balanced tonal spectrum. Sapele, found in many Martin instruments, offers similar tonal qualities as mahogany. Maple emphasizes volume, projection and increased sustain. Consider where you plan to play your Martin. Many live performers—whether plugged or unplugged—prefer a spruce and rosewood combination to help their guitar sound stand out while performing. Many studio artists prefer a spruce and mahogany combination for more even dynamics. All of these options usually can be found in a Martin that's within your budget.
Laminates used for the tops, backs and sides of the most affordable Martins are identified as HPL, standing for high-pressure laminate. Made of compressed fibers and resins, these laminates are identified according to the grain pattern on their surface and have a protective clear coating. A guitar designated as having an HPL spruce top, for example, will have the appearance of spruce. While HPL does not offer all the tonal sparkle and richness of classic tonewoods, the most economical Martin acoustics are still capable of offering a very satisfying sound and playing experience based on the company's tried-and-true designs. HPL is also very strong, resists warping and is resistant to climate changes.
Electronics and Cutaways
Other factors to consider are electronics and cutaway options. Martin has teamed up with Fishman to include stage-ready electronics to many of their most popular guitars. Fishman is one of the top names in acoustic amplification, and their electronics complement Martin's legendary sound to deliver a professional amplified performance. Fishman pickups and preamps are specifically designed to help bring out the unique natural tonal spectrum of each Martin acoustic-electric model on which they're installed.
Cutaway body styles are a common feature on acoustic-electrics. The cutaway simply allows the player to access the higher notes on the neck of the guitar. If you tend to play a lot of solos and do a lot of fretting high on the neck, a cutaway will help enhance your performance.
The Martin Family of Guitars
Martin produces a wide variety of guitars in a number of different families, each with its own specs, price ranges and characteristics. These families include:
X Series
Road Series
SC Series
15 and 16 Series
17 Series
Standard Series
Authentic Series
Modern Deluxe Series
Read on to find out more about these families and some specific models.
X Series
Featuring solid spruce or spruce- or mahogany-grained HPL tops, and mahogany-, rosewood- or koa-grained HPL backs and sides, Martin X Series guitars are among the most affordable Martin guitars. Acoustic-electric models feature onboard Fishman electronics for plug-and-play simplicity in amplified settings. Available in 6- and 12-string models in a wide range of body shapes and sizes, they are an excellent choice for a first guitar and for the musician on a tight budget.
Martin uses some innovative and environmentally friendly materials in constructing X Series guitars. Aside from the laminated tops, backs and sides, they use resin-based Richlite fingerboards that hold up to many years of hard playing while keeping the price of X Series instruments within reach of the budget-challenged picker. And lefties are in luck—many X Series guitars are available in left-handed models at no extra cost.
Here are some of the most popular X Series models:
Martin GPC-X2E Rosewood Grand Performance
Featuring a Grand Performance body, a Sitka spruce top and rosewood patterned HPL back and sides, the GPC-X2E Rosewood Grand Performance model offers Martin's exceptional build and sound quality at a great price. Its Performing Artist neck with High Performance Taper and hand-rubbed finish, offers ultimate playing comfort, making it a great choice for your next gig or recording session or gig. And if you need to plug in direct, the Fishman electronics faithfully amplify its articulate sound.

Martin Special Dreadnought X1AE Style
One of the many dreadnoughts in the X series, the Special Dreadnought X1AE Style has a solid spruce top for bright, articulate sound and beautiful HPL rosewood-patterned back and sides. Its sturdy birch laminate neck and Richlite fingerboard offer a fast playing experience, with even playability throughout. Stage-ready Fishman MX electronics make this a great buy for the player on a budget.

Road Series
Stepping up from the X series, Martin's Road Series guitars are Martin's lowest-cost instruments with all solid-wood construction. Updated in 2019, they feature incredible details, sophisticated electronics and incredible player-focused innovations that make them perfect for gigging musicians. Road Series guitars serve up Martin's signature sound reliably, night after night at very modest prices.
Martin D-10E Road Series Dreadnought
The Martin D-10E Road Series Dreadnought acoustic-electric guitar is crafted with a Sitka spruce top and solid mahogany-like sapele that offers rich, crisp tone and beautiful visuals. The onboard Fishman MX-T electronics have a preamp discretely mounted inside the soundhole for easy volume and tone control access. The neck is made of solid mahogany and features a Performing Artist shape with High Performance Taper. Both the fingerboard and belly bridge are FSC Certified Richlite. The D-10E Road Series includes a softshell case.

Martin Special Dreadnought Cutaway 11E Road Series Style
The Martin Special Dreadnought Cutaway 11E Road Series Style acoustic-electric guitar body is all solid-wood construction, with a Sitka spruce top and solid sapele that combine to offer the perfect blend of crispy, clear highs and full-bodied bass. The 11E neck offers a slimmer profile and taper, so you can move up and down it with ease. The fingerboard and bridge are FSC Certified Richlite. The Special Dreadnought Cutaway 11E Road Series Style features Fishman Sonitone electronics and is precision setup with one of Martin's Plek machines prior to leaving their facility.

Martin SC Series
In January of 2020, Martin unveiled the SC-13E, a completely rethought performance-oriented acoustic-electric guitar. Its original concept was inspired by the shape of an "S," according to Martin's international instrument design manager, Rameen Shayagen. "There were so many different words that could be implied from the letter 'S' that could describe what we were looking for in a guitar: superlative, superior, sleek." This bold new offset shape delivers a full and balanced, feedback-resistant sound; truly every performing guitarist's dream. Its ergonimally designed low-profile velocity neck barrel and heel-less neck joint provide an exceptionally comfortable playing experience while its Sure Align neck system allows for easy adjustments to action and neck tensions.
In early 2022, the SC-13E was joined by two additional models, the SC-10E Road Series and SC-13E Special Road Series.
15 Series
Designed to appeal to the traditionalist, they are crafted to reproduce the look and sound of 1940s 15 Series models. Featuring East Indian rosewood on the fingerboard, Martin's A-frame X-bracing, and solid mahogany tops and bodies, they deliver the vintage tone that is a hallmark of Martin's legacy. Martin's 15 Series is sure to please old-school guitar enthusiasts. Fingerboards and bridges are made of morado—a Bolivian rosewood.
Martin D-15M
The big dreadnought body and 14 open frets provide great tonal range. The top and body are crafted in solid mahogany for robust reponse and articulate note definition. Reminiscent of the sound of 1940s-era Style 15 guitars, the vintage tone sounds sweet on everything from folk to country to blues. Deluxe appointments include a single-ring rosette, bone nut, tapered headstock with a solid East Indian rosewood headplate, inlaid fingerboard diamonds and squares, a belly-style bridge and open-geared tuners with vintage butterbean knobs. A Delmar tortoise pickguard underscores the vintage vibe. The D-15M includes a Martin 345 hardshell guitar case.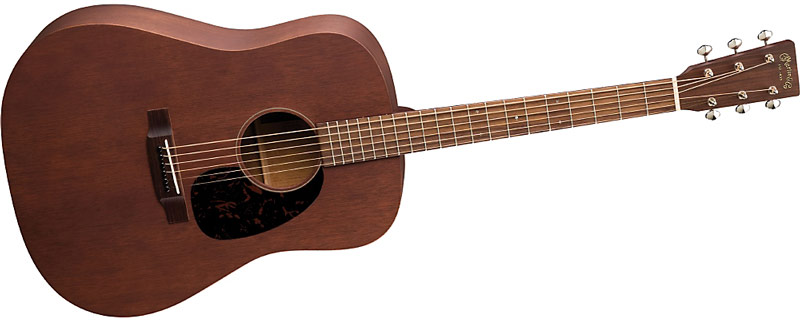 Martin 000-15M
A bookmatched solid mahogany top with solid all-mahogany body produces rich, vintage tone with looks to match. A-frame Sitka spruce X-bracing and a traditional maple bridge plate provide excellent tonal transfer. The mahogany 14-fret neck is topped with an East Indian rosewood fingerboard and headplate. Deluxe appointments include a bone saddle and nut. A dark mahogany stain with satin lacquer finish provides elegantly simple looks. The 000-15M also comes with a case.

16 Series
Martin's 16 Series instruments are appreciated by players looking for a moderately priced guitar that delivers a lot of sustain and punch. While they may not have all the cosmetic luxury of more costly series, they produce plenty of the famed Martin bass response and very evenly balanced overall tone.
Martin GPC Special 16 Style Rosewood Grand Performance
The GPC Special 16 Style Rosewood Grand Performance features a Sitka spruce top with gloss finish and satin-finished East Indian rosewood back and sides. Its forward-shifted X-bracing delivers full, deep bass with harmonically overtones. The modified low oval neck shape is extremely comfortable to play.

17 Series
With a rich history dating back to 1906, the Martin 17 Series have clean, vintage styling and can be used to produce satisfying sounds in diverse styles of music. 
Martin 17 Series 000-17 Auditorium Acoustic Guitar
The 17 Series 000-17 Auditorium acoustic guitar is available in an inviting sunburst or sharp black finish. With a solid Sitka spruce top, mahogany back and sides (with grained ivoroid binding), it features a modified low oval neck with a Performing Artist taper. The Guatemalan rosewood fingerboard is a joy to play. All of these high-quality elements combine for an acoustic guitar that produces a range of beautiful and dynamic tones.

Standard Series
Including some of Martin's most iconic and longest-running models, like the D-28 and D-35, the Standard Series encompasses the heart of Martin's legacy, with premium tonewoods, brilliant bracing and scalloping techniques, as well as lavish appointments and finishes. Whether you're looking for the guitar of a lifetime, or a workhorse for your studio, the Standard Series has models to meet the demands of the most sophisticated guitarists.
Martin D-28
The revered sound of the Martin D-28 acoustic guitar makes it the legend that it has deservedly become. This flagship Martin has a solid Sitka spruce top with glossy finish that produces bright and articulate string-to-string definition. The stunning polished East Indian rosewood back and sides, and genuine ebony fingerboard and bridge speak to its innate luxury. With its enormous warmth and punchy projection, the D-28 excels at delivering forceful rhythms in settings ranging from rock to bluegrass. The choice of countless performers and a staple in recording studios, the D-28 represents the pinnacle of the luthier's art. The D-28 includes a Martin deluxe hardshell case and limited lifetime warranty.

Authentic Series
Martin's extensive museum collection and archives give its guitar builders the resources to accurately reproduce the most valuable acoustic instruments ever made. To ensure the magic of the originals is retained in the Authentic models, Martin luthiers apply hand-building skills that have been passed down and preserved for over 180 years. Authentic instruments retain the light weight, aesthetic beauty, quality materials and sonic properties of the best original specimens. Even the cases are made from the actual tooling used to make the originals.
Martin Authentic Series 1937 D-28 VTS Dreadnought
Honoring the most highly sought-after model year of their D-28 model, Martin's Authentic Series 1937 D-28 VTS authentically recreates it to the most exacting detail. Its Vintage Tone System-treat solid Adirondack red spruce top and 1937 forward-shifted scalloped X-bracing are paired with Madagascar rosewood back and sides to deliver the warm rich sound of a finely aged instrument. Its authentic 1937 spec'd mahogany neck is a pleasure to play, while the "Diamonds and Squares" inlays, open-gear Waverly nickel tuners and butterbean knobs complete the look with understated elegance.

Modern Deluxe Series
Introduced in January of 2019, Martin's Modern Deluxe series pairs high-end vintage appointments, like Sitka spruce VTS tops, dovetail neck joints and natural protein glue construction, with modern innovations, like Liquidmetal bridge pins, two-way titanium truss rods and a new slightly asymmetrical neck shape for ultimate playing comfort.
Martin 000-28 Modern Deluxe Auditorium
Though it sounds just like a vintage instrument, the 000-28 Modern Deluxe Auditorium is packed with plenty of forward-thinking technology. Its Sitka spruce VTS top and Adirondack VTS Forward-Shifted scalloped X-bracing deliver a warm, rich tone, while the Liquidmetal bridge pins and carbon fiber bridge plate deliver more volume, without affecting tonality or instrument weight. Gorgeous European flamed maple binding, gold frets and 1930s-style script logo give this guitar a truly classic look.

Find Your Voice With a Martin today
In this guide are just some of the many exquisite guitars Martin currently offers. Check out our enormous Martin collection to find all the wonderful gems available from one of the finest guitar manufacturers in the world. Whether you're just starting out, looking for a reliable road guitar or a unique collectible, Musician's Friend has what you're looking for.