There's never been a better time to get started playing the uke, given the hundreds of available models to choose from in every price range. Today you'll also find lots of resources to help you learn the ukulele and develop your playing skills. We're committed to helping you find your way through the dizzying array of ukuleles on the market to that model which makes sense for your musical tastes and budget.
Sometimes thought of as a toy in the past, the adoption of the ukulele by major artists including Paul McCartney, Eddie Vedder, and Jason Mraz has given the little instrument newfound respect. Jake Shimabukoro's astounding mastery of the instrument has proven that in the right hands, the ukulele is capable of creating remarkably nuanced music. 
The popularity of ukuleles shouldn't be surprising; with just four nylon strings they're easy to learn and play, and also easy on newbies' fingers, especially as compared to a steel-string acoustic guitar. In this guide we offer a brief history of the instrument then give you the information you need to choose the right uke to match your aspirations and budget. At Musician's Friend we carry a wide selection of ukes from very affordable starter ukuleles to the highest-quality instruments built to meet the needs of professional musicians.
Table of Contents
A Brief History of the Ukulele
Types of Ukuleles
Ukulele Shapes
Parts of the Ukulele
Ukulele Construction Methods and Woods
Specialty Ukuleles
Ukulele Tuning
Ukulele Accessories
Getting Started Playing the Ukulele
Summing Up
A Brief History of the Ukulele
Based on several small members of the guitar family, the ukulele was first developed in Hawaii during the 1880s when Portuguese immigrant cabinet makers fashioned instruments similar to those popular in their homelands. The ukulele quickly gained popularity in the islands thanks to the enthusiastic support of King Kalakaua whose court often featured ukulele performances. Incidentally, the ukulele's name is derived from "jumping flea" in Hawaiian, and is based on the islanders' impression of the quick movements of players' hands on the fretboard. (By the way, our British cousins spell it ukelele.)
The ukulele's popularity spread to the United States when American songwriters began composing music with Hawaiian themes and sounds during the 1920s. Ukulele players proved popular on vaudeville stages, and the little instrument became strongly associated with the Jazz Age. The image of a raccoon-coat clad college student strumming on a uke became an icon of pop culture, and publishers began issuing songbooks for the ukulele. Taking notice of the fad, U.S. instrument makers such as Martin and Harmony began producing ukuleles. String bands of the era also brought the ukulele into their instrument lineups.
Although the presence of ukuleles in pop music continued from the 1940s through 1960s, in part thanks to the production of millions of inexpensive plastic ukes and Tiny Tim's 1968 hit, "Tiptoe Through the Tulips." the instrument's popularity declined. The uke staged a comeback in the 1990s, spurred in part by the immense popularity of a medley of "Over the Rainbow" and "What a Wonderful World" performed by Israel Kamakawiwo'ole that turned up in TV ads and movies. Since then, the ukulele's comeback has been reinforced by countless YouTube video performances, and by rock, pop, and folk performers who have taken up the instrument.
Types of Ukuleles
Most ukuleles fall into one of four standard sizes and tonal ranges: soprano, concert, tenor, and baritone.
| | | | |
| --- | --- | --- | --- |
| Ukulele Type | Scale Length | Overall Length | Tuning |
| Soprano (or Standard) | 13" | 21" | G4-C4-E4-A4 or A4-D4-F#4-B4 |
| Concert | 15" | 23" | G4-C4-E4-A4, A4-D4-F#4-B4, or G3-C4-E4-A4 |
| Tenor | 17" | 26" | G3-C4-E4-A4, G4-C4-E4-A4, A4-D4-F#4-B4, or D4-G3-B3-E4 |
| Baritone | 19" | 30" | D3-G3-B3-E4 |
The original ukulele was the soprano. The smallest instrument in the family, it typically has a scale length of about 13" and is about 21" in overall length making it ideal for smaller kids. The soprano's bright sound is the one we usually associate with ukes, and some manufacturers refer to their soprano models as"standard" ukuleles.

Next biggest is the concert ukulele with a scale of about 15" and a 23" overall length. It produces somewhat deeper and louder output than the soprano, but still offers a sound similar to that of the soprano.

The tenor ukulele has a deeper, more resonant sound resulting from its scale of about 17" and length of about 26". Its roomier fingerboard can accommodate larger hands more easily.

With its 19" scale length and an overall length of about 30", the baritone ukulele is capable of much deeper bass notes than its smaller brethren. It's tuned like the four highest strings on a guitar, making it a great second instrument and easy transition for guitarists. We'll discuss ukulele tuning in more depth below.

Top-Selling Ukuleles
Because of their affordable prices, ukuleles are popular with both gift buyers and musicians looking for a budget-friendly addition to their collection. Here are some of the most popular ukulele models we sell: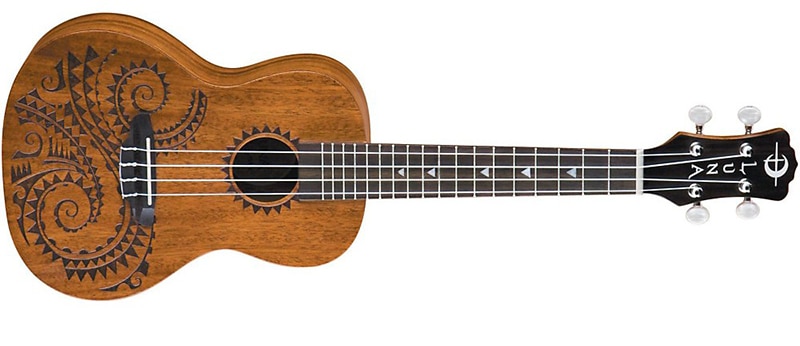 Ukulele Shapes
Most ukuleles fall into one of three basic shapes:
Guitar/figure-8: This is by far the most common shape among ukuleles. Resembling a guitar, the curved portion of the upper body, referred to as the upper bout or shoulder, is usually somewhat smaller than the lower bout. The narrow area between to the two bouts is called the waist. Some modern designs have cutaways in the upper bout that permit easier access to the upper frets.

Pineapple: As you might guess, the pineapple body profile with its rounded back was a Hawaiian innovation first used on instruments made by the Kamaka Ukulele Company.

Boat Paddle: The name says it all; this profile is the least common shape among ukuleles.
Parts of the Ukulele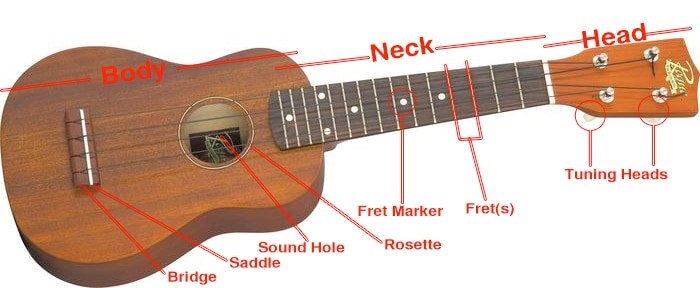 Headstock or head: Attached to the neck, it holds the tuning pegs or tuning machines.
Tuning pegs: Also called tuning heads, tuning machines, tuning keys, or simply, tuners. They are geared mechanisms that hold the strings and are turned to adjust string tension when tuning the ukulele.
Nut: Works together with the saddle to keep the strings in correct alignment.
Neck: It extends from the headstock to the body and supports the fretboard.
Fretboard: Also called a fingerboard, it holds the frets and often has position marker dots or other images to orient the player. The first fret is nearest to the headstock.
Body: Consists of the top (sometimes called the sound board), back, and sides. The top is primarily responsible for transmitting the strings' vibrations. Its sound hole helps to project the ukulele's output. Some sound holes have a decorative rosette.
Bridge: Mounts on the ukelele's top and holds the saddle. The strings are are secured by knotting them on the tail end of the bridge.
Ukulele Construction Methods and Woods
Ukuleles are made using a variety of woods and construction techniques. There are a few made of synthetic materials and metal. We'll cover the most commonly used wood varieties here, but as you'll see when you browse Musician's Friend's large ukulele selection, there are numerous variations and combinations of woods. Because a ukulele's sound is the result of many factors including its body shape and size, soundhole size, tuning, and type of strings, there is no one perfect ukulele wood any more than there is one perfect guitar wood.
Solid woods vs. laminated wood
Generally speaking, higher quality ukulele bodies are made with solid woods while more affordable models are made with laminates—several thin layers of wood glued together and sometimes topped with attractively grained veneers. In some cases, ukulele bodies are made with laminates while the top, which most strongly influences the instrument's tone, is made of a solid tonewood such as spruce or cedar.
Though not as resonant as solid-wood ukuleles, those made of laminates tend to be somewhat stronger and less prone to the splitting and cracking that can sometimes be an issue in cold and dry climates. Solid-wood ukuleles, like other stringed instruments, tend to mellow with age, producing richer tones. Laminates on the other hand will sound the same throughout their life.
The Most Commonly Used Ukulele Tonewoods
Koa: This dense tropical wood that's native to Hawaii was the traditional wood of choice for ukuleles, and is still among the most popular for its beautiful grain patterns, wide range of colors, and balanced tone. Acacia, which is botanically related to koa, has similar properties.
Mahogany: Since it includes many varieties grown in various regions of the world, it's hard to generalize about its tone, but mahogany generally imparts a darker, warmer tonality. Mahogany is often used for ukulele necks.
Spruce: With the recent popularity of ukuleles, many guitar builders have begun making them using the same woods used in guitar tops. A top choice of guitar makers, spruce's dense grain produces loud and bright tones with lots of "zing."
Cedar: Being softer than spruce, it offers tones that are much more mellow and round. It's a good choice for bringing out the lower notes produced by tenor and baritone ukuleles. Western red cedar is one of the most popular varieties.
Redwood: Tonally, redwood resides in the middle between spruce and cedar, offering much of the clarity of spruce with the warmth of cedar. Because of overharvesting, redwood is scarce and expensive. Often redwood used in musical instruments is salvaged from old decks and furniture.
Rosewood: Commonly used on ukulele fretboards, this dense wood can also be used for ukulele bodies. Aside from its hardness, rosewood's rich coloration and figuring can add to the ukulele's visual appeal.
Maple: Another wood often used in guitars, it has a dense grain that is sometimes attractively figured. Its hardness lends itself to ukulele bridges and fretboards.
Today, you'll find ukuleles made from dozens of wood varieties including ovangkol, cocobolo, nato, beech, myrtle, cherry, bubinga, mango, pau ferro, sapele, wenge, and many more.
Specialty Ukuleles
With the enormous popularity ukuleles have recently gained, manufacturers have begun offering many variations and refinements on the original little "jumping flea." Here are some of the more common specialty ukes you'll encounter:
Acoustic-electric ukuleles: They have an electronic pickup that detects the ukulele's vibrations converting them to electronic signals that are then transmitted via an on-board preamplifier to an external amplifier or sound system. Acoustic-electric ukes are ideal for performers who play their ukelele in a band setting in which the little uke has to compete with amplified instruments. While a microphone can be used in such situations, feedback sometimes is a problem, and being tethered to a microphone can cramp your stage presence and mobility. The preamp usually includes both volume and tone controls that help get the natural tone of your ukulele projected to the audience. A few acoustic-electric uke models include a USB output for recording direct to a USB device capable of recording.

Six-string and eight-string ukuleles: Usually based on a baritone or tenor ukulele scale length, their compact size make them a worthy traveling companion and alternative to a travel-sized or ¾-scale guitar.
Hybrid Ukulele-like Instruments
Some manufacturers have begun building instruments that blur the lines between a traditional ukulele and other instruments such as banjos. "Banjoleles" incorporate a banjo-type head, rim, brackets, and resonator. Some are tuned the same way as a ukelele, making them instantly familiar to a uke player.

Another hybrid is the resonator ukulele that borrows elements from traditional metal resonator guitars. Instead of traditional wood, the body may made partly or entirely of metal. A spun aluminum cone produces a distinctive, loud sound that can cut through in dense mixes of acoustic instruments.

Ukulele Tuning
The three smaller ukuleles—soprano, concert, and tenor—are usually tuned to the open- string notes G-C-E-A. Baritone ukuleles are typically tuned to D-G-B-E—the same way the four highest strings on a guitar are tuned. D-tuning is also a popular option that some players feel brings out a "sweeter" sound on smaller ukuleles. D-tuning is A-D-F#-B. Other tunings are possible, and as your skills develop you may want to experiment with them.
Use of alternate string types and arrangements can also produce interesting musical variations.
Using an electronic tuner makes the process of getting your uke in tune much easier. Many such tuners have a mode that matches up with the strings on the ukulele. Clip-on models that attach to the headstock of the ukulele and sense its vibrations are very easy to use.
Keep in mind that new nylon strings tend to stretch, so retuning more frequently after buying a new uke, or putting on a new set of strings is normal.
The quality of the tuning pegs or tuning machines on your ukulele can impact the ease with which you get in tune, and how well your uke stays in tune. Most metal tuning machines have set screws on the buttons used to rotate the tuner. Tightening these periodically can help stabilize tuning.
Ukulele Accessories
As mentioned above, an electronic tuner makes tuning your ukulele a much easier process.
Also consider buying a case or gig bag to transport your uke. It'll help keep your ukulele safe from the perils of the road and protect your investment.
Some uke players prefer using a felt pick or standard guitar pick as opposed to using their fingers, and you may want to experiment with the different sounds picks can produce.
Strings can have a significant impact on the sound and playability of your ukulele. We offer a wide assortment of replacement nylon ukulele strings as well as titanium, aluminum, and fluorocarbon sets to meet just about anybody's needs.
Getting Started Learning to Play the Ukulele
With the explosion of interest in ukuleles, this is a great time to get started thanks to all the resources now available to help you master the instrument.
At Musician's Friend we offer a huge range of ukulele learning tools, instructional guides, and songbooks that will keep you happily strumming until you can practically smell the pineapples!
Music publishers have adapted some of the best-loved pop, folk, rock, country, and blues songs to the uke. Many include lessons that are tailor-made for absolute beginners as well as ukulele tutorials for more advanced players.
There are also lots of simplified tab songbooks that show you how to play easy chord-based arrangements for songs you know and love.
Many of these songbooks and tutorials include online access to even more resources, including ukulele how-to's, tuning tips, care and cleaning advice, and forums for ukulele students and players.
Summing Up
In the end, choosing the right ukulele is about finding the one that works for you; a ukulele that's fun to play and to hear. So though you now know more about how ukuleles are built and what materials go into them, let your fingers and ears guide you to the right uke.
We want you to be pleased with your ukulele purchase, and offer a 100% satisfaction guarantee and generous return policy so you can order your new ukulele with confidence.
After reading this guide, if you're still not sure what ukulele is right for you, we invite you call to one of our friendly and knowledgeable Gear Heads.
Read How to Choose the Right Strings for Your Ukulele.